COMMENT
By Peter Staunton
Still quoted, tiresomely, is Bill Shankly's assertion that football is a matter more important than life and death; that this game is somehow transcendental and integral to existence itself. It is a comment which has served only to perpetuate the myth that football is an entity apart from other games and has also, inadvertently, fostered legitimacy in prejudice.
Frenzied obsession, typical nowadays, washes ashore the effluent of partisanship, intolerance and hatred in the sport watched by more people than any other. And as good as the football was in 2012, at times, it was impossible to ignore the fug of controversy that infiltrated the game.
From abuse on social networks to the killing of a linesman in an amateur match in Netherlands, unsavoury incidents were not hard to find during the Year of the Powder Keg.
A year which began with the publication of the Luis Suarez report saw football, again, haunted by the spectre of racism and bigotry; Rangers' implosion producing plenty of the latter. The
BBC
attempted to turn the focus outward with their investigation into racist behaviour in eastern Europe ahead of Euro 2012 but British football did not have to stray from its own doorstep to witness, first hand, the effects of racism during the year. Anton Ferdinand received a bullet in the post in the fallout of the racist taunts he suffered at the hands of John Terry. 'My team' before justice and equality.
Cheick Tiote, Didier Drogba, Mario Balotelli, Danny Welbeck, Marvin Sordell and more were all targeted from the opposition stands in England's leagues. Ashley Cole was victimised by a former England team-mate, and Chelsea wrongly accused a referee of calling one of their players a 'monkey'. The fight against racism in English football is farcical, on current evidence, with some players justifiably seeing nothing but tokenism in the wearing of anti-racism T-shirts. The sight of Terry captaining Chelsea with a "Unite Against Racism" armband on his bicep is evidence enough of the futility, and hypocrisy, of this particular fight.
Elsewhere, Serbian fans, during an England Under-21 game, hurled abuse towards Danny Rose and his black colleagues. Zenit's largest fan group reasserted their desire that no ethnic or sexual minorities represent their team.
The Terry affair loomed large throughout the year, eventually costing Fabio Capello his England manager job. That news came on the same day that Harry Redknapp was cleared of tax evasion. The day 'Arry's Tottenham star began to wane.
It was Roy Hodgson who took England to Poland-Ukraine and his team went out gracefully, losing to the finalists Italy, who boasted the panache and poise of Andrea Pirlo. He was one of the stars, too, as Juventus conquered all comers in Serie A to re-establish themselves as the foremost club in Italy.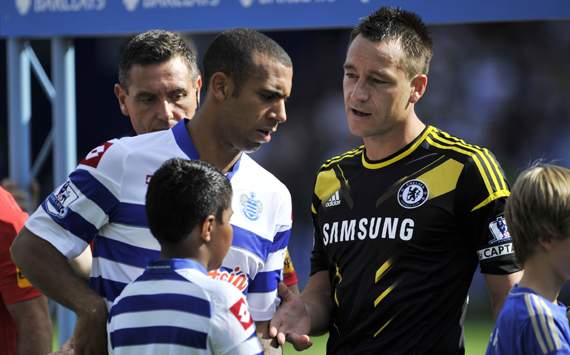 Lowlight | The Ferdinand-Terry saga rocked English football & unveiled its hypocrisy
Andriy Shevchenko's double for Ukraine against Sweden illuminated Euro 2012 early and a goal of rare beauty from Jordi Alba in the final bore all the hallmarks of a Spain team for the ages. Relentless dominance from
la Roja
and their player of the tournament Andres Iniesta. The only thing that will beat them is time.
More Spanish glory came in the Europa League with Atletico Madrid overcoming a sapped Athletic Bilbao side who thrilled at Old Trafford earlier in the competition. Radamel Falcao was the star for them and continues to be so.
Chelsea's Champions League victory, after nine years of trying on the part of Roman Abramovich, seemed to have been written above such was the sense of fate about it. Defiantly they overcame Barcelona. They overcome Bayern Munich too. Didier Drogba, with his last touch of a ball for the Blues, rolled a penalty home which denied the Germans the famous old cup on home soil. Roberto Di Matteo guided Chelsea past that finish line, but was never Abramovich's man. He would not coach the European champions past November.
The sixth-best team in England winning the Champions League may have given an impression of roses in the garden in the Premier League but other events have shown English football in a less fantastic hue. Manchester City claimed the title with, practically, the last kick of the season through Sergio Aguero, but those dramatic events were rendered insignificant in a continental sense at the group stage.
The German Bundesliga, with Dortmund and Schalke overcoming City and Arsenal, is Europe's coming power now; evidence that prudent financial planning and a trusted youth programme can produce sustained, renewable success and competitiveness. Dortmund, under Jurgen Klopp, epitomise this new Germany and again bloodied the noses of Bayern to the double. And on a relative shoestring budget, too, compared to Europe's new super-rich clubs.
City learned in Europe that big spending does not spout forth instant success - most strikingly against vibrant Dutch champions Ajax - while Zenit, with their eye-catching acquisition of Hulk, have been nothing short of a soap opera since. PSG, with the imperious Zlatan Ibrahimovic, have acquitted themselves well in the Champions League even if their Ligue 1 campaign is yet to truly catch light as the flames of resistance at Louis Nicollin's Montpellier, unlikely champions last season, burn out.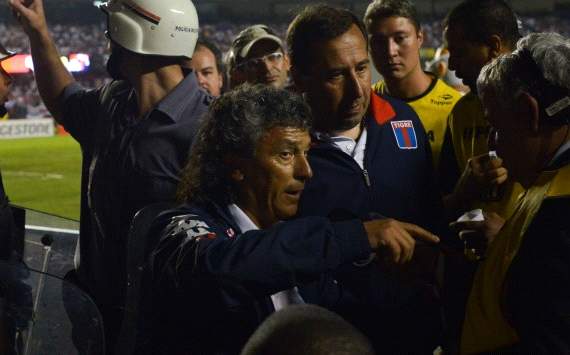 Lowlight | The Copa Sudamericana final witnessed deplorable scenes of violence
London had the eyes of the world trained on it during Olympic Games. David Beckham was shunned by Stuart Pearce in the year that his Hollywood project expired and football was largely relegated to the shadows as Team GB captured the hearts of the English nation. Mexico's victory over Brazil, nonetheless, signalled their emergence as a regional force and, ultimately, set Mano Menezes on the road to perdition.
Palmeiras went down in the Brasileirao but their coach Luiz Felipe Scolari dusted himself off to take the reins again at the Brazil helm after a bout of characteristic political bickering.
While Fluminense won the league for the second time in three years, and Corinthians won the Copa Libertadores and the Club World Cup, it was the events during the Copa Sudamericana final which demanded global attention in Brazil. Argentina's Tigre claimed they were intimidated by police brandishing weapons at half-time in the changing rooms and the trophy, shockingly, was awarded to Sao Paulo.
With not long before the Confederations Cup - which will feature Tahiti, who, incredibly, beat New Zealand to Oceania's regional crown - and the World Cup, there is much work to be done on and off the field for South America's most prosperous economy.
Asian club football was again dominated by South Korea. Ulsan Hyundai made it three wins from four attempts by Korean clubs in the AFC Champions League. The international arena saw Japan's improvement under Alberto Zaccheroni continue apace.
In Africa, Zambia and coach Herve Renard paid fitting tribute to the 1993 team which perished in the waters of the Atlantic with an Africa Cup of Nations victory over Cote d'Ivoire. The FA of Zambia also chirped up late in the year when Lionel Messi beat Gerd Muller's record for most goals in a calendar year when it claimed that Godfrey 'UCAR' Chitalu, who was on board that ill-fated flight, netted 107 times in 1972. The dispute rumbles on.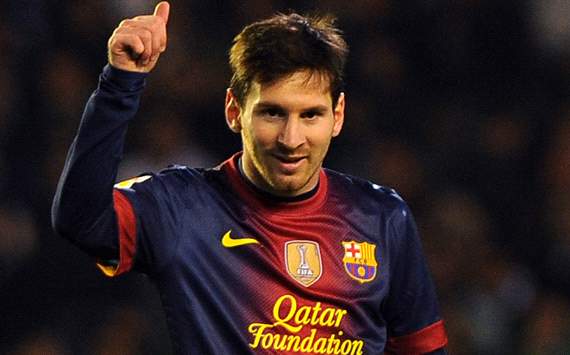 Highlight | Messi surpassed a host of records in 2012
Another Messi dispute which continues to titillate is his personal war with Cristiano Ronaldo. Both impressed for their countries in 2012, finally, and both missed decisive penalties in the Champions League semi-finals. It was the Portuguese who had the biggest say last season, lifting the 2011-12 Liga title, but Messi has surged back. Tito Vilanova, replacing an exhausted Pep Guardiola, roused Barcelona to the top of the standings in Spain before a recurrence of his illness while Jose Mourinho seems determined to bring the walls down around him at the Santiago Bernabeu.
Next summer could bring a flurry of coaching changes with the positions of Sir Alex Ferguson, on the way to his 20th title with Manchester United despite last season's cataclysmic collapse, and Arsene Wenger, on the way to 20 years without a trophy, up for speculation. But while Ferguson remains in control of his own retirement plans, the Frenchman's mind could yet be made up for him as the Emirates faithful grumbles.
So there was indeed plenty to savour during 2012. Football and stories to bring a smile to the face. But there is, alas, an insidiousness eroding the essential fabric of the game that the suits at Fifa and Uefa have not seen fit to arrest. More pressing in their inboxes? The exile of Mohamed Bin Hammam and the Euro 2020 roadshow. Nero fiddles.
Most significant among all football stories in 2012 was, however, a matter of life and death and Liverpool; a tragedy that hollows Shankly's words to the point of irrelevance. The

Hillsborough

Independent Panel ruled, that after 23 years of smears and injustice, the families of the victims would finally see the true version of the events of that black day emerge. A picture that would belatedly take the finger of blame from corpses and the injured; the scarred.


| | |
| --- | --- |
| Football can be part of life and hatred should be part of neither. A game it remains - not life and death stuff | |

Just before the facts of April 1989 began to seep through, an episode of stadium violence left 79

Al

Ahly

fans dead in Port Said and brought football in Egypt to a halt. Their subsequent CAF Champions League win was dedicated to the victims. Later in the year, Senegal fans caused a riot while their team were losing to Cote d'Ivoire. No lessons learned. The root causes of ignition different but the outcomes wearyingly familiar. Death. Anguish. Anger.
Football can be part of life and hatred should be part of neither. A game, a sport and a pastime it remains - not life and death stuff. The passing of
Piermario
Morosini
due to cardiac arrest came just a matter of days after the eerie, silent collapse of
Fabrice
Muamba
at cold White Hart Lane. At Port Said and at the side of an amateur field in Amsterdam in 2012, death cast a premature, unjust shadow.
Reminders that life is a precious thing indeed. Hopefully, in 2013, kindness and joy will be prominent.