ANALYSIS
By Omar Al Raisi

Sheikh Hamad Bin Khalifa Al Thani, the man behind Qatar's successful World Cup 2022 bid, is on a mission.
Listed by Forbes magazine as one of the richest men in the world with a personal fortune close to €1.5 billion, his goal is to make the country a household name by 2022 through a process of continued sporting investment.
Al Thani is the owner of Middle East television giant Al Jazeera Networks and his financial clout has seen him and his company acquire exclusive rights to La Liga, Serie A, Bundesliga and League One, while recently submitting a €2bn bid to secure a deal for Premier League rights in the region.
While his media investments are well broadcast, it is his venture into European football that will perhaps be most telling.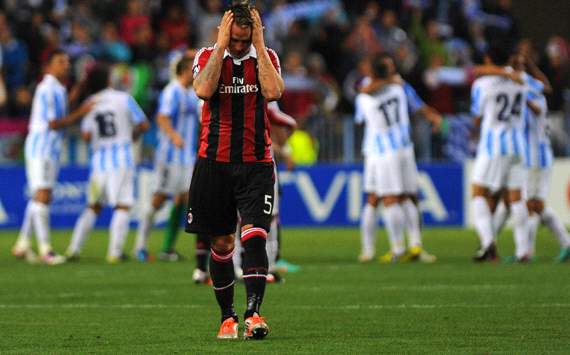 Milan misery | Financial investment could revitalise the club's fortunes
Having already bought Ligue 1 giants Paris Saint-Germain and La Liga outfit Malaga, as well as becoming the shirt sponsors of Barcelona in a €150 million deal, he and his family's aim is to purchase a top club in each of the continent's leading divisions.
Recent reports linked Al Thani with an unsuccessful €2bn bid for Manchester United, while rumours also suggested a possible buyout of Rangers that eventually failed to materialise.
Members of his family also met with Chelsea owner Roman Abramovich and CEO Ron Gourlay in the hope of acquiring the naming rights to Stamford Bridge, but with that assignment not bearing fruit, attentions have now turned to Italy and one of Europe's biggest clubs.
It is no secret the Emir is desperate to buy AC Milan and restore the club to its former glories.
Al Thani has reportedly offered €500m - as revealed exclusively by Goal.com – and as a result of the economic struggles at Milan and in Italy as a whole, it is likely the Serie A side will be sold to a buyer whether supporters like it or not.
With the financial problems facing the Rossoneri, which led to the sales of star players Zlatan Ibrahimovic and Thiago Silva during the summer transfer window - coupled with personal troubles surrounding Silvio Berlusconi - now could well be the perfect time to strike a deal.
"Football has sold its soul and it has become too commercial and everything is about money. I would want the club back on top but not with money"

- Abu Dhabi-based Milan fan Mohammad Moayed

Despite statements to the contrary, it is believed Milan are prepared to sell a 30 per cent stake and promote renewed investment, but the Emir of Qatar is only interested in full ownership, with a view to using the San Siro side as a vehicle to promote the 2022 World Cup and his homeland as a whole.
If a deal was to go through, then, the future of the club would be somewhat different to its current forecast. Unlimited funds for player transfers, a new stadium, record breaking sponsorship deals and other investments in the city itself are all possible perks of a takeover.
Quite how a potential buyout would sit with supporters is difficult to gauge. Some would argue Milan are one of football's iconic clubs who should be competing for major trophies year upon year, but there are a group of fans who subscribe to a different school of thought and oppose a sale to foreign owners.
"Football has sold its soul and it has become too commercial and everything is about money. I would want the club back on top but not with money," said Abu Dhabi-based Milan fan Mohammad Moayed.
"Yes, money would help speed things up, but we don't want our club to turn into a laughing stock, if the club is sold, it should be run in a democratic way, just as how Juventus have turned their club around."
However, money talks. The long-term future of the side must come first and further sales of the remaining big names at San Siro, such as Stephan El Shaarawy and Alexandre Pato, would signal a frightening lack of ambition and cut Milan further adrift of Italy's and Europe's elite.
Hesitation could be fatal. Al Thani is on a mission he intends to complete, and if the Italian giants do not agree to a move it could well be one of their domestic rivals that enjoys the benefits of lucrative investment.
Despite having announced his return to the club as full-time president after leaving his post as Italian prime minister, Silvio Berlusconi is now likely to take a step back once more to clear his name after being sentenced to 12 months in jail and ordered to pay a €10m fine for his part in a tax fraud scandal.
"You have to do the maths. We saved €130m with the Ibra and Thiago Silva sales and nobody, during this economic climate, would have turned that down"

-

Silvio Berlusconi



But whether he is physically present or not, he no longer has the disposable wealth available to him to bail Milan out of severe financial trouble like he did when he arrived at the club in 1986 and propelled them back to the top of the sport. He even spoke recently of the issues the state of the world economy are causing for the Rossoneri, saying: "There is regret over Ibra, but you have to do the maths. We saved €130m with their sales and nobody, during this economic climate, would have turned that down.
"You see real fans in times of difficulty. I expect the team to be supported. After 26 years of caviar and champagne, patience is needed."
But would such patience be tested if the Emir stepped up his bid - given the troubles - for a club who are falling well behind both on and off the field? Not only are Milan struggling in Serie A this term, but the last Deloitte Football Money League showed that the club's revenues are slipping too, with matchday takings at just €35.6m in comparison to Real Madrid's €123.6m.
It would be hard for anybody to effectively deny the club the chance to catch up quickly by saying no to the kind of massive financial investment that the Emir is proposing. The fans naturally want their side to keep its identity, but how much is Milan still Milan if the organisation continues to struggle for the foreseeable future and loses more star players as a result?
And that is where the quandary lies. As much as fans and traditionalists want the Rossoneri to work their way back to the top, that appears unlikely under Berlusconi. So, if Al Thani continues to flirt with the Diavolo, there may well come a point when Milan have to jump on board with the cash-cow nature of football in 2012.