ANALYSIS
By Kris Voakes | Italian Football Writer
Wherever you look in football it seems you will come across a story of some player or other having been cast aside for being too small, only to later prove the foolish club wrong by making it big elsewhere. So many examples are there that you might think scouts, transfer directors, coaches, and clubs in general would stop using a player's height and weight as one of the variables by which they judge a player.
But there are good reasons why size remains a key component in a footballer's make up, and Sebastian Giovinco stands out as a player who continues to struggle at the sharp end of modern football due to his lack of stature. While his form peaked during two seasons at Parma – first on loan, then on a co-ownership deal – the Juventus striker demonstrates a lack of adaptability that has hindered his development as a top-class forward.
The latest evidence of his continued struggle for form came in an anonymous performance for Italy against Armenia on Friday night, and that display appears likely to consign him to the substitutes' bench for Tuesday's clash with Denmark at San Siro. There are more reasons than just surroundings behind the polarity between his displays for Parma and those for Juve and the Azzurri though.
Giovinco is one of the most talented players to come out of Italy in recent years, but has rarely been able to display his full range of skills when playing for a competitive giant. Whereas at Empoli and Parma he has excelled, he has yet to do so with the Bianconeri or at international level.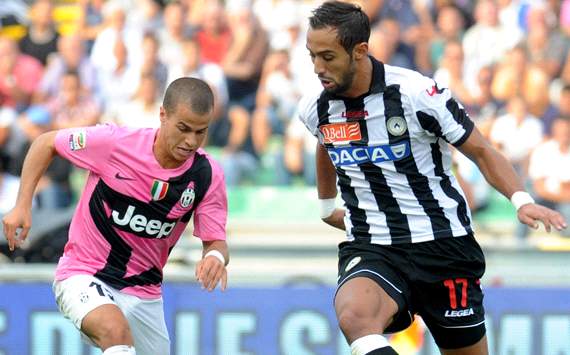 Mismatch| Giovinco is often closed out when faced with centre-backs

There are certain obvious reasons why this might be the case, with a man of such huge talent being more key to operations at smaller clubs, becoming the centre of tactics as a result and thriving under the responsibility. But his two years with the Ducali also stood out in terms of the position in which he excelled.

It was when he played on the left side of a three-man attack that Giovinco produced on a regular basis for the Gialloblu, with the protection of a true out-and-out front man in the likes of Sergio Floccari, Graziano Pelle or even Amauri occupying the kind of big, uncompromising centre-backs that the 'Formica Atomica' has struggled with at other times in his career. Also, starting from a wider position and often having the licence to drop deeper to pick up play, the Turin-born star was able to work up a head of steam before hitting the more cumbersome defenders in the league.

When played up front as part of a two-man strikeforce, or when previously asked to sit in the hole at Juventus, Giovinco has not had the same success. Coming from a slightly narrower, more advanced starting position, he has been more regularly engaged with the kind of powerful defenders he simply cannot match for brawn. As a result he is rarely in a position to produce a burst of pace due to the bank of protection often formed by defensive midfielders across the league, as they bid to stifle the Bianconeri of freedom. The extra onus on him to make space, rather than exploit it, has not sat well.

Juve went perhaps too far in the other direction during the days of Claudio Ranieri, with the 'tinkerman' largely starting Giovinco in a wide left position in a 4-4-2, one which rarely allowed him to venture inside and have a consistent effect on the game. But primarily, when pitted with other players of apparent pace or skill, 'Seba' has been better equipped and has succeeded, whereas when confronted by players of differing attributes, he has been forced to the anonymous edges of the game more frequently.

At international level his greatest performances in a blue shirt came when operating in a 4-3-3 alongside Robert Acquafresca and Mario Balotelli in the lead up to – and during – the 2009 Euro Under-21 Championship. However, he has been unable to replicate that explosiveness in the senior team, and his tally of 13 games and no goals so far for La Nazionale, when added to the solitary strike he managed in 20 caps for the U-21 side, show that there is still something missing from his game when it comes to the top level.

With Juve this term, Giovinco has scored three goals so far, with two coming when already 2-0 up against 10 men away to Udinese, and the other being the final word in the 4-1 rout over Roma. That is not the return of a player who was widely tipped just a few years ago to fit seamlessly into the Old Lady's No.10 shirt when Alessandro Del Piero departed. As a striker in a 3-5-2, he is neither supplying nor scoring the goals he can in a 4-3-3 formation, while Italy's 4-3-1-2 also looks to be a shape he is having serious trouble with.

The question now is how to deal with the issue. Juventus could arguably be even more of a threat if they switched to a 4-3-3 system but in doing so would create other question marks which have perhaps been solved in the short term, by the initial switch to 3-5-2 last season. Italy could also alter their shape to suit the diminutive forward without too many problems, allowing him to start from a position where his pace and skill can have a greater effect.

But therein lies the issue. Is Giovinco likely to fulfil that huge early promise at the top level if he can only really play in one formation? Will he eventually be able to have the same effect in the centre of the park that he was able to have when bursting through the channels at Parma? And can he do it against top club and international opposition who are sitting deep and putting the impetus on him to come up with that killer pass or perfect finish?

If the answer to each question is no, then maybe he would be more at home with a Parma in the long-term, rather than with a Juventus or an Italy.