By Tim Musungu
Harambee Stars coach Adel Amrouche is at loggerheads with Gor Mahia coach Zdravko Logarusic whom he blames of refusing to release K'Ogalo players' to train with the national team, Harambee Stars, ahead of upcoming World Cup qualifier against Nigeria on June 5 in Nairobi.
An agitated Amrouche in an interview with Goal.com lamented that Logarusic's move has adversely affected the team's training ahead of the decisive match against the African champions.
Goal.com: What exactly is the rift between you and Logarusic?
Amrouche: The problem has been that he is not releasing players for national team duty. Yes, I understand that he had a match on Wednesday, but Tusker also had a match and coach Robert Matano did not refuse to release his players. It has been a long standing issue and it is not something that started yesterday. Even before the Nigeria match, we had problems with him not letting players attend training.
Goal.com: Is it adversely affecting your preparations?
Amrouche: Of course it is. Though my philosophy is always to work with the players that I have in camp, it is difficult to have irregular attendance of players. For example if I want to use some of the players for the first eleven, we have to train on formations and as such you need to have all your players in training. Having half players all the time will always stop me from performing my duties. We have to develop players in the country and for us to do that we have to corporate all of us. For example, I called up David Owino when he was regularly on the bench but look...now he is a regular starter. That is the kind of development we want and it must come with corporation.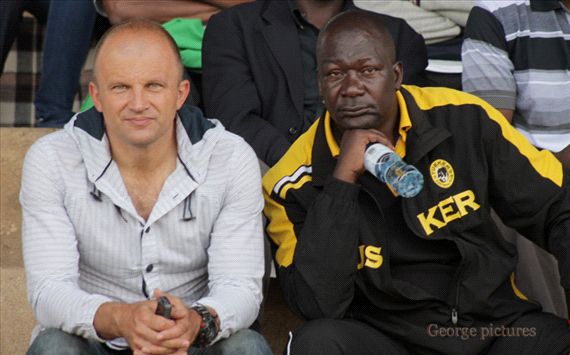 DEFENDED | Kenya coach Amrouche says Matano (r) always releases his players for national team duty.
Goal.com: Have you tried talking out the issue with Gor Mahia management?
We had tried talking to him (Logarusic) but he could not listen. Sometimes I think he suppresses the players when they come for national team training because sometimes you find that when a player comes from the national team, they are benched or not even named in the team. For example Kiongera's case, we had talked with Kiongera and agreed that he will not hurry getting back to training owing to the injury because he is one of the players that are in my plans but he was hurried to get back to the pitch and now he has been ruled out for a further two months. We will sit down with the Kenya FA President Sam Nyamweya because he is a gentleman and I know we will get a solution.
Goal.com: Is there any bad blood between you and Logarusic?
I don't know. Probably because he was interested in this job before but in my profession I don't like crossing people's path. This is the national team and it requires corporation from all stakeholders. The country is more important. I have not had differences with other coaches and I don't understand why it only has to be him (Logarusic). I could leave this job for him because he seems to be very disturbed. He came today (Thursday) at City Stadium and started shouting at me...that am not the right coach to handle Kenya. He his even asking players to revolt against me. He (Logarusic) talks about Burundi that it is a small village because I have had a coaching stint in the country and he comes from Croatia. Why does he talk bad about Burundi? Is it because he understands that I coached in the same nation? I did not come to Nairobi to take girls to disco but train the national team. He even talks bad about assistant coach James Nandwa. For heavens sake, Nandwa is an ex-international, who deserves lots of respect.