By Otieno Otieno
Kenyan captain Victor Wanyama believes his former club Celtic can gun down Spanish giants Barcelona when the two sides meet in Tuesday's Champions League fixture at Celtic Park.
Wanyama, who scored when the Scottish champions beat The Catalans 2-1 in the same competition last year, has told Daily Mail on Footballers' Football Column, that Celtic could repeat the fete 'if they take their chances.'
"I believe Celtic can beat them again; they just need to take their chances. Celtic found last year that there is greater importance in taking your chances because the top European teams often have a player that maybe does little else but finish.
"Javier Mascherano is injured and Lionel Messi got injured on Saturday so maybe Celtic can take advantage."
Looking back at the goal he scored against Barcelona, Wanyama said: "To play well, to score and to beat as big a team as Barcelona was incredible.
"I remember Neil Lennon talking to us saying 'Look, when you go out on to the pitch, it's just 11 versus 11 out there. You just have to work a bit harder than them.'
"We knew we had to be very strong in the middle of the park as that is their strongest point. It's not just with Andres Iniesta and Xavi but Serge Busquets or Cesc Fabregas. They keep the ball so well and work to press it too and when they get it they can hurt you easily.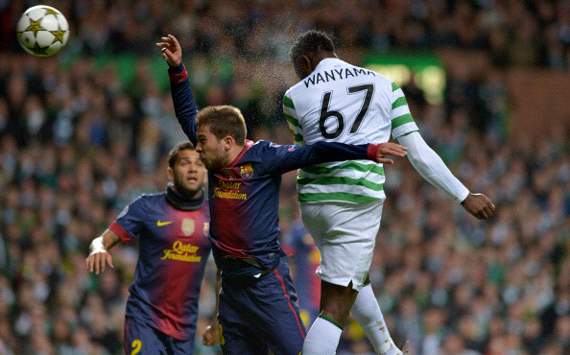 HEADING HOME |
Wanyama scored for Celtic last season in the win over Barcelona
"It wasn't easy. We needed to concentrate 100 per cent. The second you go to sleep they can kill you off. We had to be focused all the way through. Afterwards when you play them you are not just tired physically but mentally. Your head hurts. It's so important to try and stay strong I just hope Celtic can do it again."
On how he is adapting to life at Southampton a team he joined from Celtic for £12.5 million, Wanyama said, "We are fifth and have the best defensive record along with Tottenham having conceded just two goals.
"It's a good start but that's all it is a good start. We deserve to hold our heads high but it's safe to say that we are not getting carried away at Southampton. Our coach Mauricio Pochettino is an impressive guy.
"He was a tough defender as a player and has great experience from his time with Argentina and coaching in Spain. He gets his message across easily and understands each player's role. He's very good.

CELEBRATION TIME | Wanyama celebrates his goal against Barcelona last year
"It shows in the way we won against Crystal Palace that it was another good team effort. We played for each other and when you have strikers such as Dani Osvaldo and Rickie Lambert you always have a chance. Lambert has been fantastic. Everybody knows how much of a threat he poses in the box but his free-kick on Saturday showed he can score from anywhere.
"The key for us now is to keep working hard and keep our feet on the ground. We have Swansea and Manchester United to come so there is always another big task around the corner. I came to the Premier League because I wanted to test myself and move to the next level. There is no doubt it has been tough but I am enjoying it.
"The best way to learn is to play against good players and my toughest opponent so far has been Steven Gerrard at Liverpool. I obviously knew about him but playing against him, I learned so much more."