ANALYSIS
By Timothy Olobulu
Gor Mahia, Kenya's club with the richest trophy cabinet is in pole position to lift premiership title this year.
After twice coming close since their last conquest in 1995, K'Ogalo find themselves on top of the table this year, with a seven point gap between them and second placed Thika United and have a game in hand.
The only other times that Gor Mahia have come close to winning the league was in 2010 and 2012. In 2010, they raced eventual champions Ulinzi Stars to the tape, the soldiers lifting the title with a gap of two points.
Then on top of their game, George 'Blackberry" Odhiambo and Cameroonian import Baldwin Ngwa helped K'Ogalo to soar to the top.
They could have taken advantage of Ulinzi Stars' slip up towards the end of the league and if the soldiers would have lost to Karuturi Sports on the final day and they (Gor Mahia) beat City Stars in Nairobi, then they would have won the title.
Fast forward 17 years on from their title triumph to 2012. This was the closest K'Ogalo had come to the title. Starting off the league as relegation candidates, Croat Zdravko Logarusic came in March 2012 and turned the tides for the Green army.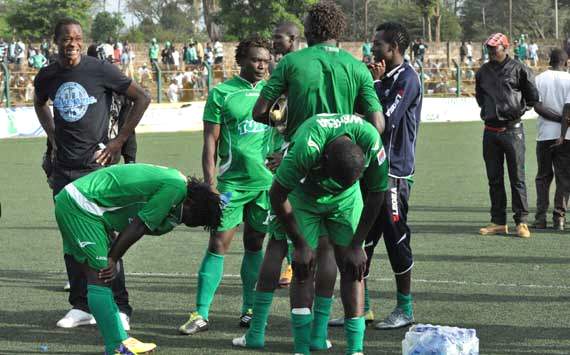 END OF THE ROAD |
Gor Mahia players crestfallen after letting the trophy slip away last season
Logarusic led the team to an unbeaten run from April to November and capped it with clinching the KPL Top 8 title as well as the FKF Cup, which they won after beating Sofapaka on penalties.
Their hat-trick of titles was on sight only needing a win in their final match against Thika United to lift the league title. They were leading the standings with 58 points, Tusker second with 57.
However, fate seemed to have conspired against them, they drew 1-1 with Thika United while Tusker FC blasted City Stars 3-0 at Hope Centre to rake in their tenth league title.
This season, Gor seem to be in pole position to realize their 13th title. The 'unlucky' number which has evaded them twice at the doorstep seems to have crawled itself onto their paths. If Gor can maintain an unbeaten record to the end of the season, well, CONGRATULATIONS ARE IN ORDER.
But will this come easy? There are some defining moments to this path;
Gor Mahia v Tusker FC
K'Ogalo face the brewers on Wednesday in a mid-week clash at Kasarani. Bearing in mind that they have not played both home and away matches, this will be one fixture Gor MUST win to keep their hopes alive. If they lose to Tusker on Wednesday, probability of their lead being cut down will be high noting that Ulinzi Stars and AFC Leopards who are placed 4th and 3rd respectively will be playing each other over the weekend and a win for either will cut down the lead.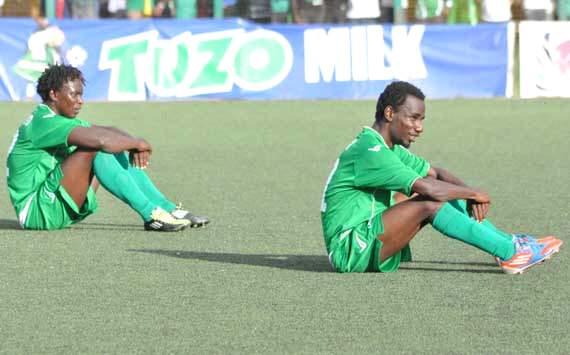 CAN'T BELIEVE IT | Gor Mahia players after drawing 1-1 against Thika United last season
Gor Mahia v AFC Leopards
Always the most highly anticipated fixture in Kenyan football. Gor Mahia needs to be on top of this one. Bearing in mind they have had dominance over their 'in-laws' in the last couple of fixtures, the odds will be on them to beat Ingwe. However, Luc Eymael's boys are equally title ambitious and they will definitely be a stubborn thorn in Gor Mahia's flesh.
Gor Mahia v Sofapaka
Batoto ba Mungu are another title ambitious side and they will be a problem to K'Ogalo particularly if they will still be among the Top four. Bearing in mind that they lost to K'Ogalo in the first leg, David Ouma's boys will be up for revenge when they play Gor in October.
Ulinzi Stars v Gor Mahia
The soldiers are 'the elephant in the room' who no one is talking about. The soldiers are currently placed 4th on the log with 27 points, eight behind the leaders.The soldiers have not lost nor conceded a goal in the last five fixtures and they seem to be cradling up as serious title contenders. They will be facing Gor Mahia in their last match of the league at the Afraha Stadium in Nakuru, a ground that has seen the premiership title being lifted twice in succession; 2010 and 2009. Will this be the title deciding match?