COMMENTARY
By Otieno Otieno
Harambee Stars coach Adel Amrouche must use the 2-2 draw against Malawi in Wednesday's World Cup qualifier as an opportunity to start rebuilding a new side for the 2015 Africa Cup of Nations qualifier.
It is disheartening that once again Kenya will miss out on an international competition and local fans are still forced to look back to 2004 as the last time the country played in a continental event.
Since then, it has been near misses with football managers always forced to go back to the drawing board for strategies that never work.
However, everyone feels that though the campaign to qualify for the 2014 World Cup flopped, it was also one of the best by the team which against all odds managed two important draws against Nigeria and Malawi.

THE FUTURE IS HERE | Kahata takes on Malawi's Joseph Kamwendo in Blanytre on Wednesday
It is disheartening to note that had Kenya won at home against Malawi last year and Nigeria last week, perhaps the team would still be in contention for the World Cup.
From now on, Amrouche's work is cut out for him and he must quickly identify new players who will take the country to the 2015 Africa Cup of Nations
The Belgian is already doing it by giving local players a chance in the team but more ought to be done.
Kenya FA must support the coach by organizing for more international matches that will help the team gain confidence of playing against big giants both at home and away.
The team is in desperate need of a striker since they are no longer guaranteed that they will have AC Ajaccio and former captain Dennis Oliech in the team.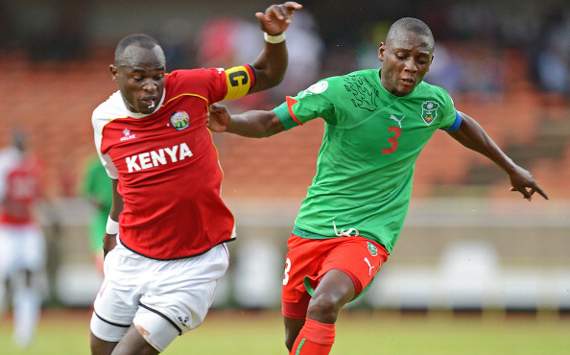 STRIKING OPTIONS |
Local strikers must be encouraged to come up and take over the position
For a long time, the team has depended on Oliech to score goals such that his absence creates a crisis. It is delightful that they have played two matches without him and there is now need to identify a lethal forward who can quickly take over from Oliech.
This is where local strikers must be encouraged to come up and take over the position and coach Amrouche needs to work with other coaches to achieve this.
Currently, the Kenyan premiership itself is suffering from lack of scorers and this has inevitably translated into the national team. More local strikers must take their role seriously if they hope to cement their position in the team.
Lastly, long term planning for the team's success is also required. All successful teams have planned well in advance for the results they have achieved.