The Kenyan star pleads with in-demand manager Lennon to remain at Parkhead and take the club even further than the last 16 of next season's Champions League
By Dennis Mabuka
Celtic star Victor Wanyama has pleaded with in-demand manager Neil Lennon to remain at Parkhead and take the club even further than the last 16 of next season's Champions League.
Lennon's exploits in guiding his team to victory over Barcelona and into the knockout stages of the tournament have not gone unnoticed.
Lennon has caught the eye of Everton, who are searching for a replacement for Old Trafford-bound David Moyes, while Stoke City and the Northern Irishman's former club Leicester City are also interested in the 41-year-old.
In an interview with Daily Mail, Wanyama believes his boss would find it hard to call time on his 13-year association with Celtic as a player, coach and manager since joining from the Foxes in 2000.
And the midfielder, who scored the first goal on that famous night against Barcelona in November, insists Celtic can improve on last season's impressive campaign with Lennon at the helm.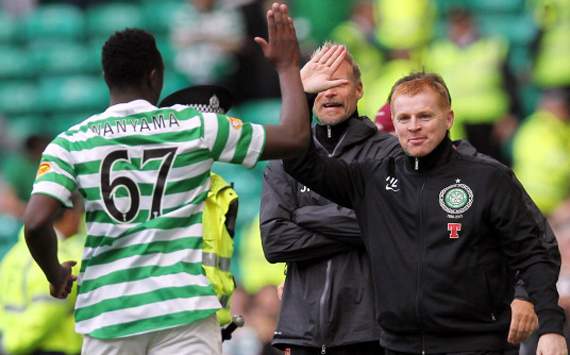 DON'T LEAVE US |
Wanyama tells Lennon to stay and lead Celtic beyond the Champions League's last 16.
"It's important that Neil Lennon stays with Celtic,' said 21-year-old Wanyama as he accepted his award for SPL sponsors Clydesdale Bank's Young Player of the Season."
"He has done a great job here. There is no doubt that some other clubs will want to take him away but I think the manager likes it here."
"It will be good for us to see him stay. As a player, I believe we can go beyond the last 16 in the Champions League next season."
"We got close to getting beyond the last 16 this season but we have learned from our mistakes. Next season, I believe we can do even better."
Despite Celtic's successful season in Europe and the chance to complete their first double in six years, however, the Kenya international is the only Celtic player to be honoured with an individual prize.
"I think it is true Celtic deserved better," said Wanyama. 'We did well this season and individually we had some great performances. 'So we did not get what we deserved but it's OK because we know what we can do."