SPECIAL
By Otieno Otieno
It is that time of the year again when old rivalries are rekindled, old humiliations retold, and memorable victories are celebrated like they happened yesterday.
AFC Leopards and Gor Mahia have got Kenya talking. The two together, for generations, have provided Kenya's finest hour on the field of play, created a buzz ahead of their fixture and sometimes there have been ignominious moments with some matches being abandoned as it happened on October 2011 at Nyayo Stadium during a League Cup match.
But truth be told, the two sides of the divide understand perfectly well that it is just a game.
And with that in mind, Goal.com takes you back through some of the delightful moments of the AFC Leopards and Gor Mahia rivalry locally and abroad.
We cannot narrate all the epic encounters since the two sides were formed, but it is our utmost hope that the six bring back a sense of nostalgia for both teams.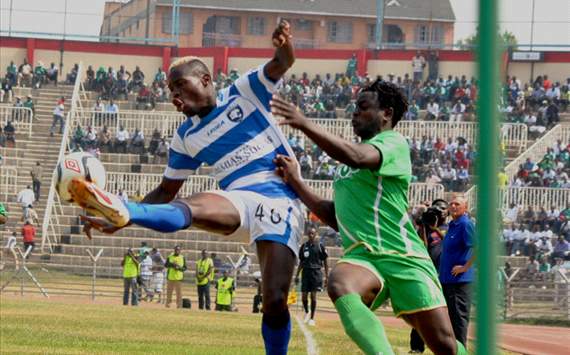 AFC 0-2 Gor (July 15, 1985, Cecafa club final in Sudan)
This remains one of the most talked about derbies to date by virtue of the fact that Gor Mahia were playing without six key players who were suspended by Caf after being accused of beating up a referee during a continental match against Zamalek of Egypt.
The six include Abbey Nassur, George "Solo" Otieno, Abass Khamis Magongo, George "Fundi" Onyango, Abdallah Shebe and Peter "Bassanga" Otieno.
Prior to the final, millions of fans remained glued on their radios to follow proceedings from Khartoum on that July night but the hero of the day turned out to be William Obwaka after he scored twice for Gor Mahia to win the regional club championships.
Leopards' fans were so angry with Obwaka that some invaded his rural home and burnt his family house arguing that since he came from Western Kenya scoring against his 'own' team was a betrayal.
AFC 3-2 Gor (June 1, 1986, league first leg)
Gor Mahia let this one slip through their fingers easily as they had taken a 2-0 lead at half time with goals from retired winger Sammy Onyango "Jogoo".
But Leopards came back strongly in the second half to grab three quick goals and send their fans into frenzy.
Gor took the defeat so badly that an inquest was formed to investigate circumstances under which they lost the match.
Claims of match fixing were not far off with a former AFC Leopards chairman, who was known to have a fat wallet, being accused of having compromised some Gor Mahia players.
After the inquest, two Gor Mahia players were suspended for allegedly selling off the match though some claimed 'witchcraft' had played a role in their defeat.
AFC 2-3 Gor (May 1, 1988, Labour Day final at Nyayo)
Gor Mahia went into this match after a memorable 1987 season which had seen them win a treble - the Nelson Mandela Cup (now Caf Confederations Cup), the league and the Moi Golden Cup.
Winning the Mandela Cup raised Gor's reputation to an all time high as they became the first club in the country and the East and Central Africa region to claim a continental title.
However, by the time 1988 came, most of their top players were getting to retirement but Leopards were just beginning to rebuild their squad and looked set to win this derby.
However this was not to be and even though the match ended in a barren draw at full time, Gor Mahia claimed the title on post-match penalties after winning 3-2.
Austin Oduor, Peter Otieno and Sammy Onyango converted penalties for Gor while Abbas Magongo and Jaffer Mwidau's spot kicks, were saved by Omar Shaban in AFC Leopards' goal.
Leopard's penalties were scored by Wilberforce Mulamba and Tom Omboko while John 'Shoto' Lukoye, Keffa Tasso and Mickey 'T9' Weche failed to find the target.
AFC 1-0 Gor (May 3, 1998, league at City Stadium)
After years of struggling, AFC Leopards bounced back to clinch the national league in 1998 and capped a good year by winning the derby battle.
It is also notable that Leopards have never won the league again after 1998 and have been trying in vain to achieve the same feat.
This match was memorable for two men - the Ambani brothers, Fred and Boniface. It was the first time for Boniface Ambani to feature in a derby after he had joined Leopards from Rivatex at the beginning of that season.
The winning goal was scored by Fred Ambani in the first half of this match which also marked the last time both clubs have played at City Stadium.
AFC 0-1 Gor (October 20th, 2011, FKF Cup at Nyayo)
The 2011 season was one of the worst for AFC Leopards and having lost out in the title chase, they were hoping to win the domestic Cup competition.
When Gor took the lead with a superbly worked goal from a Moses Odhiambo and Moses Otieno's combination, Leopard's fans could not take it any more and reacted by throwing stones onto the pitch.
Gor went on to win the Cup after stopping Sofapaka and earned themselves a right to represent the country in the 2012 Caf Confederations Cup.
AFC 0-0 Gor (March 23, 2012, league match)
On this day, Gor Mahia fans began to riot after offensive midfielder Victor Ali Abondo was red-carded following a dangerous tackle on Amon Muchiri with the match at 0-0.
Going into this fixture, Gor had started the league on a very shaky ground and fans wanted victory at all costs.
However, when match referee Davies Omweno flashed a red card to Abondo, all hell broke lose as fans disputing the decision threw all sorts of missiles at him causing the match to be abandoned. It was eventually awarded to AFC Leopards.
Apart from forfeiting the match, Gor Mahia were also banned by the Sports Stadia Management Board (SSMB) from using Nyayo and Kasarani stadia.
Leopards also refused to honor their Top 8 match against Gor citing fears over their safety after what had happened in the league. The match was eventually awarded to Gor Mahia and they went on to win the trophy.