By Otieno Otieno
Just when everyone thought that hooliganism was a thing of the past in Kenyan football, Wednesday's action by AFC Leopards' fans to invade the pitch during their Kenyan Premier League (KPL) Top 8 match against Chemelil Sugar was a retrogressive move that should never be tolerated.
The fans invaded the pitch protesting against alleged poor officiating but this was a primitive way of dealing with such concerns.
There are laid down rules that should be followed in addressing whatever protests one had and one of them does not include invading the pitch.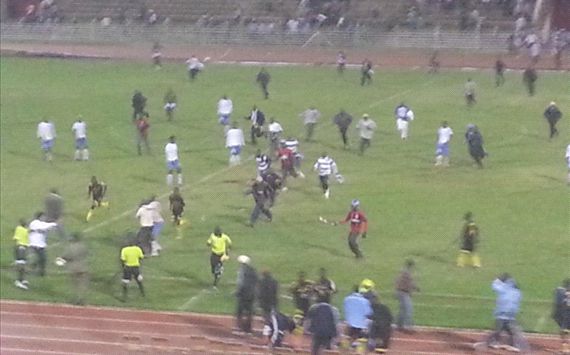 By invading the pitch the fans did not only endanger the lives of the referees but also that of the players and this is why both the premier body and Kenya FA must take strong action to send the message that such acts of hooliganism will not be tolerated.
It is a bit disappointing that in the past, the two bodies have always treated the two big clubs AFC Leopards and Gor Mahia with kid gloves whenever their fans are involved in such barbaric acts.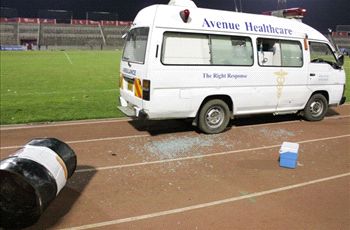 The best that always happens is a fine or fans being barred from watching a few matches. It is obvious that this action has failed to deter hooliganism and now stiffer penalties must be brought to bear on the clubs.
In Europe for example, fans who cause trouble are usually identified and banned from attending matches or even in worst case scenarios, are charged in a court of law for their action.
It is time the football bodies adopted such an approach and let fans feel the impact of their actions.
Previously, clubs have argued that they have no way of identifying their fans especially when they cause trouble and they seem to get away with such lame excuses and continue with their bad behavior.
KPL has come along way and now corporate sponsors are beginning to take a keen interest in the league. Such acts of hooliganism can only turn them away.
It is a concern that this is not the first time that AFC Leopards' fans are involved in such acts of behavior. Twice this season they besieged former coach Tom Olaba and threatened to beat him up in a move that portrayed the club in very bad light.
Leopards' sponsors Mumias Sugar have even shown concern at the hooliganism with a top company executive threatening to pull the plug on the support. This could be the best reason for them (sponsors) to pull out.