By Otieno Otieno
AFC Leopards tactician Tom Olaba became the first Kenyan Premier League coach to face the sack when he was relieved of his duties on Monday.
For those who watched the team's performance since the beginning of the season, Olaba's sacking was not a surprise given that until Monday, the team had won only once in six matches.
The team's 2-1 defeat at the hands of Muhoroni Youth on Saturday in Awendo, is what made matters worse for the former national under-17 coach, who has also enjoyed a fairly successful stint in Tanzania with top clubs.
Olaba's sacking portends many lessons for local clubs in the KPL and one of them is that they should not always rush to fire coaches.
Before hiring Olaba, Leopards had fired Jan Koops whose only crime was helping the club finish in third position last season. Mark you, this was a slight improvement compared to the previous season when they finished fifth in the standings.
The sacking of Koops certainly brought a lot of instability at Leopards considering that the veteran coach had built stable side where the players had got used to each other.
Bringing in a new coach always meant that the new man would have to start all over again and this is where Olaba found himself and until the time he was given the boot, he was still trying to find a winning formula.
The second lessons for local clubs especially community teams like AFC Leopards and Gor Mahia is the need to always have a foreign coach at the helm.
Reports from Leopards have it that Olaba had lost control of the dressing room following his decision to take sides and show favor with some players.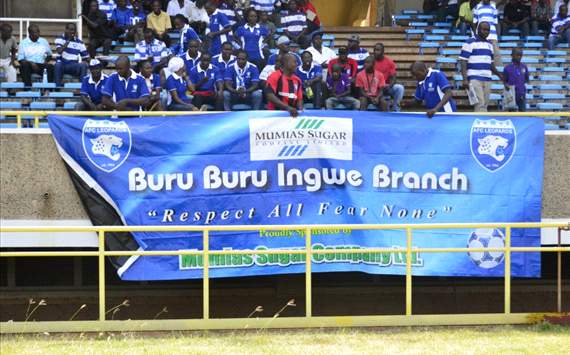 Indeed, the club's vice-chairman Walter Onyino confirmed such reports and said they were disappointed by Olaba's behavior considering they had held him in high esteem.
It is a well known fact that local coaches always have such issues whenever handling the top two community clubs and seem to throw professionalism out of the window.
During Koop's time such reports were unheard of as he insisted on players getting into his starting line-up purely on merit and not any other consideration.
Even Leopards' officials have now realized the mistake of hiring Olaba in the first place and have now fast-tracked their efforts to bring in a foreign coach to take charge of the team in the remaining part of the season.
One last lesson for the two teams is the need to educate their fans on the need to be patient when performance has dipped.
Olaba had a hard time dealing with some of the fans and he is even reported to have exchanged un-pleasantries with them.
Because of this the fans threatened to beat him up if he turned up for their next match and this forced the club management to recall him back to Nairobi ahead of their April 3 league fixture against Homeboyz in Mumias.
Fans must learn to let elected officials deal with non-performing coaches instead of taking matters into their own hands.