EXCLUSIVE
By Dennis Mabuka
Football
Kenya
Federation (FKF) has settled for Algerian born tactician Adel Amrouche to handle national team
Harambee Stars
.
Amrouche, whose last assignment was with Burundi national team the Swallows, is set to be unveiled on Tuesday at a Nairobi Hotel as replacement for Frenchman Henri Michel, who quit in a huff.
A holder of a Uefa professional diploma, Amrouche also has a Masters in Scientific Sports Research from France University and is also a football instructor in Brussels.
He has had a chequered career in Africa where he coached DR Congo side Motema Pembe for three years, Equatorial Guinea national team, and clubs in Ukraine, Belgium and Azerbaijan before moving to Burundi where he was coach for five years.
He also works as a football analyst in big football events for Arabic TV and Al Jazeera. Goal.com managed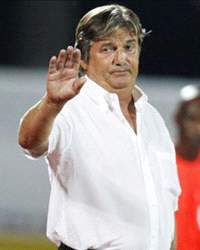 to get a one on one interview with the coach, who is already in Nairobi, ahead of his unveiling ceremony.
Goal.com: Congratulations for your new appointment as head coach of Kenya national team Harambee Stars. What are your immediate plans for the team?
Amrouche: Thanks. It is a great honor to coach Kenya. It is a role that any coach will relish to take with open arms. My immediate plan for the team is to change its style of play. Kenya has good players who can play entertaining football...by that i mean display a passing game. We must have that us our priority and will work on that immediately we start assembling for future assignments.
Goal.com: Why did you settle for Kenya despite Bostwana and Zimbabwe showing interest for your services?
Amrouche: Kenya is a big country with structures in place. I have always wanted to coach Kenya. I remember vividly in 2009, sending my CV to Kenya federation for the job but nothing materialized. One thing I like Kenya about, they have physically built players, who only need to learn the technical aspect of the game to prosper. On top of that, Kenya premier league is the best in the region and it gives me the easiest route to execute my duties.
Goal.com: Do you have any idea of Kenya football, from the local league to the national team and is this your first time in the country?
Amrouche: Yes I have followed Kenyan football since 2007 and that supports my statement when I told you that in 2009 I sent my CV for consideration. My first time to fall in love with Kenyan football was in Tanzania in 2007 when I was in charge of Burundi during Cecafa tournament. I fell in love with the team and more so its players because of the commitment they showed throughout the regional tournament. I have visited Kenya on several occasions to watch local league matches and especially when the two big sides – Gor Mahia and AFC Leopards – are playing. Overall, I love the atmosphere of fans and Kenya should thank God that weather condition favors them in terms of football. In my opinion, Kenya team is good but a lot of work has to be done in specific areas so as to be able to cope with teams like Nigeria and the remaining Group teams.
Goal.com: Do you have any clue of Kenya players plying their trades in Europe?
Amrouche: Yes. I have already compiled data of present professionals in the squad and those who are yet to feature for the team. For example, I am in constant touch with a Kenyan striker, who turns out for Wimbledon FC in England. I have had contact with him and hopefully we will have no difficulties to have him released to play for Kenya in future assignments. Another player very important for Kenya is Jamal Mohammed, who turns out for Oman side Al Nasr. His (Jamal) performance has improved tremendously in recent weeks and will be considered for a recall. I also had the opportunity to watch Kenya take on Libya in a friendly in Tunisia and was excited to see young and talented players like David Gateri and Francis Kahata, who are a bonus to the team.
Goal.com: Your first assignments maybe apart from international friendly matches will be against Africa champions Nigeria in a World Cup qualifier. What is your take on Nigeria as a team and your prospects for the match?
Amrouche: Nigeria is a good team. They have resorted to use youngsters and you saw it worked very well in South Africa. One thing is for sure, I understand tactics deployed by Coach Stephen Keshi. He (Keshi) is my friend…not only a friend but a fellow coach that we have had a lot to do together. I can read and understand Keshi's game plan and that should definitely be an added advantage to Kenya. Once I get to know my team after training sessions, then I will be in a position to predict the outcome of the match in Nigeria.