By Dennis Mabuka
With the Kenya Premier League (KPL) 2013 season six weeks away from kick-off, top league side AFC Leopards are already embroiled in wrangles with two factions claiming to be bonafide office bearers.
One faction led by long serving chairman Alex Ole Magelo and his secretary general Winstone Kituyi are entangled in a leadership tussle against the recently 'elected' faction led by Nairobi businessman Mathew Opwora as the new chairman and Caleb Sunguti as secretary general.
Goal.com got the opportunity of interviewing incumbent boss Ole Magelo on a range of issues bedeviling Ingwe.
Goal.com: The league is six weeks away from kick-off and AFC Leopards is already embroiled in wrangles. How do you sum up the situation?
Ole Magelo: First of all this came as a shocker to me that there is a group claiming to have taken over AFC Leopards' leadership. I was shocked to read some of the names associated with fraud where the club lost over Sh2 million – from National Bank, Kenyatta Avenue (Sh1.6m) and Co-operative Bank, Moi Avenue (Sh450, 000) – as those 'elected' in the poll that the legitimate national executive did not sanction.
To me the wrangles are being perpetuated by people who have other motives but not those who want to run the club because why fight an office that is performing and producing results?
I strongly believe that my office has done the best despite the wrangles that are always stage managed before the season kicks-off and this is not the best way to go for a big club such as AFC Leopards.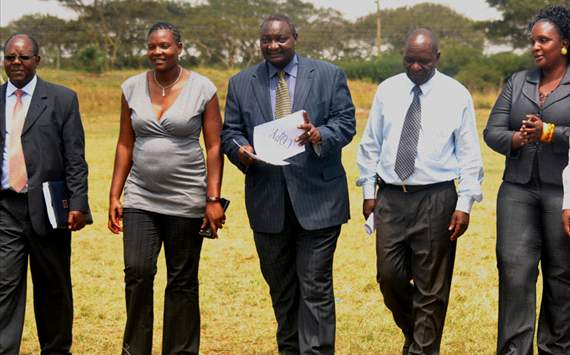 Goal.com: Tell us the correct stand of AFC Leopards' leadership as at today.
Ole Magelo: The legitimate AFC Leopards' office bearers elected in June 2012 is headed by Alex Ole Magelo as the chairman and his team who are well known…nothing has changed and we are in office until June 2013.
We were given a one year mandate as per the club's constitution and this has to be respected. We have never called for elections and if that is done, then we will do an advertisement in papers as required by the constitution placing a notice that in 21 days the club will hold a Special General Meeting (SGM).
Only paid up members are allowed to attend such a meeting. That means as at now…we are the bonafide officials of the club until such a time comes and proper polls are called for, conducted and new officials elected.
Goal.com: Are you ready to meet the rival faction so as to reach a consensus?
Ole Magelo: No…I can't meet them. I cannot meet non-members of AFC Leopards and if I were to meet legitimate members then it should be done through a notice in the press and we must have an agenda to be discussed.
It will be suicidal for me to meet a group of people who made the club suffer financially for six months when monies disappeared from the bank. If they (faction group) claim to have the club interests at heart, they should wait for the appropriate time when elections are called through a notice so that they contest for seats.
Goal.com: The issue of those contesting for political seats to relinquish positions at the club has dominated headlines in the past few weeks. You are one of those contesting. What is your stand on this?
Ole Magelo: When this club was relegated from top flight league at the end of 2007 season, I took charge as it was playing in nationwide league in 2008 and I was a Councillor at the Nairobi City Council…not a bishop or an engineer. I was a politician. AFC Leopards constitution does not bar any official wishing to contest a political office from holding a club position.
My other competitor is a civil servant and thus AFC constitution does not bar him from contesting a political seat. We are still operating under the old constitution and things can only change if AFC have a new constitution in place.
I also want to ask those opposing my chairmanship on the premise that Magelo is seeking a political seat-Did they come to the realize that I became a politician last week yet I was elected in June 2012 as the club chairman under the old constitution and I was still a politician?
Goal.com: Tell us some of the milestones realized since taking over as the club boss?
Ole Magelo: I have been associated with AFC's success since 1986 when I started as a member, moved to deputy secretary general and then as chairman.
And the biggest success was to get the team out of relegation in 2008 by joining top flight league in 2009 and in the same year we won the FKF Cup.
In 2010, I restructured the team by injecting professionalism from the technical bench to the playing unit with handsome payments. These changes initiated under my reign made us challenge for the title last season.
I am also proud to be associated with the team because we managed to secure a sponsorship deal with Mumias Sugar Limited, one of the major milestones in the club's history.
Goal.com: Despite the team finishing third in the 2012 season, the entire technical bench was fired. What could have triggered the changes?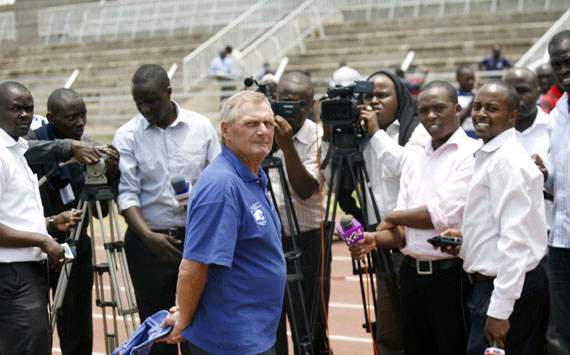 Ole Magelo: The technical bench headed by Coach Jan Koops totally lost control of the team. Koops became dictatorial and could not listen to officials let alone the team's physician.
It was really hurting because the coach could field injured players. It even reached a point where other players could be injected so as to play. Tell me…Allan Wanga was the best striker in the Kenya league same was the case with defenders Erick Masika, Jonas Nahimana and custodian Patrick Matasi but the aforementioned are no more because of the Dutchman.
Do you remember AFC Leopards being labeled a team of 45 minutes just because most of our key players were out injured?
The technical bench failed completely and I believe that with the kind of monies we had pumped into the team and some of the top players we had purchased, we deserved a silverware.
Goal.com: What is your message to the fans ahead of the coming season?
Ole Magelo: I want to assure fans that everything is under control. Our office is working under the clock to get a new tactician who will be assisted by Tom Olaba before the season gets underway. I also want to assure sponsors and members of AFC Leopards' family, who entrusted the team on me, that I will not allow pretenders to take charge of the same.
I call upon detractors to wait until proper elections are called for in June. I will not let go my chairmanship at AFC Leopards and my rivals should be prepared for a big battle.