Kenya midfielder Macdonald Mariga has officially resumed training with Inter Milan's first team. Mariga is recovering from an injury that has kept him out of competitive action for the last five months.
Latest photos show the lanky midfielder-spotting a new haircut, juggling and kicking the ball under the watchful eye of youthful Inter coach Andrea Strammachioni.
"I am on course but still have some ground to cover. I need to impress the new coach and be available for selection immediately I am cleared by the medical staff," the former Parma FC player told Goal.com Kenya.
The UEFA Champions League winner is on course to make a comeback with the former European champions reserve team within the stipulated time of the next 6-8 weeks. Mariga who is Kenya's most successful football player boasts of a checkered career on the football pitch.
The 25 year old started his first professional stint at then Kenyan Premier League club Kenya Pipeline before transferring to Tusker FC.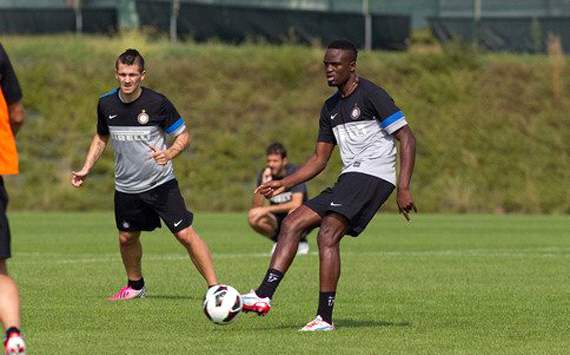 Mariga's first breakthrough abroad was at Swedish third Division club Enokpings. He thereafter transferred to Helsinborgs situated in the first Division of the same league where he played alongside veteran striker Henrik Larsson.
That wasn't the end of Mariga's rise as soon thereafter, Serie A side Parma FC beat off competition from a host of European clubs including Ajax Amsterdam and Portsmouth to snare his services.
The Kenyan star then made history in January 2010 by securing a money spinning move to Inter Milan then managed Coach Jose Mourinho.
Mariga played a big role for the squad as they won the treble of titles including the Serie A, Coppa Ittalia and UEFA Champions League.
He has been loaned out twice by his current club initially to Real Socieadad, then to Parma but he has since returned to his former club.
"Its been a great journey for me and I must thank God for the opportunity he has offered me in life. He is above everything else."