Pacesetters AFC Leopards, champions Tusker, Sofapaka, Thika Utd and Gor Mahia are all fighting for the league crown that seems headed to the wire
With seven matches of the 2012 Kenyan Premier League campaign remaining, the race for the ultimate prize has intensified with the self proclaimed 'big boys' preparing for the final dash.

In a battle that began in earnest seven months ago, only six teams retain a realistic chance of clinching the overall title.
Ahead of the pack are pacesetters and team of the season so far, AFC Leopards, who many believe seem to have done just about enough to snatch the title away from defending champions and second placed Tusker FC.
Other teams that retain the chance of clinching the title this term include 2009 champions Sofapaka FC, 2010 winners Ulinzi Stars, plus the potential KPL Top 8 champions Gor Mahia.
From the lot, the highest surprises will be registered if the youthful Thika United, who have never previously won the league, were to emerge victorious.
The significance of the title challenge was highlighted further last week, when respected coaches Salim Ali and Sammy Omollo, who until recently handled Sofapaka and Tusker respectively, were dismissed from their respective positions, with the administrators citing a poor return in results on the pitch.
Interestingly, both tacticians are highly experienced and faced the sack despite their teams being in the top three and still very much in the run for the title.


Goal.com Kenya
examines the prospects of the probable contenders, as the league enters its homestretch.
Currently topping the log on 44 points, AFC Leopards are the title favourites. The league trophy is theirs to lose.
After an impeccable run in the first leg, the team lost steam when leadership squabbles reared its ugly head halfway through the first leg.
These squabbles saw the side go three games without a win, but they have since bounced back from that bad spell to put their campaign back on track.
Under Dutch coach Jan Koops, they have picked up 13 wins, five draws and only four loses in the 21 league matches they have played.
With a strong squad, rich in depth and quality they stand a higher chance of landing their 13th league title.
A 75 percent chance is ideal.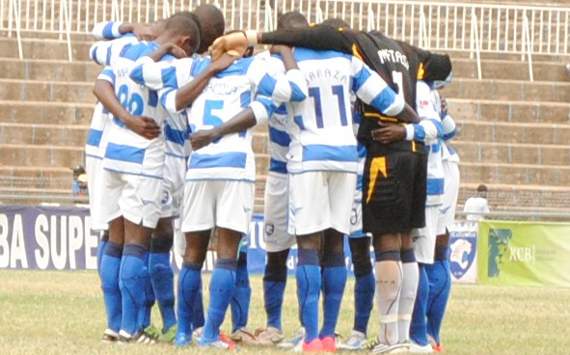 The brewers are the defending champions having won the crown on the final day of the last campaign. This term however, the brewers have periodically suffered the proverbial 'second season blues' amidst reports of a choke after a successful run of fixtures on the local and continental scene.

A poor run in the recent Cecafa club championships staged in Dar es Salaam, followed by a double beating by Gor Mahia and Mathare United, seemed enough to send ex-head coach Sammy Omollo packing.

The loss of three key players Paul Were, midfielder Jerry Santos and centre half Brian Mandela, without adequate replacements, seemed to have hindered the team's progress severely.

New coach Robert Matano is the man tasked to revamp the title defence that is growing slimmer with each passing day.

On 40 points so far from 21 games-11 wins, 7 draws and 3 loses, the brewers are eying a tenth league title. However, no team has of late successfully defended the title. They stand a chance though on a fifty fifty basis.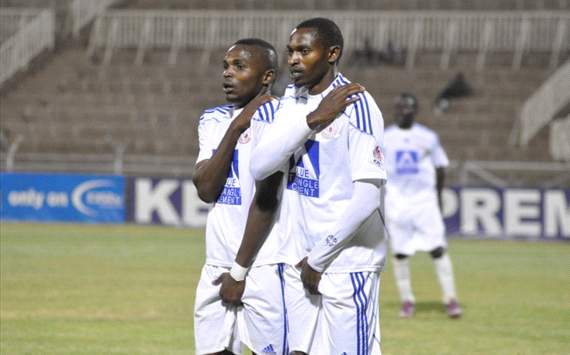 The club not only made headlines in their 2009 debut season but also went ahead to win the league title thus gate crashing into the high table of Kenyan soccer powers houses.
Since then the league hunt has become a dream too hard to achieve .They have come so close yet so far. The trophy dry spell has in most cases given the ambitious club owner Elly Kalekwa sleepless nights.

In the pursuit of the dream and the conquest of Kenyan league, Kalekwa has traveled far and wide hiring several coaches and players while at the same time not hesitating to send them packing when they fail to deliver.
The latest to face his wrath is the soft spoken former Mathare United coach Salim Ali. Other that have been shown the exit doors are Robert Matano, John 'Bobby' Ogolla, Ezekiel Akwana and Ugandan Sam Ssimbwa.
Currently rooted third on the log with 38 points from 21 matches- 11 wins, 5 loses and equal number of draws, the
Batoto Ba Mungu
still stand a chance and will be hoping that their top opponents falter to enable them fulfill their dream of landing a second league title. Sofapaka have a 70 percent chance of reclaiming the crown.
The Thika town based 'milk' men are ranked outsiders. They are like the proverbial small fish in the pond competing against big fish.
This is their only undoing and the lack of experience to win the league title having not landed the trophy before.
But in football as the saying goes- surprises are always in store. Can Coach John Kamau Irungu pull the surprise? A cocktail of results have bedecked their campaign.
They have of late lost their initial sparkling form they had in the first leg. At position four with 39 points same as third placed Sofapaka and second placed Tusker, they have a record of 11 wins, 6 losses and 6 draws.
Irungu men will need to work extra hard and cross their fingers for lady luck to come their way .Their lead talisman Kepha Aswani, Cliffton Miheso and Francis Kahata will also have to be in their best form if they are to outwit their rivals. They stand a 30 percent chance.
With four league titles in their trophy cabinet at the Department of Defense headquarters, the soldiers are in yet another run for glory.
Having conquered the league action in 2010, they missed out on the chance of successfully defending their league crown last season by a whisker finishing runner -up, but their head coach Sammy Simiyu believes they are still in contention.
At position four on 37 points, they are keeping tabs on the higher ranked teams as they play their cards close to their chests.
A very physical side with immense power, they have had 11 wins, 4 draws and six losses. A further league title will be a shot in the arm. Their chance stand at 50percent as they still have three games at hand.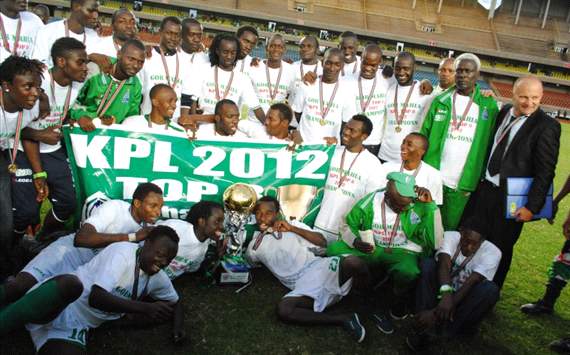 Arguably Kenya's most decorated club, the giants of yester-years lost its spark in the previous years but has of late exhibited glimpses of a giant it was.
Five weeks ago it was not imaginable that K'ogalo as they are fondly known could be challenging for the title.
Though still considered underdogs as a massive 10 points separate them from the pace setters, Gor have a very slim chance of lifting the trophy.
They are in a tight position and have no margin for error. They must win all the remaining nine fixtures and hope for unfavorable results against top ranked teams.
Under Croat Zdrakvo Logarusic they have metamorphosed into a formidable opposition.
So far they have recorded 9 wins, 7 draws and 5 losses. Another league title will take their total league crown to a record 13. They have a 70 percent chance.