With the 2012-13 season winding down across Europe, a handful of African professionals have seen their market value soar as the transfer window draws nearer by the day. These players stood out individually at their clubs and in their respective national leagues to bring pride to the African continent.
Some African national teams were able to maintain their stature on the Fifa ranking and did not suffer the upward and downward bustle from top sides, while others pushed forth after gaining vital points from previous rankings.
Goal.com takes a look at the achievements of a selection of players from the European leagues and the national teams that fared well on the recent Fifa ranking.
African Player of the Month | Bony Wilfried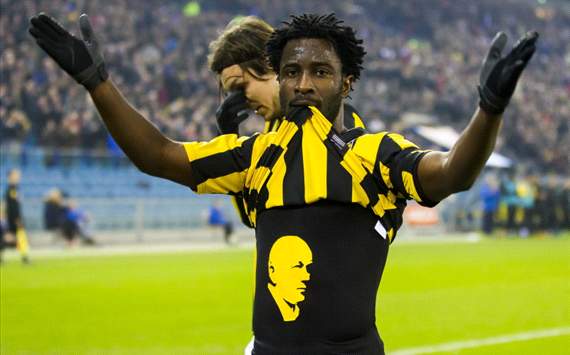 Country:
Cote D'Ivoire
Club:
Vitesse

Age:
24
Role:
Striker
The Cote D'Ivoire international is widely regarded as a suitable replacement for his compatriot Didier Drogba in the national team, after the former Chelsea talisman dominated their attacking line for almost a decade with not supplant in sight. And with Drogba now battling a declining form and poor reception from fans and officials back home, Bony stands out to step into his shoes.
The 24-year-old, who was groomed at an Abidjan-based football academy founded and run by the Elephants' ex defender and captain Cyril Domoraud, will likely finish the season as top scorer of the Dutch Eredivisie with at least 31 goals, which is also the highest tally for an African player in all Europe this season.
Bony's robust build and six-footer gives him ball control advantage, while his pace and positioning sense help in overcoming markers upfront, which have been his major strength this far. Although some pundits still doubt if he can reproduce Drogba's ability to find the back net from almost all angles, Bony has proved this season he is one out of the lot to be reckoned with.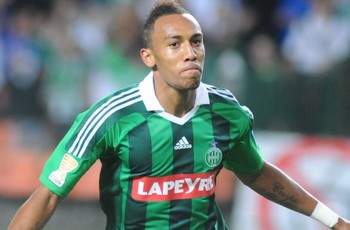 Pierre Emerick Aubameyang (Gabon & Saint Etienne)
The French-born Gabon international striker has been the sensation of the Ligue 1 this season, helping his side Saint Etienne to finish in the last four and triumphing in the 2013 Coupe de la Ligue. Although with eight goals shy of top scorer PSG's Zlatan Ibrahimovic's tally of 27, Aubameyang stands as the second top scorer in France with 19 goals, and now finds himself on the radar of a number of top flights in Italy, Germany and England, but his ex-footballer father Pierre Aubameyang says his son might remain in France if they are unable to broker a mouth-watering deal during the looming transfer window.
Demba Ba (Senegal & Chelsea)

Since joining Chelsea from Newcastle last January, Demba Ba has maintained his deep-running form, both in goal scoring and delivery of timely assists, successfully carving for himself an essential role in the game plans of the Blues interim coach Rafael Benitez. Demba is the first Senegalese to play for Chelsea, and adding to that, he is the only African in the top ten of the Premier League scorer table, sitting at sixth position with 15 goals, which is also the highest tally for a Chelsea player so far in the waning season.
Victor Moses (Nigeria & Chelsea)
The Nigerian winger keeps improving at Stamford Bridge despite his limited playing time in league matches, and has quickly earned for himself the image of a player capable of changing the course of a match at any given time. The 22-year-old is now an indispensable hand with the reigning African champions the Super Eagles, and has been exhibiting much brilliance towards the close of the season, especially in the Europa League by helping his side to reach the final with four crucial goals.
African Team of the Month | Cote D'Ivoire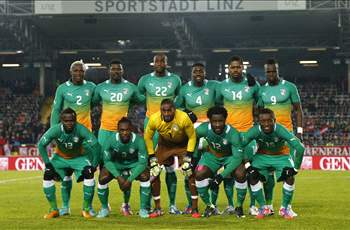 Despite the tough criticisms the Ivorian players are facing back home from the press and fans following their debacle at the 2013 Africa Cup of Nations in South Africa, the team have been able to conserve their continental status as number one on previous and current Fifa rankings.
With one place gained from March, Cote D'Ivoire sit at 12 position on the global scale ahead of top national sides like Mexico, 14, Uruguay, 17, France, 18 and Brazil, 19. However, only few people in the West African nation attach much interest to their team's bright showing in the rankings. Many want to see their all-time best generation of football players bring home at least one continental title before they hang their boots.
The Ivorians are likely to maintain that position or even move higher in future rankings considering the tolerable oppositions they will be facing in the next Fifa World Cup qualifying match day. Leading Group C with seven points, Cote D'Ivoire will take on bottom placed Gambia and Tanzania in June.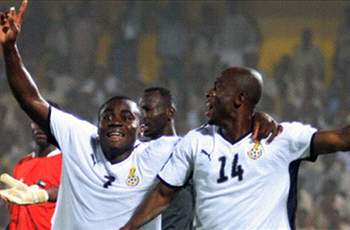 Ghana

Despite losing two places from last month's Fifa ranking, Ghana are still Africa's number two national team behind Cote D'Ivoire. The Black Stars finished at 22 in April ahead of respectable teams like Chile, Sweden and Czech Republic.
Mali

Like Ghana, Mali lost two places from March to finish at 24 in the current Fifa ranking but hold the position for the third African team after Cote D'Ivoire and Ghana. With 826 points, the Eagles are above the USA, Japan and Norway and are currently on tie with leaders Algeria at six points in Group H of the Fifa World Cup qualifying.
Nigeria

The African champions were rated to 31 on the Fifa ranking after scoring 757 in April, however, they are the fourth African team on the list after Cote D'Ivoire, Ghana and Mali. They sit above Peru, Hungary, Romania and Africa's fifth national side on the list, Algeria, who obtained a total of 735 to finish at 35.
Do you agree with Goal.com's African Player and Team of the Month awards for April? Leave your comments below.