COMMENT
By Daniel Eslick
A horrific car accident which claimed the life of Adam Ndlovu and seriously injured Zimbabwean legend Peter Ndlovu, has at least reminded the football world to appreciate the significant impact the striker made in Southern African and English football.
As Ndlovu fights for his life in hospital, his prolific career in England and for Zimbabwe has to be remembered and commended.
The former striker has earned many plaudits throughout his time on the football pitch and he has attained an iconic status in Zimbabwe where he continues to serve the strong football culture in the country, as the assistant coach of the national side and the head coach of the Under-23 side.
He still remains Zimbabwe's top scorer in all competitions with 38 goals in 100 appearances and is regarded as one of the country's greatest exports with an outstanding career that saw him star in the Premier League.
A country which has not produced many internationally recognised players saw their inspirational striker put Zimbabwe on the footballing map. He served as an inspiration for the Zimbabwean youth during his playing days as he made his name in one of the most popular leagues in the world.
Ndlovu began his career playing for his local side Highlanders and his talents were spotted by Coventry City, who brought the striker into the English top-flight where he became a fan favourite, scoring 43 goals in 196 appearances. One of his most memorable performances for the Sky Blues was a match winning hat-trick against Liverpool in 1995.
After six years with the Sky Blues, Ndlovu moved to Birmingham City, where he scored 28 goals in 137 appearances followed by a one season stint at Huddersfield Town. Ndlovu then played for Sheffield United for three years notching up 29 goals in 154 games.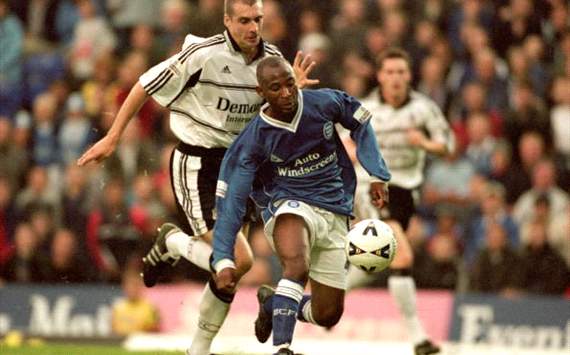 In Action | Ndlovu playing for Birmingham, his second English club
He finished his glittering career in the South African Premier Soccer League making 80 appearances for Mamelodi Sundowns and scoring 20 goals. He decided to retire after brief stints at Thanda Royal Zulu, Black Mambas and Highfield United, but he was not done with football yet.
Zimbabwean football needed an inspiration and Ndlovu consistently delivered during his international playing career. A country which struggled economically, and was hit by spates of violence, had a hero that did not abandon his national side during tough periods. Ndlovu led them to some of their grandest moments during his time on the pitch.
He was an essential aspect of the Zimbabwean national side during his fifteen year period playing for his country. He was a leading figure as Zimbabwe reached their first Africa Cup of Nations in 2004 and helped them qualify once more for the 2006 edition of the tournament in Egypt.
His commitment to international football has made him a household name in his country, as he not only performed on the pitch but also helped to raise funds for the side to make the trip to the Democratic Republic of Congo in 2004.
Ndlovu continued to make an impact in Zimbabwean football after his retirement, as according to Zimbabwe's Prime Minister Morgan Tsvangirai the brothers "made a significant contribution to culture in Zimbabwe."
The tragic death of his brother Adam, a former FC Zurich and international footballer, is a significant loss to Zimbabwean football, as his impact in local football was also immense. He teamed up with his brother in developing the local game as coach of Chicken Inn, a competitive Zimbabwean top-flight club.
Peter Ndlovu will always be known as one of Zimbabwe's finest products and as his country mourns the loss of his brother, the footballing world should recognise one of the leading figures in African football.
Follow Daniel Eslick on