As the Goal 50 for the 2012-13 season draws ever closer, Goal Kenya reviews some of the youngsters who could break into the list in coming years
By Otieno Otieno
We are now just weeks away from the announcement of the prestigious Goal 50 accolade as we reward the best individual performers of the 2012-13 season.
Goal reviews some of Kenyan youngsters who could break into the list in coming years.
FRANCIS KAHATA (THIKA UNITED)


| Francis Kahata (r) features for Kenya against Malawi in a World Cup qualifier
Skilled, gifted and a free-kick wizard. This are just some of the words that one can use to describe the talented Thika United midfielder. Kahata rose to national fame on March 23, 2013, when he scored from a free- kick against Nigeria in a World Cup qualifier played in Calabar in a match that ended 1-1 and was the first time that Harambee Stars had held the Super Eagles away. While many people were surprised by the quality of Kahata's goal, it was not all together unexpected since he had scored similar goals on the local scene while playing for his club in the Kenyan Premier League. He is so skilled with the ball that he can virtually do anything with it. Another of his great qualities is a strong mental strength that keeps him fighting through-out 90 minutes of a match and never gives up even when the situation looks dire. His small body remains the biggest weakness to launch him to a football career in Europe and will probably have to work to build his muscles. He also needs to think quickly on the ball. Watching him play sometimes you have a feeling that he runs too much without anticipating his next move. Quick thinking is a big plus for top flight football.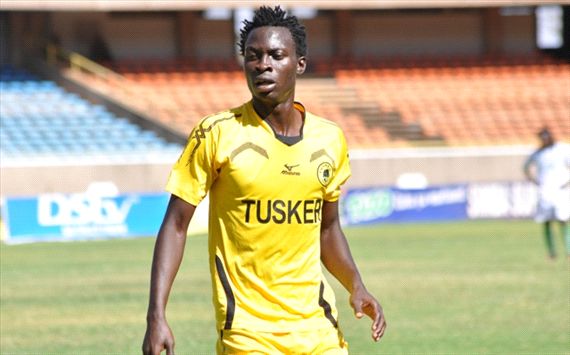 | Jesse Were is the current top scorer in the Kenya Premier League
The 24 year-old Tusker hit man has many admirable qualities that easily set him out as a top striker. One, he does not lose the ball easily and can run for a long distance while in possession. While most strikers prefer to wait for support while in possession, not so for Were who can easily take on two or three defenders on his own. He also has the scoring touch so common with top strikers the world over and would score two out of three chances which come his way. Were's shooting power is another strength he possess. He also has the requisite size for a typical striker and if he can maintain his scoring ability nothing will stop him from venturing into Europe. Consistency is another admirable quality in the player, who continues to score even at his new club Tusker meaning that his exploits at Mathare United last season was not a fluke. However, the one thing that can easily stand on his way to going to Europe is a lack of national team experience. Most clubs would demand proof of having played for the national team but Were lacks this. Perhaps he needs to work harder to impress Coach Adel Amrouche.
ANTHONY 'TEDDY' AKUMU (GOR MAHIA)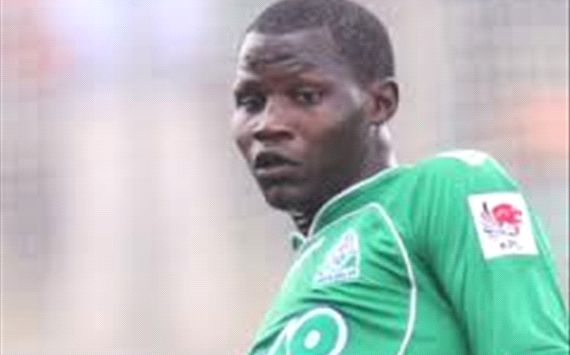 | Akumu is compared to former Arsenal and French midfielder Patrick Vieira
He has been compared to former Arsenal and French midfielder Patrick Vieira and it is not for nothing. Akumu easily turns defensive moves into offensive with his hard tackling but fair tackles and it means he rarely gets booked. It is the feat that earned him the 2012 Kenyan Premier League midfielder of the year Award. At only 21, he is at the right age to make that big money move. Most scouts who have watched the player admire his vision and range of passing. Whether it is a shot or long pass, they always end up at the intended recipient. He sprays the ball well and rarely losses possession. Akumu also heads the ball well from different positions on the pitch and most agree that his discipline level is very impressive. Always polite even to opponents, he is embodies the true spirit of a sportsman. His only weakness is lack of national team matches made worse by the fact that he plays in the same position as Celtic midfielder Victor Wanyama and this always denies him a starting position in the Stars. But his recent call up to the Cosafa team is a big plus considering that he had a full game on Monday against Lesotho.