The defining moments of 2012
1. Zambia win the Africa Cup of Nations in Libreville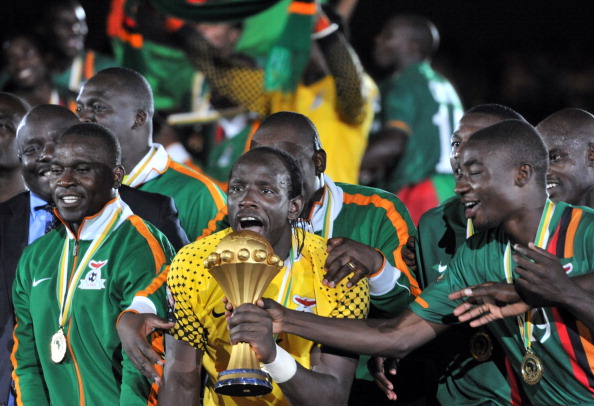 The scene was set: Zambia, under the suave Frenchman Herve Renard, unexpectedly battled their way to the final of the Africa Cup of Nations in February riding a wave of emotion that culminated in a one-off match against the giants of Ivory Coast in the Gabonese capital Libreville.

The location of the final resonated with Renard's squad, its supporters, Africa and the audience around the globe - it was the nearest major city to the plane that crashed into the Atlantic Ocean in 1993, killing the majority of a highly promising Zambian side.

There have been many examples over the years of teams capitulating on the grand stage, their biggest night (just see Bayern Munich's loss at home in the Champions League final), but the Copper Bullets would ultimately triumph and set the tone for fairytale stories throughout 2012.

Yet there remains something more special about Zambia's victory than most other triumphs of human spirit. They were massive underdogs against the household names lining up beside Didier Drogba and Yaya Toure, but displayed the grit and togetherness that can only be fostered by an emotionally charged collective.

The match itself pinballed from end-to-end over a pulsating and gripping 120 minutes before both teams played their part in one of the best examples of high quality penalty taking the game has seen. Kennedy Mweene, the Zambia goalkeeper held his nerve to score the fifth penalty, before knocking the confidence out of the Elephants by saving Kolo Toure's effort - the only miss of the first 15 strikes. After he was let off as Rainford Kalaba blazed his over, Gervinho wildly put his past the post, allowing centre-back Stophira Sunzu to net the trophy-winning spot kick.

The Zambia captain Christopher Katongo - voted player of the tournament - said after the semi-final: "The tears will be dropping from the fans when they watch the final," unaware that they would also be rolling down his cheeks as he led his team to the ultimate story of redemption.
The defining moments of 2012