David Silva Player Profile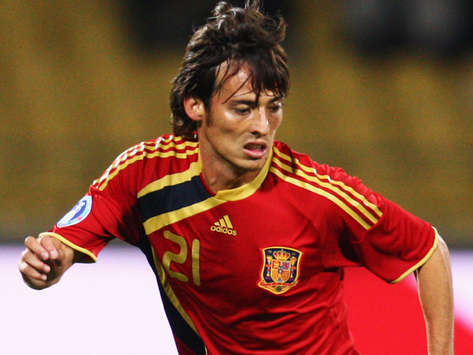 At 24 years old, David Silva could be considered as the silent artist of the Spanish national team. Discreet in his skill, the darting midfielder would star on many other national teams. But sharing the pitch with a generation of players so abundant with talent, Silva remains somewhat eclipsed by the likes of Andres Iniesta, Xavi or Cesc Fabregas.

Accustomed to his role as the protagonist at Valencia, Silva has learned how to adapt to his secondary role with La Roja, reducing his individual qualities to combine with his team-mates to extraordinary effect. Working both as a creator in the attacking midfield and as a pacy winger on the left flank (a position he does not fill at the club level), Silva has learned how to continue to shine in Vicente del Bosque's squad.

His principal virtues on the pitch include his excellent control of the ball and excellent vision, allowing him to deliver impressive assists to Fernando Torres and David Villa. While he may be limited in terms of pure speed, it is a tall task to acquit him of possession. Further adding to his arsenal is his capacity to find the back of the net, something he has begun to do with more and more frequency.

Silva debuted with La Roja under Luis Aragones on November 15, 2006 in a friendly match. After that game, he remained a regular in the squad, earning 26 caps and scoring 3 goals—one of which he scored against Russia in Euro 2008. With Del Bosque's arrival along with the numerous injuries he suffered in 2009, Silva saw his role in national team starting XI reduced, but has recently proven to be a impressively viable option on the left wing.


Did you know?


In the Valencia locker-room Silva is affectionately nicknamed the 'Wild Pony'—a reference to a James Aldridge novel—for his small stature and strong character.


Professional titles:


Spanish Cup: 2007–08
UEFA U-17 Championship: Runner-up 2003
FIFA U-17 World Championship: Runner-up 2003
UEFA European Under-19 Football Championship: 2004
UEFA European Championship: 2008
FIFA Confederations Cup: Third place 2009
Individual awards:
FIFA U-17 World Championship: Bronze Ball 2003
ESM Team of the Month: February 2007


Become a fan of Goal.com India's Facebook fan page for all the latest news and insight into everything related to the beautiful game!

Copyright © 2017 Goal.com All rights reserved. The information contained in Goal.com may not be published, broadcast, rewritten, or redistributed without the prior written authority of Goal.com