Ji-Sung Park Player Profile
Ji-Sung Park
Full Name:
Ji-Sung Park
Date of Birth:
25-Feb-1981 (Age 35)
Place of Birth:
Seoul
Nationality:
South Korea
Height:
178 cm.
Weight:
73 Kg.
Position:
Midfielder
Squad Number:
13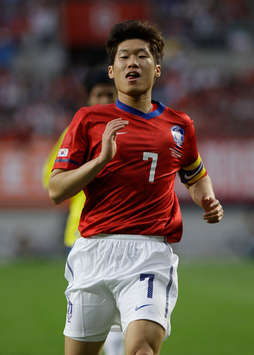 Park Ji-Sung is the current captain for the national team and plays for Manchester United. He is not only a superstar in Korea but he has also become a popular player at Old Trafford. The only South Korean player to perform better than Park in Europe is Cha Bum-Kun (Cha Boom) who starred for Eintracht Frankfurt and Bayer Leverkusen in the eighties.

Park's path to the top has not been easy. After graduating from high school, no clubs or universities were interested until Myong-Ji University came in for him at the last minute and head coach Kim Hee-Tea, recommended Park for the Olympic National Team, then led by current national team coach Huh Jung-Moo.

In 2000, Park signed with the Japanese side Kyoto Purple Sanga FC which had just been relegated to J2. Helped by the Korean, Kyoto won the J2 championship and returned to the top flight.

The 2002 World Cup was a turning point for Park. He was one of Guus Hiddink's favourites in the national team and led South Korea all the way to semi-finals.
After the World Cup, Hiddink was appointed as manager of PSV Eindhoven and took Park and team-mate Lee Young-Pyo to the Netherlands.

For a while, Park struggled due to injuries but he began to adapt by the end of the 2003-04 season and after the departure of Arjen Robben, he got more opportunities to play. He proved his worth and helped the club to the semi-finals of UEFA Champions League in 2005.

In June 2005, Park joined Manchester United. Although he has not scored many goals, he set up many for the likes of Wayne Rooney and Cristiano Ronaldo.
Park can be used as a winger, central midfielder and even as a full-back. He has nicknames such as 'Oxygen Tank' and 'Three Lungs' because of his energetic movement.

Did You Know?

Suwon, Park's home town in South Korea, has named a road after him, Park Ji-Sung Road, to honour his contribution to the South Korean national team in the 2002 World Cup.


Awards and Honours :


J2 League (Kyoto Purple Sanga 2001)
Emperor's Cup (Kyoto Purple Sanga 2002)
Eredivisie (PSV Eindhoven 2002/03, 2004/05)
KNVB Cup (PSV Eindhoven 2004/05)
Johan Cruijff-schaal (PSV Eindhoven, 2003)
Premier League (Manchester United 2006/07, 2007/08, 2008/09)
League Cup (Manchester United 2005/06, 2008/09, 2009/10)
UEFA Champions League (Manchester United, 2007/08)
FIFA Club World Cup (Manchester United, 2008)
Individual
J2 League MVP: 2001
J League Best XI: 2001, 2002
Emperor's Cup MVP: 2002
Peace Cup MVP: 2003
UEFA Champions League Best XI: 2005
KNVB Cup MVP: 2005
Eredivisie Best XI: 2004-05


Become a fan of Goal.com India's Facebook fan page for all the latest news and insight into everything related to the beautiful game!



Copyright © 2017 Goal.com All rights reserved. The information contained in Goal.com may not be published, broadcast, rewritten, or redistributed without the prior written authority of Goal.com