Alexandros Tziolis
PAOK

Alexandros Tziolis
Date of Birth:
13-Feb-1985 (Age 31)
Place of Birth:
Katerini
Nationality:
Greece
Height:
189 cm.
Weight:
84 Kg.
Position:
Midfielder
Squad Number:
-
National Team Page:
Greece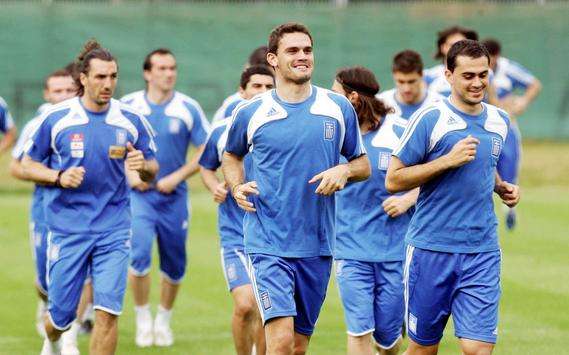 Staying close to home for much of his career, Tziolis has been dubbed as a solid contributor to any midfield. While his attributes don't necessarily promote attacking football, Tziolis' long-serving stint at Panathinaikos crafted him into a steeled midfielder capable of providing an edge for both club and country. His travels abroad only began last year with a loan move to Werder Bremen, but a permanent deal was found when Siena came calling during the 2010 winter transfer window.

Despite regularly featuring for Panathinaikos throughout the early parts of his career, tradition has muscled Tziolis out of the Greece line-up for quite some time. With the Greek midfield known to be measured by long-standing eras, the likes of Giorgos Karagounis, Kostas Katsouranis, and previously Angelos Basinas and Christos Patsatzoglou remained above Tziolis on the depth chart. With the latter two no longer playing a consistent part of the international fold, Tziolis' experience from time in the Serie A could give him the chance to win a starting role in the Greece roster this summer.

The level of physicality he brings to the pitch does give a gritty dimension to the Greek midfield; however, Tziolis' soft touches to pick out team-mates make him a capable playmaker from the holding position. Nevertheless, it will be his ability to mark opponents and purge any attacks from Greece's rivals that will determine Tziolis' and Greece's success in South Africa

Did You Know?

Tziolis was an extra-time substitute for Werder Bremen in the 2008-09 UEFA Cup Final. He replaced Peter Niemeyer in the first half of extra-time, and nearly equalised for the German side before Bremen eventually lost 2-1 to Shakhtar Donetsk. Ironically, he scored against Bremen in the UEFA Champions League group stages in the same season as a member of Panathinaikos.

Become a fan of Goal.com India's Facebook fan page for all the latest news and insight into everything related to the beautiful game!
Copyright © 2016 Goal.com All rights reserved. The information contained in Goal.com may not be published, broadcast, rewritten, or redistributed without the prior written authority of Goal.com