Toni Kroos
Real Madrid

Toni Kroos
Date of Birth:
04-Jan-1990 (Age 26)
Place of Birth:
Greifswald
Nationality:
Germany
Height:
182 cm.
Weight:
74 Kg.
Position:
Midfielder
Squad Number:
8
National Team Page:
Germany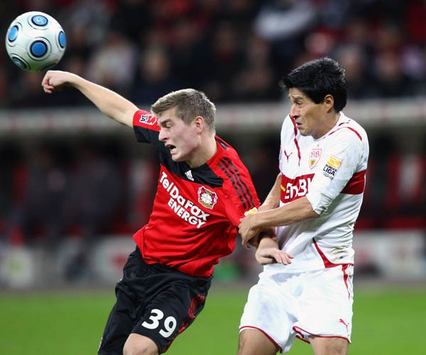 Even though Toni Kroos had offers from foreign clubs, he decided to leave Hansa Rostock and his home to join Bayern Munich in 2006. Ottmar Hitzfeld gave the blonde his debut as the youngest Bundesliga player in Bayern history in the age of 17 years and 265 days. After his entrance in the 72th minute against Cottbus he assisted Miroslav Klose's last two goals of the match and hysteria over this young sensation began.

Although Director Uli Hoeneß held a protective hand on the youngster, he had plans for him. The number 10 shirt of the champions was reserved for him, but after Hoeneß witnessed Sebastian Deisler breaking apart under huge pressure, the manager created a new plan: Arjen Robben got the popular shirt number and Kroos could develop quietly on loan at Leverkusen. Week after week the midfielder is blossoming more and more. Even the World Cup is on topic and Bayern are sure to recall the promising star for 2010-11.

On the pitch the young playmaker is as cool as a cucumber and has an overview of an experienced genius. The talent from Greifswald does not foola round or go on ego trips. Although his style seems to be often quite conservative, with his great technique Kroos is already a dangerous shoter.


Did you know?

The captain of the Under 17 World Cup 2007 in South Korea was voted as player of the tournament. He passed for example Barça's Bojan Krkic. Another player who won the Adidas Golden Ball four years earlier was Cesc Fabregas.


Awards

Bundesliga champion 2008
German Cup winner 2008
League Cup winner 2007
Adidas Golden Ball at Under 17 World Cup 2007

Become a fan of Goal.com India's Facebook fan page for all the latest news and insight into everything related to the beautiful game!

Copyright © 2016 Goal.com All rights reserved. The information contained in Goal.com may not be published, broadcast, rewritten, or redistributed without the prior written authority of Goal.com