Lukas Podolski Player Profile
Lukas Podolski
Nickname:
Prinz Poldi
Date of Birth:
04-Jun-1985 (Age 32)
Place of Birth:
Gliwice
Nationality:
Germany
Height:
180 cm.
Weight:
81 Kg.
Position:
Forward
Squad Number:
9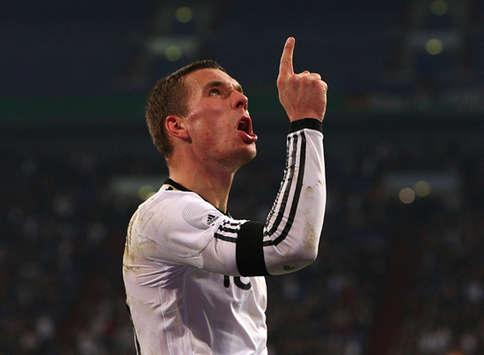 When in 2003-044 when nothing went right at the "Billy Goats," Marcel Koller gave a striker from the youth side a chance and Lukas Podolski immediately paid dividends. Although relegation seemed to be a sure thing, there was only one question Saturdays in the city: "How many goals did Podolski score?" With his left-foot hammers, the Bergheim youngster with Polish blood netted ten times in 19 matches during his debut season, a mark no 18-year-old had reached in Bundesliga history. This opened the door for Rudi Völler to invite Podolski into the German national team.

In the Bundesliga second division, Podolski became top scorer, but 1. FC Köln were not competitive in the top flight the next season. After he was chosen as best young player during the 2006 World Cup in Germany – in front of Lionel Messi and Cristiano Ronaldo – everybody in Cologne knew, that it would be impossible for Podolski to remain with the club.

Bayern Munich had the winning €10 million bid for his services, but the family man was never happy in southern German high-society. Injuries and prominent competitors blocked his breakthrough in Munich. Also the arrival of coach Jürgen Klinsmann, his biggest promoter with the national team, didn't change his situation on the bench at the Säbener Straße. A multi-million salary, Champions League football, cup and league titles didn't made Podolski happy in Munich.

In these times excessive transfer fees from big clubs, it sounds like a fairy tale, that his biggest love, 1. FC Köln, did everything to realise a return of their "Prinz Poldi." With viral marketing €10 million was collected, other clubs may have to paid much more to Uli Hoeneß, but the Bayern sporting director accepted the bid, seeing the homesickness of the young striker. For less of a salary, Podolski returned this season back at the Rhine, although he has yet to regain his previous form. But there is no doubting Podolski's success with the national team.


Did you know?

With nine wins Podolski is record holder of the German 'Goal of the Month' Award. 27 months were enough for the youngster to overtake his mentor Jürgen Klinsmann, who had eight wins.


Awards

Finalist Euro 2008
Third place World Cup 2006
German champion 2008
German Cup winner 2006
Gillette Best Young Player at World Cup 2006
Third place Confederations Cup 2005
Silver Shoe at EURO 2008
UEFA All-star Team EURO 2008
Topscorer 2nd Bundesliga 2004/2005
Champion of 2nd Bundesliga 2004/2005
League Cup Winner 2007

Become a fan of Goal.com India's Facebook fan page for all the latest news and insight into everything related to the beautiful game!


Copyright © 2017 Goal.com All rights reserved. The information contained in Goal.com may not be published, broadcast, rewritten, or redistributed without the prior written authority of Goal.com