Philipp Lahm
Bayern

Philipp Lahm
Date of Birth:
11-Nov-1983 (Age 32)
Place of Birth:
München
Nationality:
Germany
Height:
170 cm.
Weight:
62 Kg.
Position:
Defender
Squad Number:
21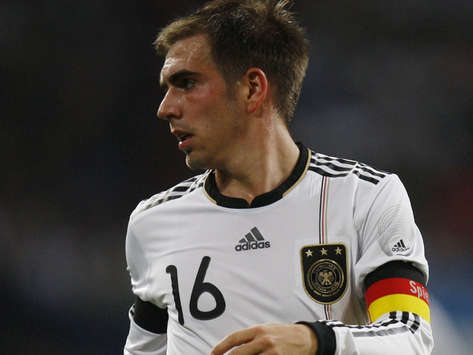 Left-back or right-back? It doesn't matter! Philipp Lahm is not the tallest or most powerful player on the pitch, but he is among the world's best full-backs. He is an undoubted starter under Joachim Löw and for many people the emerging leader of the German national team. Despite that, he is not the captain of his country nor of his club Bayern Munich. That is midfielder Michael Ballack, who is the captain of the team, but Lahm is arguably just as important. Not only does Löw trusts him, he is also backed by the majority of his team-mates.

Lahm played his first game for Germany in 2004 against Croatia. Since then he's earned 63 caps and was part of the squad at World Cup 2006. He also played a crucial part in the EURO 2008, where he led his team to the final. In the semi-final against Turkey he scored the winner in injury time.

The 26-year old is a modern defender: he plays offensive and doesn't commit many fouls. He is not a finisher, as only three goals in 63 caps show. Although, ironically he scored two goals in very important matches - as written earlier he scored in the semi-final of Euro 2008 and also in the opening game of the World Cup 2006.

In the Bundesliga he scored 9 goals in over 200 games. What he lacks physically, he makes up in intelligence. This is also a reason why he is highly rated by all his coaches.


Did you know?

Philipp Lahm developed his own foundation for socially disadvantaged people in Germany and Africa. The Philipp-Lahm-Foundation was founded on the December 11, 2007. He is also against homophobia and intolerance in mass sports.

He was born in Munich and was a winger in his early days as a football player. Later he mostly played as full-back, but also was utilised as a defensive and central midfielder. Jürgen Klinsmann gave him his nickname 'Paolo', because Maldini is an idol for Lahm and his former coach compared him to the italian legend. Former Bayern-player Mehmet Scholl also called him 'Wireless', which is still his nickname at the club.


Awards

Bundesliga Champion 2006 and 2008
German Cup 2006 and 2008
Third place World Cup 2006
Finalist Euro 2008
World Cup 2006 All-Star Team
Euro 2008 Team of the Tournament
FIFA Team of the Year 2008
UEFA Team of the Year 2006 and 2008

Become a fan of Goal.com India's Facebook fan page for all the latest news and insight into everything related to the beautiful game!

Copyright © 2016 Goal.com All rights reserved. The information contained in Goal.com may not be published, broadcast, rewritten, or redistributed without the prior written authority of Goal.com