Franck Ribéry Player Profile
Bayern

Franck Ribéry
Date of Birth:
07-Apr-1983 (Age 33)
Place of Birth:
Boulogne-sur-Mer
Nationality:
France
Height:
170 cm.
Weight:
72 Kg.
Position:
Midfielder
Squad Number:
7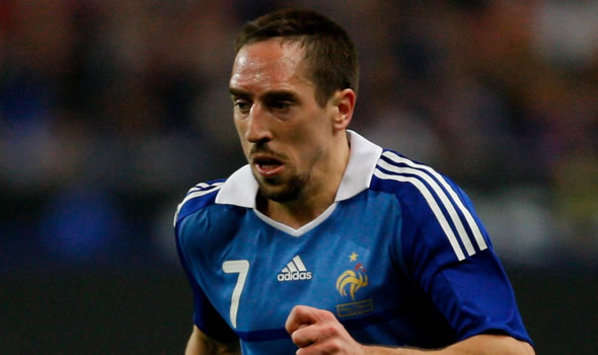 Franck Ribéry is, in the opinion of many French people, the focal point of this team. He is the danger man with the ability to create chances for himself or to set-up team-mates. He was noticed by for his stellar performances in the 2006 World Cup and is now a player that all the biggest clubs want on their roster.

Ribéry has succumbed to many injuries with Bayern Munich in 2009-10. But he will be fit and is expected to be in good shape for the World Cup with fresh legs. He has speed, remarkable dribbling skills, and an accurate shot. He was playing in 4th division football five years ago, before signing for FC Metz (staying six months) and then Galatasaray (another six month stint). Then he joined Olympique de Marseille and blossomed into the player he is today.

He has often been decisive for France in these last few years and the other teams are aware he is their primary threat. The France team will hope that the transfer rumours regarding his future will be forgotten before and during the World Cup, being linked with Manchester United, Real Madrid, and Barcelona.


Did you know?

Franck Ribery is known as a practical joker! He once drove away with the Bayern team bus, but got into an accident. He also took the German cup from the hands of Luca Toni and ran with it in 2008. There was another incident where he threw a bucket of water on the head of goalkeeper Oliver Kahn!


Awards and Honours

World Cup, finalist (2006)
Turkish Cup winner (2005)
Bundesliga champion (2008)
German Cup winner (2008)
Best french player of the year award (2007, 2008)
Bundeliga best player award (2007-2008)

Become a fan of Goal.com India's Facebook fan page for all the latest news and insight into everything related to the beautiful game!
Copyright © 2017 Goal.com All rights reserved. The information contained in Goal.com may not be published, broadcast, rewritten, or redistributed without the prior written authority of Goal.com