Thierry Henry Player Profile
Thierry Henry
Nickname:
Titi
Date of Birth:
17-Aug-1977 (Age 39)
Place of Birth:
París
Nationality:
France
Height:
188 cm.
Weight:
83 Kg.
Position:
Forward
Squad Number:
-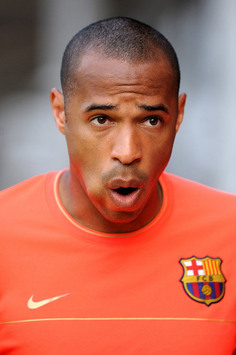 Thierry Henry is simply one of the best French players of all-time! Born in Guadeloupe, 33 years ago, the Barcelona striker who exploded at Monaco started his career in France, becoming a world class player in 1998 when he won the World Cup on home soil.

In his early playing days, he used to play on the left wing, but Arsène Wenger at Arsenal tested him in as a central striker and it paid plenty of dividends, scoring several tallies with his famous right foot strikes to the far post. The Gunners represented his best years as he is the top all-time goal-scorer for the club with 226 goals in 339 appearances.

He is considered as the top foreign player in the history English Premier League and arguably it's best player of all-time. He is also the top-scorer for the French national team (51 goals) and considered the leader of Raymond Domech's squad.

His hand-ball against Ireland, that resulted in a goal and France securing passage to the finals, in the qualification playoffs at the Stade de France was a controversial moment and the player was heavily criticised. However, many feel he did not deserve this based on his great career and usual sense of fair play. In France, there are some doubts on his ability to perform at the end of a tremendous career, but there is little doubt that he will be prepared for his last challenge in South Africa.


Did you know?

Henry has twice been the best assist player in the Premier League, so he is capable of scoring or delivering a telling pass which makes him a very dangerous striker.


Awards and Honours

French Ligue 1 champion (1997)
World Cup winner (1998), finalist (2006)
European Championships winner (2000)
Confederations Cup winner (2003)
Premier League champion (2002-2004)
FA cup winner (2002,2003,2005)
Champions League winner (2009), finalist (2006)
Clubs world cup winner (2009)
Liga champion (2009)
Copa del Rey winner (2009)
Spanish Supercup winner (2009)
UEFA Supercup winner (2009)

Become a fan of Goal.com India's Facebook fan page for all the latest news and insight into everything related to the beautiful game!
Copyright © 2017 Goal.com All rights reserved. The information contained in Goal.com may not be published, broadcast, rewritten, or redistributed without the prior written authority of Goal.com