Didier Drogba Player Profile
Didier Drogba
Full Name:
Didier Yves Drogba Tébily
Date of Birth:
11-Mar-1978 (Age 39)
Place of Birth:
Abidjan
Nationality:
Côte d'Ivoire
Height:
189 cm.
Position:
Forward
Squad Number:
-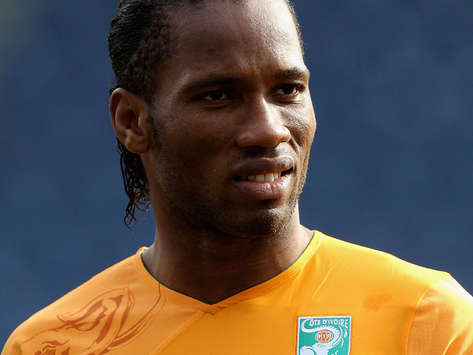 No other player in Ivory Coast's football history has shot himself to the height where Didier Drogba currently hangs. Drogba is no longer just a football star in the West African nation, but a cardinal reference with which strangers identify Ivory Coast. You easily hear visitors asking, "Is this Didier Drogba's country? Instead of "Is this Ivory Coast?"
Drogba did not emerge from any known youth club or competition. The curly-haired striker broke forth to limelight in the 2002 -03 French Ligue 1 season at Guingamp, where he scored 17 goals in 34 appearances. Landing a £3.3 million deal at Olympic Marseille in 2003 – his second Ligue 1 club – Drogba's career would accelerate at lightning speed. His two amazing seasons at Marseille which culminated in a UEFA Cup final, would achieve for him three major things that shaped his career very positively.
Firstly, Drogba honed his skills of precise heading, running aptly with the ball and netting goals from any angle without wasting a second to think. Secondly, it gave him an easy access to Ivory Coast's national team – the Elephants. In an era when the whole nation was being seduced by the youngsters Asec Mimosas – Ivory Coast' D1 club – was feeding the national team with, Drogba bust in and immediately seized his shirt.
Thirdly, Drogba bought the public's love and trust and this opened doors for him to Chelsea after signing a record breaking deal of £24 million, which still makes him the most expensive Ivorian footballer in history. At Chelsea, Drogba seems to be at the peak of his bliss, but he's still asking for more.
People say there's something bizarre about Drogba! He can't dribble, that's right, but he can dexterously outpace his markers and thunder an invisible strike to goalmouth from any angle, from any situation, even while falling. This he does in fraction of a second that you only see the end result and not how it happened.
Drogba is the first and only Ivory Coast player to have received the highly esteemed African Footballer of the Year Award – 2006 and 2009.
Did You Know?
Drogba is building a £3 million mega hospital for the less privileged back in Ivory Coast.
Awards:
Chelsea - FA Premier League: 2004-05, 2005-06
Chelsea – FA Cup: 2006-07, 2008-09
Chelsea – FA Community Shield: 2005, 2009
Chelsea – Golden Boot (2006)
Ivory Coast – African Footballer of the Year (2006 and 2009)
Become a fan of Goal.com India's Facebook fan page for all the latest news and insight into everything related to the beautiful game!
Copyright © 2017 Goal.com All rights reserved. The information contained in Goal.com may not be published, broadcast, rewritten, or redistributed without the prior written authority of Goal.com