Luke Wilkshire Player Profile
Luke Wilkshire
Date of Birth:
02-Oct-1981 (Age 35)
Place of Birth:
Wollongong (Aus)
Nationality:
Australia
Height:
178 cm.
Weight:
72 Kg.
Position:
Defender
Squad Number:
14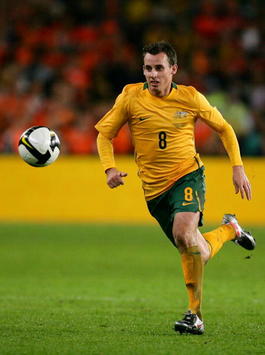 Wilkshire is the epitome of the modern footballer with his versatility and wide range of skills and abilities. Admittedly there is not one quality that stands out in his play but that is only because he has arguably developed into the national team's most balanced player, able to occupy a number of positions on the pitch and carry out a task equally well in all of them. When he burst onto the scene in Germany as a surprise selection in Guus Hiddink's Socceroos squad, many were unsure of the tough tackling but inexperienced Bristol City man – none would question his importance to Pim Verbeek's side today.

Crucial to his growth on the international stage has been the exposure he has had to a variety of football cultures and styles he has been exposed to during his club career, moving on from the English scene to play in the Netherlands with FC Twente and now, Dinamo Moscow in Russia. The unique experiences have fashioned a player who might not be a household name among Australian fans but who certainly stands out from his more illustrious team-mates.

Did You Know?

Despite his anonymity in 2006 Guus Hiddink earmarked Wilkshire as a player for the future, praising his "modern" qualities. How right he was...


Become a fan of Goal.com India's Facebook fan page for all the latest news and insight into everything related to the beautiful game!

Copyright © 2017 Goal.com All rights reserved. The information contained in Goal.com may not be published, broadcast, rewritten, or redistributed without the prior written authority of Goal.com