Every year, those of us who are avid gamers expect the next title in a series, in particular sports games, to be an improvement of the one came before it. Unfortunately, it's not always the case.
That can't be said about the FIFA franchise as soccer's premier video game title has come on leaps and bounds with every version that is released.
According to FIFA12's Gameplay Producer Santiago Jaramillo, you haven't seen anything yet.
"FIFA12 is a revolution this year, compared to the evolution model we've been following the past few years," said Jaramillo to Goal.com about what gamers can expect from this year's title. "On the gameplay side of things, we reached a level on FIFA11, where so many of the areas were at a good level of polish and we could now give our users much bigger features in FIFA12."
Follow SHANE EVANS on

Jaramillo went on to detail three major additions to this year's game, additions that will bring an entirely new feel to the franchise, and ones that he thinks gamers are going to love.
"These three things - the Player Impact Engine, Precision Dribbling and the Tactical Defending, they work together to give something that is as great as the sum of its parts," said Jaramillo. "There's a synergy between them. For example, Precision Dribbling working against the Tactical Defending, it keeps the game going back and forth and makes it much more fun."
Each feature has been in the works for some time now and Jaramillo is thrilled to have them make it into FIFA12. With the Player Impact Engine adding true-to-life player interaction animations, Precision Dribbling allowing players to do things with the ball they've never been able to do before and Tactical Defending providing an entirely new spin on protecting your goal, there is plenty to be excited about.
Jaramillo singled out Precision Dribbling as his favorite of the three, just because of the possibilities it creates for gamers, no matter the experience level with the FIFA series.
"I think I'd have to say precision dribbling," Jaramillo said of which new feature he preferred. "It's really fun and it really changes the way you play and adds a new dynamic. It's really going to make the game more intelligent and more fun for anybody that picks up the game."
FIFA video games have always been about the providing the complete soccer experience however, and in '12 players are sure to enjoy the every aspect of the game - especially considering everything has been improved.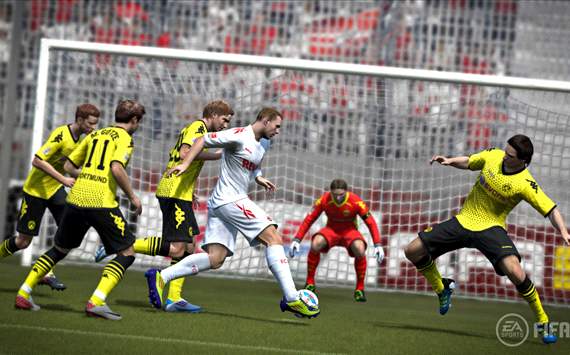 "What I'm most excited about is the overall experience," said Jaramillo. "It's going to be significantly better and not because just one area made it that way. It's every area coming together to create a much better experience than FIFA gamers have ever had before. The game has progressed immensely. I think the jump from FIFA11 to FIFA12 was probably the biggest one we've ever made."
With the release of FIFA12 less than a week away, soccer gamers everywhere can hardly contain their excitement. For Jaramillo and his team though, there is no time like the present to get started on FIFA13.
"We never have enough time to do everything we want to do in a particular year," said Jaramillo of the series. "Already, six months ago, things we wanted to add to FIFA12 have been cut and been pushed to FIFA13. There is definitely, in every area of the game, things we already know that we want to work on for next year."
FIFA12 hits shelves in North America on Sept. 27.
Download the Goal.com Mobile app, and the world of football will be at your fingertips and in your pocket!