By Paul Macdonald
The greatest player of all time, scoring the greatest goal of all time. Diego Maradona's weaving, dizzying, mesmerising dribble through the England team at the World Cup in Mexico in 1986 is a moment befitting of his genius.
The context was hostile. The Falklands conflict between Argentina and England was still very much raw in the memory, and the South Americans were motivated by more than a place in the semi-finals.



VIEW FROM ARGENTINA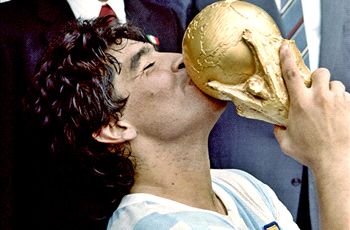 By Martin Seldes | Goal Argentina

"It was a dream. The goal of my dreams," Maradona wrote of his stunning goal in his book "Yo soy el Diego de la gente".

"In Fiorito [a very poor neighborhood where Maradona was born and bred] I dreamed that one day I could score a goal like that one in the little pitch we had there but instead I did it in the World Cup, with my country and in a quarter-final.

"It was like beating a country, not a football team. Even though we tried to convince ourselves before the game that football had nothing to do with the war... we were defending our flag.

Once all that is said, the goal becomes even more incredible. With his incredible second goal, Maradona showed the world how good he and his country were.

But in total isolation, Maradona's magic might be as close to perfection as football will ever get. From the microscopic precision with which he spins away from Peter Beardsley on the halfway line, through to the gleeful toepoke home and subsequent leap of joy at the corner flag, every muscle move during his manoeuvre is spellbinding. Goals like this happen once a generation.
The turn sets him on his way, injecting acceleration into his boots as Peter Reid flails behind him, like a dog chasing Concorde down the runway. Maradona may as well be carrying bricks on his back. Reid will never get near him. God vs Hod.
Moving at such pace but with consummate control, Diego skips in the air with every step, gliding six inches above the grass. Terry Butcher dangles out a helpless leg as Maradona dissolves past him. Next comes Terry Fenwick, who is on a yellow card and knows that the body-check he'd like to thrust into the Argentine's path would be his last act of the match. As a result, he proves a negligible obstruction as the No. 10 propels forward and hurdles a challenge that never arrives.
Maradona continues unabated. Butcher, already beaten once, attempts to become the villain of the piece by destroying this work of art. He slides in from the right, but he is too late. The ball is shifted subtly out of his reach in such a nonchalant but utterly deliberate manner that goalkeeper Peter Shilton is left flailing around the box on his backside, wondering how he ended up there.
Diego prods home, and if it hadn't been for Butcher, you feel he would have just dribbled the ball straight into the net, then all the way back to the halfway line. That such a famous goal could have occurred mere minutes after God lent a Hand peculiarly makes the event all the more astounding. Almost 30 years later, it even seems surreal to the man himself.
"Whenever I see it again I can't believe I managed it," he said recently. "Not because I scored but because it seems like a goal that just isn't possible, a goal that you could dream of but never actually score."
There have been other wonderful players, other unforgettable World Cup moments, but never have the two come together in such perfect harmony as in those 10 seconds.
Take a look at One Stadium - the football destination for official Fifa World Cup partner Sony - which hosts archive footage from every modern finals.