As the two European giants go head to head at the Stade de France, they will have nothing but topping the group on their minds. Any slip ups at the French capital and Spain will fall further behind Les Blues, effectively risking their chances of an automatic qualification spot for Brazil 2014.
Prior to this electric battle, Goal.com asks fans who will win this clash..
France Fans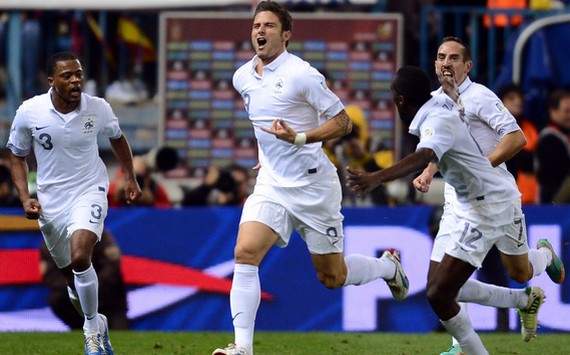 Ninad Kirodian:
I think France will win the upcoming friendly against Spain. France are fresh off their victory in the previous game and will want to continue their form against Spain. With everyone in good form and with the squad at full strength, I think France will edge this match with a slender 1-0 or 2-1 scoreline.
Rohan Grover:
The prerequisites of beating this Spain team are unfaltering concentration, immense work rate and lots of grit. France cannot beat Spain if they try to pass it around them, they'll simply be cut open. Where they undoubtedly have the edge is in the physical aspect of the game. With their new look midfield, France can actually deliver the work rate required to contain this mercurial Spanish side.
Paul Pogba, who I think will feature, and Blaise Matuidi have to be on their toes against the likes of Andres Iniesta, Xavi Hernandez and Xabi Alonso. That battle in midfield will be the most important of the game and where the game will be won or lost. France will need to take their chances. Olivier Giroud cannot be lax in terms of his finishing, a tendency he has shown this season in the Premier League. All in all, we are in for a belter and let's hope France put in an inspired performance and establish themselves as serious contenders for the World Cup. My prediction: 1-1 draw.
Mrunal Nakashe:
France are in good nick at home and Spain must win this one, but I'll have sit on the fence for this one. Les Bleus are functioning well as a unit, with the likes of Jeremy Menez, Franck Ribery and Giroud in good form. Spain's injury problems won't help their cause in beating a resurgent French outfit under Didier Deschamps. Home advantage always counts in this game and these two teams have history between them while France will count on a viciferous, partizan support to provide any added motivation.
Rushabh Shah:
I think Les Blues will win in Paris. My prediction is a 2-1 win for France. Mathieu Valbuena will be the key player because he creates so much with his passing and forward runs. He has a lethal shot and is a dead-ball specialist. He would also be my pick to score first.
Abhishek Rania:
According to me, France will win the fixture. France have been playing well while Spain have not replicated their form of old in recent games. France consists of exciting young talents such as Raphael Varane and Pogba, who would be eager to make a claim and given the recent form of the aforementioned players, they could end up surprising all. If Sergio Ramos is deployed in the center, Alvaro Arbeola will have a tough time against Ribery.
Spain Fans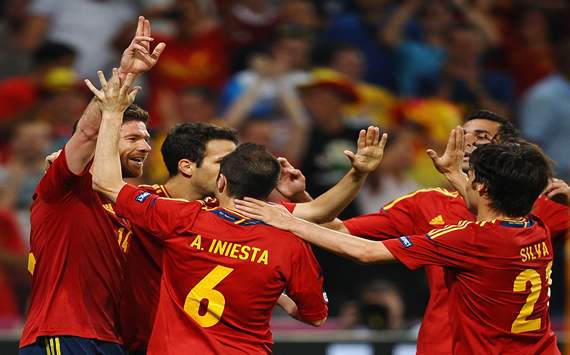 Sukalyan N:
It is tough to say which team will win. Spain obviously have been the best team in the recent past but they have started to show that they aren't invincible. The form of their attacking players and the absence of Iker Casillas doesn't help their cause. If things aren't going well, Vincente Del Bosque hasn't found a plan B either, as he continues to put faith in the "False9" system.
Utsava Sharma:
In my opinion, I'd pick Spain as the winners of this game. Its going to be a fiercely contested and low-scoring encounter. While Spain have lacked an in-form striker up front they're miles ahead of the French in midfield. As a result I think they might play a 4-6-0 like they did in the European Championships, wrestling control and depending on the likes of David Silva to provide the incisive touch.
For France to gain a victory, they'll have to get their tactics spot on and hope Karim Benzema can recover from his poor form. They will get chances but I am not sure they have the players to convert them. Hence, I expect Spain to go through with the score most likely to be 1-0.
Nafisa Nur:
Spain really aren't the same at the moment. With Casillas injured, it's a tough call. On top of that, they lost Jordi Alba due to an injury, and Carles Puyol isn't even in the squad. I don't know if we can only count on Ramos and Gerard Pique. I would've gone with a goalless draw if Casillas was playing. Maybe we'll see either another 1-1 draw. I hope I'm wrong as Spain really need to win this to be on top of the group.
Ranadeep Guha:
I think Spain have a good chance of winning this match. They have been technically superior than the other national teams in the past couple of years. France might field Varane and Mamadou Sakho as their two center backs who are comparatively younger and less experienced. However, Varane has played brilliantly with Real Madrid in the past few El Clásicos and might just hold the key in breaking their style of play.
Moreover, with Valbuena and Ribery playing down the flanks, France have a very good chance of hurting Spain with a few counter-attacks. But I do have a feeling that Spain can win this match with their midfield dominance. Prediction: Spain 3 France 1
Swarnava Seal:
Despite Spain's quality, in the Euros 2012, they looked quite unsure with the false 9 formation. They were woeful against an impressive Finnish side last week. Heading into the World Cup 2014, I really think Del Bosque should try giving strikers a chance instead of playing with a false 9 even in the qualifiers. They really need to have a plan B ready for the Wordl Cup, despite the lack of quality strikers. David Villa and Alvaro Negredo seem to be in great touch and I'd want at least one of them to play in the match vs France. It would really make the match that much more exciting to see Spain going all out like they mean business again.
How do you stay up with football when on the move? With http://m.goal.com –your best source for mobile coverage of the beautiful game.