Manchester City's
Pablo Zabaleta
and
Jonas Gutierrez
of Newcastle United addressed the media on Thursday morning in Kolkata and talked about various issues including the controversial Falklands War.
"The Falklands War is in the past now. I have been playing in England for quite some time now and I have always been respected there," Zabaleta told the media.
Gutierrez agreed with Zabaleta and even added that the rivalry between England and
Argentina
is not as serious as it was back in the 1986 World Cup, when Diego Maradona infamously scored the 'Hand of God' goal.
"I have faced no problems as a player during my time in England. Earlier with the 'Hand of God' and Falklands War it used to be serious between us and England but there are no problems now. I am enjoying my time in England."
Follow Lionel Messi In India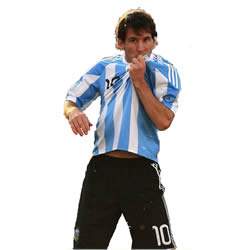 We will have all the news, expert analysis, reaction & much more before, during & after Messi's sojourn in India
The versatile Zabaleta opined that he and the rest of the Argentina contingent are really happy to be here in India and are looking forward to play in front of a large crowd.
"I am aware that cricket is the most popular sport here but there is also a lot of interest in football which we got a feel of while landing in the airport and even before our training session yesterday we saw a lot of people outside the stadium.
"We heard that there will be a lot of supporters during the match so we are all looking forward to it."
Gutierrez stated the importance of the game and said that Argentina are determined to make a winning start under coach Alejandro Sabella. He opined that the gap between South American nations is narrowing and thus Venezuela can't be underestimated
"This will be our first match under the new coach so we want to make a winning start and get ready for the World Cup qualifiers.
"Copa America showed that there are no weak teams in South America now. Players from almost every South American nation is now playing all around Europe. The gap has narrowed so the games have got tough. We can't take Venezuela lightly."
The Newcastle man interestingly added that the Magpies are similar to Argentina in the sense that both have underachieved in the recent past.
"I believe both Newcastle and our national team are similar because even at Newcastle there is a lot of support for the team but they have been underachieving for a long time."
The duo were in agreement that Lionel Messi should not be singled out for criticism for Argentina's failures at international level in recent times.
"Messi is a great player and has been performing well for the national team also but he deserves more support from all of us in order to see Argentina succeed," Gutierrez told the reporters.
The two players were also asked about the Argentina team's thoughts about playing on artificial turf. Both the England based players admitted that the South American nation is not used to such surfaces but they don't believe it will be a problem for Sabella's side.
"We are not used to artificial turfs but it shouldn't be too much of a problem, we will try to adapt," Zabaleta assured the press with Gutierrez nodding his head in agreement.
Download the Goal.com Mobile app, and the world of football will be at your fingertips and in your pocket!