The Nike Hypervenom was launched in Bangkok, Thailand ealier this month with FC Barcelona's star striker Neymar. The new boot is Nike's latest football performance innovation to enhance precision and agility especially needed by today's forwards. Following the unveil, Neymar was joined by FC Barcelona players Alexis Sánchez and Adriano to take part in the "League of Deadly" football competition and skills session with young footballers.
The winners from the football competition were granted an exclusive opportunity to train with FC Barcelona's coaching staff during the team's evening training session at Ratchamankala Stadium.
Nike Hypervenom was created based on the feedback of players such as Neymar, Wayne Rooney and Zlatan Ibrahimovic. They all specified the need for a boot that could help them create space quickly in and around the penalty area and get their shot off from any angle.
"Help me make space more often and more quickly. I want a boot that helps enhance my agility and gives me the space to get my shot off before I'm closed down," Neymar said.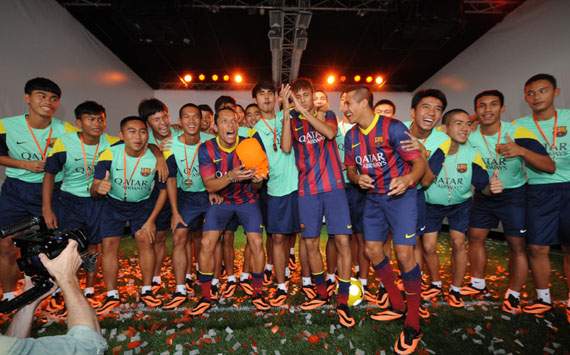 The Bangkok launch featured Neymar, fresh from Confederations Cup victory with Brasil and enjoying his first pre-season with FC Barcelona. Nike's football product team also shared insights about the development of the Hypervenom. The Nike design team knew they had to re-examine the way boots were created. While boot development typically has focused on a particular area such as the fit, upper material or the sole plate, the Hypervenom delivers new solutions for all aspects of the boot, providing a groundbreaking innovation for today's strikers.
"We worked closely with the athletes to find out what they are looking for in a boot. Today's game is faster, more technical and physical – when you combine that with the very specific demands of a deadly striker, there's a profound shift in how you think about boot development," said Aik Leong Lim, Nike Football Product Director. "It used to be about speed, but besides the need to be quick, the player needs to be more agile in tight spaces, creating space and putting that ball in the net."
The Hypervenom boot is now available at leading retail stores in Southeast Asia.
How do you stay up with football when on the move? With
http://m.goal.com
–your best source for mobile coverage of the beautiful game.