Brendon Netto


COMMENT | Germany

Follow on
Four years ago, Bayern Munich's empire was well and truly under siege. Their rein of total dominance over German football was bravely defied by an effervescent new-look Borussia Dortmund outfit under a hungry, innovative and fearless Jurgen Klopp.
However, in the past two seasons, a relentless Bayern flexed their muscles and wrestled back their Bundesliga crown, reinstating themselves as the super power in the region. Although depleted in resources, Dortmund's principles and vibrant style of play have kept them from withering away into obscurity.
Instead, they remain a force to be reckoned with and one Bayern need to constantly guard against. On Saturday evening, that black and yellow surge of vivacious football and passion-fuelled drive will look to overthrow the Bundesliga champions in the final of the German Cup.
In fact, Klopp's men will sense a hint of vulnerability about Bayern and may be quietly confident going into this final. That seems like a ludicrous suggestion when you consider the fact that Pep Guardiola's side finished a full 19 points ahead of second placed Dortmund in the league but based on the last month or so, it would seem that Die Borussen hold the upper hand.
Since the end of March, Bayern have played 12 games in all competitions, winning only half of them. The other six fixtures included two draws and a remarkable 4 defeats. Prior to this particular stretch, they had suffered only two defeats from the start of the season, one came against Manchester City in the Champions League and the other against Dortmund for the DFL Supercup.
Bayern Munich
D
D
L
W
W
L
W
W
L
W
L
W
Borussia Dortmund
W
L
W
W
W
W
W
D
W
W
Recent run of form since 29th March
On the other hand, Dortmund have played 9 games over the same time frame, winning 7. They also managed a draw against Bayer Leverkusen and were beaten by Real Madrid. They scored 25 goals in the process, one more than Bayern despite playing three games less.
Furthermore, Dortmund beat Bayern 0-3 at the Allianz Arena just five weeks ago in the league. Granted, the Bundesliga title was already secured by the Bavarians at that juncture but that reality may have served to eclipse the superior performance of the away side on the day.
The prominent aspect of Dortmund's triumph then was predictably their speed of attack on the break once they won possession. Having been dismantled by the counter-attack on that occasion, Bayern didn't pay heed to notable areas of weaknesses and were similarly exposed at the hands of Real Madrid later in the month.
The transition phase is arguably the key factor on which Bayern's duels with such teams rest. As soon as they lose possession, sides like Dortmund and Madrid are capable of going for the jugular. Their German counterparts have improved in that regard over the second half of the season while Guardiola's influence has seen his side regress in the same department.
That is perhaps down to the Spaniard's belief in controlling games and that therefore translates into his now infamous possession-obsession. Klopp's philosophy is at the other end of the spectrum as he desires fast, mad, 'heavy metal' football over Pep's classical orchestra.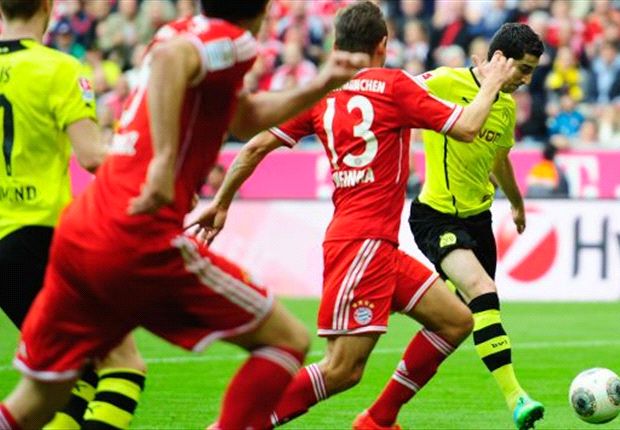 Not only are Bayern now slower to react when losing possession, but they also fail to take advantage when they have an opportunity to break away. Guardiola would rather have his troops gradually get forward in numbers and camp in the opposition's half rather than risk possession by attacking swiftly, possibly allowing the game to slip into an end-to-end encounter which presents a more even playing field.
Speaking ahead of the game, Bayern's Thomas Muller hit the nail on the head quiet splendidly when he deduced this little gem of insight - "We can't allow ourselves to give away reckless turnovers. If we do, Dortmund will be just waiting to counter-attack us."
The former Barcelona manager's influence is beyond contention given that Bayern's possession statistics in the league have risen from an already domineering 63.62% last season to a simply overbearing 71.29% this time around. Interestingly though, they scored four more goals in the previous campaign despite seeing less of the ball.
Dortmund went trophyless last season as they were second best to Bayern in the Bundesliga, Supercup and the Champions League. They picked up the Supercup at the start of this season but having conceded the league in relatively tame fashion, winning the German Cup would help restore some pride and maintain the competitive edge they've developed alongside Bayern over the last few years.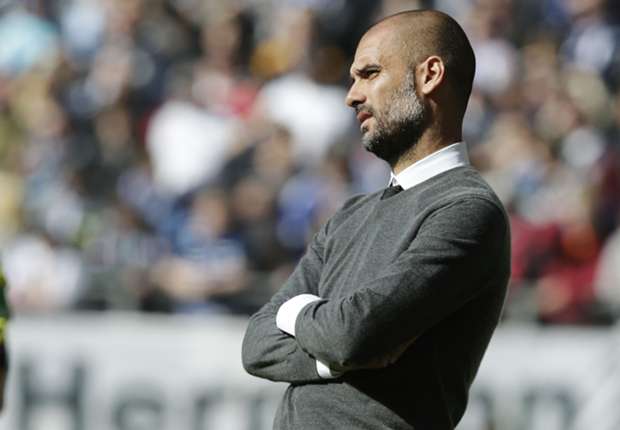 The calls for Guardiola's head already are ridiculous to say the least especially with the double within his grasp in his first season in charge. The squad has gone through big changes and the Spaniard must be afforded a second campaign to iron out the kinks in their system when they face Europe's elite.
However, at this moment in time their is an alarming and distinctive susceptibility about Bayern and Guardiola's helplessness to deal with it so far bodes well for Klopp. Dortmund have too much to gain to give this game anything less than a hundred percent, especially since they're clearly the ones with the wind in their sails.
Who do you think will win this final? Leave your comments below or discuss with the writer on Twitter @BrendonNetto.
How do you stay up with football when on the move? With http://m.goal.com –your best source for mobile coverage of the beautiful game.