Aditya Bajaj

COMMENT | LIGUE 1

Follow on
When Paris Saint-Germain signed Edinson Cavani in July for a staggering €64 million, there was more talk about Zlatan Ibrahimovic's future than there was about the Uruguay international's arrival in the French capital.

There was a reason though and a valid one. Back in the summer 2009 when Zlatan signed for Barcelona, his only season at Camp Nou was marred with controversy as his rivalry with Lionel Messi to be the star man leading Pep Guardiola's all conquering side took center stage. For the first time in his career, Ibra was playing second fiddle after enjoying stellar seasons previously at Juventus and Inter in Serie A – literally his backyard.

As he himself describes it in his much talked about autobiography aptly titled "I am Zlatan", Barcelona was a dream come true but one that nearly "crushed" him.

Milan came to his rescue the following season and the rest his history. His pride restored, the Swede has since then played the best football of his career. In fact, if his recent performances and stats are anything to go by, he is actually peaking despite being 32. Most professionals his age prepare for their decline around this time, whilst Zlatan is preparing for further greatness in the last stretch of his glorious career for that crucial trophy that has eluded him since forever – the Champions League.

What happened at Barcelona certainly tainted his image both as a player and a professional but maybe, just maybe it might be the best thing that could have happened to him. He started working harder for the team at Milan and his maturity as a footballer has since been clearly evident even at PSG with the way he has taken to the so called 'project' at the Parc des Princes.

When offered, he sacrificed the captaincy to Thiago Silva stating that the Brazilian deserved to lead the club as he would not stick along for long. When asked about David Beckham's arrival in Paris last January, he simply remarked that it would help him concentrate more on his game now that the former England captain will hog more limelight than him. When Carlo Ancelotti gave way to the less favoured Laurent Blanc, there was much hype about how the French coach would deal with a character as strong as the Swede. But it's fair to say that to the contrary, the transition has been seamless.

When Cavani put pen to paper a contract with the club, many expected him to leave for newer pastures for the fear of getting overshadowed once again like in Barcelona. Instead, he signed a contract extension that would keep him at the capital till 2016, silencing the ever floating rumours around his career.

Maybe, this time Zlatan simply wanted to welcome all sorts of competition and work harder for the team and let his feet do the talking. More than two months into the season, and that's exactly what he has done. While everyone else expected El Matador to dethrone him from the throne in Paris, Ibrahimovic has simply proven otherwise. The club is very much as 'Ibradependent' as it was last season.

In terms of performance, Ibrahimovic is on par with Lionel Messi and Cristiano Ronaldo not just in terms of his stature and importance to their respective teams but also the number of goals he's scored and created. Messi has scored 12 goals with 3 assists in 10 games, while Ronaldo stands at 15 goals and 4 assists to his credit in 13 games as compared to the Swede's 11 goals and 5 assists in 14 games for PSG this season.
| | |
| --- | --- |
| | STATS PROVE IBRA IS PLAYING THE BEST FOOTBALL OF HIS CAREER |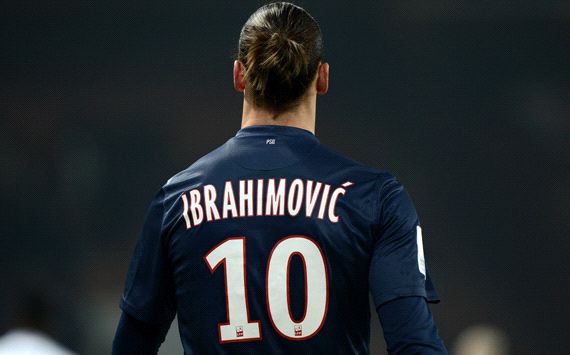 Team
Games

Goals
Assists
Goals/Game

Ajax
(2001-2004)
110
48
15
0.43

Juventus
(2004-2006)
96
26
6
0.27
Inter Milan (2006-2009)
117
66
32
0.56
Barcelona
(2009-20010)
45
22
13
0.48
AC Milan
(2010-2012)
85
56
27
0.65
PSG
(2012 - Present)
61
46
23
0.75
Pre - Milan
368
162
66
0.44
Post - Barcelona
146
102
50
0.69
Total
514
264
116
0.57
Closer to home, he has also outscored both Radamel Falcao and teammate Edinson Cavani who have 7 goals in 10 games and 8 goals in 14 games for Monaco and PSG respectively. The pair was amongst the most expensive transfers of all time this summer generating close to €125 million in transfer revenue for their former clubs and now find themselves completely overshadowed by the former Ajax, Juventus, Inter, Barcelona and Milan forward.

Despite his slow start to the season that lead to many claiming that Ibrahimovic was reeling under immense pressure to compete with the new stars of Ligue 1, such has been his influence on the field that the opposite looks to be the case at the moment. So much so, that Arsene Wenger – the one who missed out on the tall striker back in 2000 when he was invited for a trial at Arsenal (Ibra famously quipped 'Zlatan doesn't do auditions') – hasn't shied away from declaring that on current form, he is certainly a better player than even Messi and Ronaldo. His wonder goal against Bastia in the league and that super striker against Anderlecht in the Champions League have cast the same kind of spell his four goal performance against England had cast upon both his critics and admirers last November.

Some even consider him a valid candidate for this year's Ballon d'Or as he has been included in the 23-man shortlist and though it would be a long shot with Franck Ribery and the usual pair of Ronaldo and Messi clear favourites for recognition, it's safe to say that along with the trio he is still easily amongst the top five players in the world despite all the clutter about the big transfers that had happened in the summer.

Apart from his exploits for PSG though, if there is one thing that would instantly propel him towards eternal greatness, it is the chance to take Sweden to next year's World Cup in Brazil. His late strike against Austria helped qualify the Blågult to the World Cup play-offs scheduled to take place in November and how fitting that he finds himself taking charge against a certain Cristiano Ronaldo's Portugal – a tie that has been touted more as a battle between these two players than their teams.
"Is Zlatan better than Messi and Ronaldo? Right now, I'd say he is. At 32, you know how to get the best from your talent."

- Arsene Wenger

Though the Portuguese has a better supporting cast to his favour, Ibrahimovic's scintillating form for the national team having scored 6 goals and created another 4 in just 9 qualifying games will certainly give Selecao coach Paulo Bento sleepless nights as he plots Portugal's charge for a spot in next year's gala.

As captain of Erik Hamren's Swedish team, Zlatan has really showed the maturity and responsibility that is expected of a player of his stature. He has played mostly as a support striker to lend creativity to the team and the impact has been nothing less than incredible. His performances against France in last year's European Championship and the 4-4 draw against Germany in the qualifiers come to mind. It's been almost a year, but who has forgotten that impossible strike against England from 35 yards at the Friends Arena last November?

Ibrahimovic recently declared that he craves more about his team's success than his personal ambition of winning the Ballon d'Or. With the kind of form the Swede has been over the past couple of years, one wouldn't be going overboard in assuming that PSG could lift the Champions league next May and the Swede the coveted individual honour of being the best player in the world in a given calendar year.

At the moment though, the captain of the Swedish national team will surely be concentrating on making sure that Brazil gets to see his magic and not Ronaldo's when the two sides face off in a couple of weeks.

As far as everyone else is concerned, 'Zlatan-mania' has struck the world once again, and just like last November, he has once again let his boots speak on his behalf.
Share your opinions with Aditya Bajaj on

How do you stay up with football when on the move? With http://m.goal.com –your best source for mobile coverage of the beautiful game.