Euro 2012 concluded with Spain creating history after beating Italy 4-0 in the finals.There have been many takeaways from Euro 2012. Goal.com's Adwait Bhattacharya takes a look...
Euro 2012 concluded with Spain creating history by becoming the only team to retain the European Championship trophy and have now won three major competitions in a row. Italians were not able to handle Spain's top quality passing and were never in the game.

Germany proved to be perennial chokers yet again while England still have not got over their penalty hoodoo.
The competition provided action packed drama and produced entertaining football for more than three weeks. Here is a list of five things we have learned from this fantastic competition that was held in Poland and Ukraine.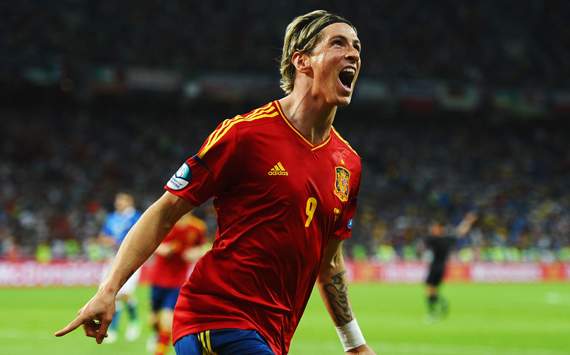 When Spain took the field for their Group opener against Italy without a single forward, the headlines read "Death of a striker?" in response to the idea that Spain could try to win a game with 4 defenders and 6 midfielders. And yes, in fact, they could (though they had to come from behind to tie the Italians). They did the same against France but won by the comfortable margin of 2-0.

Vicente Del Bosque did indeed look happy to throw strikers on the pitch when the situation demanded them, as in the game against Ireland and latter half of the game against France, when Pedro Rodriguez and Fernando Torres kept running into space behind the defense. But throughout the tournament, it was clear that Del Bosque felt more comfortable starting with no striker up-front.

Spain's first two goals in the final came without a striker on the pitch. Goals from David Silva and Jordi Alba, and passes from the midfield showed that this modern style of game play has evolved to another new level where it's not necessary anymore to start with the striker. Torres coming on and scoring shows that perhaps strikers still have a part to play. But today's strikers are expected to do (literally) miles more defensive running and tracking of opponents than their predecessors.

Goals from Danny Welbeck with an exquisite back-heeled flick, Zlatan Ibrahimovic with a cracker of a volley against France or Mario Balotelli's goal against the Germans shows that strikers are not finished yet. But flop show from Robin Van Persie and Karim Benzema highlight that the strategy Spain has introduced could possibly play a big part in the years to come.

It's an open invitation from Spain to other teams in club or international level to try and do what they did. They achieved the greatest accolade playing most of the tournament without starting with a striker. Not many can replicate that even if they want to. As of now, strikers still have a major role to play in a team's results and probably for a few more years to come unless some managers wish to follow in the footsteps of Del Bosque.
| | |
| --- | --- |
| II | Spain are still the best, but are they the best ever? |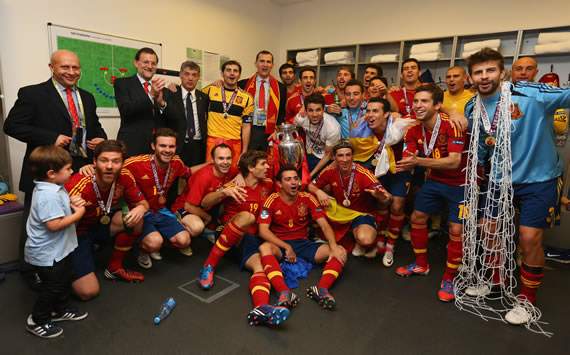 Many called them boring. They ridiculed their "tiki-taka" stlye of play. But here we have Spain who have created history by winning their third consecutive major tournament and are more than happy to entertain the world with the style of football that has not been seen before. This legendary Spanish side has broken records after records for fun and if there were any doubts about their supremacy then they have absolutely blown it all away by thrashing the Italians in Euro 2012 final.

We have considered the great Hungarian side of the 1950s and the West Germans in the 1970s, but the chances of them winning against this Spanish juggernaut still perhaps looks impossible. This team is different, with an ability to get out of sticky situations and grind out wins, and are certainly one of the best we have seen in a hundred years. But the question remains, are they best ever?

Spain perhaps cannot be called the best ever yet, but if the show goes on like this, they could indeed get there in a few years time. They say greatness is achieved by the trophies you win. Yes, Brazil has five World Cups and there is still a long way to go for Spain to achieve that who have only won their first ever World Cup in 2010. The fact that it's possible is because they now are fearless and believe that they could beat the other footballing giants with their ability.

It's a once-in-a-lifetime combination of the perfect players, the perfect coach and the perfect system. Maybe Xavi will not last till 2014 in Brazil, but he has left behind a legacy of 'how-to-play' videos which will be shown to young kids coming through youth academies in Spain. Even if you remove 'The Architect' from the equation, then Cesc Fabregas, Andres Iniesta, David Silva, Sergio Busquets and Juan Mata can still keep winning with alarming ease. Keep them out of the equation and talents like Javi Martinez, Thiago Alcantara and Iker Muniain are all ready to win their places in the team.

Not perhaps the best yet as far as number of trophies is concerned, but the way they have been playing for the past decade, they are certainly on their way to becomING the best the World has ever seen.
| | |
| --- | --- |
| III | New tactics of playing to your strengths. |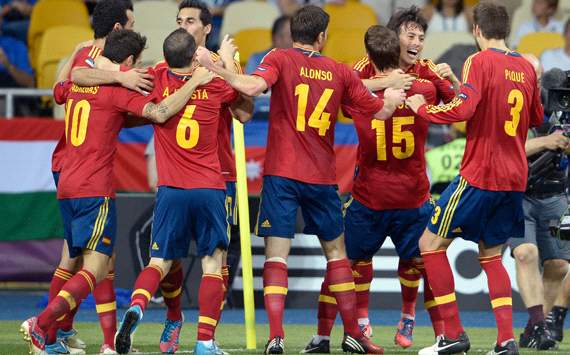 It's easy to say, but many times, we see teams lose out because they adopt an approach they are totally unsuited to. But Spain, Italy and few others showed us how it can help if the team plays to its strengths and the results were positive.

Spain used their biggest strength, their midfield to best effect and sprung a surprise by opting to play without a striker on many occasions. "Tika-taka" play was instrumental in their Euro success. Italy, in getting to the final, largely had Andrea Pirlo to thank. He was their strength, the centre of control and Cesare Prandelli made sure throughout that regardless of the system( he used 3-5-2 and 4-3-1-2 ) he employed, Pirlo was the key cog – a lesson Max Allegri refused to learn at Milan and eventually suffered for. Ultimately, Italy were trounced in the final but you cannot blame them much as the Spanish Armada is literally tough to stop if they get going.

Despite the criticism of England, they played to their strength. Wing play and defending were their strengths and they used it wisely. 4 out of 5 goals they scored were crosses from the right wing. Finally, defensive play, as much as it might have been the best way with the available personnel, was weeded out, teams like Greece and England falling when confronted with true quality attack.

Germany played Toni Kroos on the right to combat Italy's strength, a plan that heavily backfired. Had Joachim Low struck to Marco Reus on the wings and Miroslav Klose up top, things could have been different for them. France, in the quarter-final against Spain, tried to stop their opponents down the left by playing two right backs there – played too defensive, a tactic that played into Spanish hands. Two lessons on what happens when you fail to play to your strengths.

Sweden too looked to pass the ball more often having the likes of Sebastian Larsson and Kim Kallstrom in midfield, Denmark also relied on their experienced centre backs and Nicklas Bendtner up-front to carry them along. Portugal's strength was Cristiano Ronaldo and that was evident as they went uptill the semi finals.
| | |
| --- | --- |
| IV | Ego clashes and dressing room bust ups |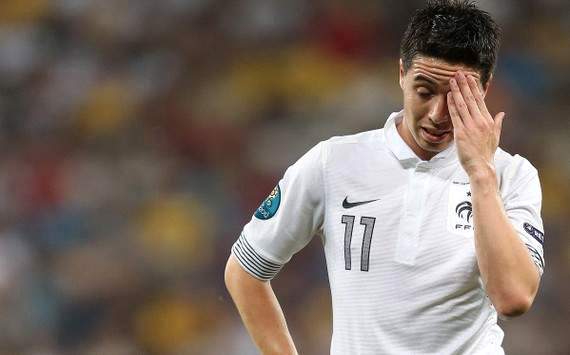 Netherlands didn't play their cards correctly right from the moment they stepped onto the pitch against Denmark. Everything there on went downhill for them as Arjen Robben revealed after their disappointing loss to Denmark and Germany that few of the team members have big egos and there was a possible favouritism in the Netherlands camp. Several reports of unrest had emerged from the Netherlands' camp, with Rafael van der Vaart said to be unhappy with team coach Bert van Marwijk over his role as a substitute at the tournament.

Klaas-Jan Huntelaar also was unhappy as an out of form Robin Van Persie was selected ahead of him despite the former having an excellent season at club level. Eventually Netherlands lost to Portugal and left with no points on board.

France dug their own grave as despite losing 2-0 to Sweden in the final group game and yet still qualifying for Quarters, reports emerged in the papers the next day that there was a dressing room bust up between Jeremy Menez, Hatim Ben Arfa,Yann M'Villa and Samir Nasri allegedly. This did not help their preparation or campaign as France Football Federation and the team's manager were left to speak to the media to clear the rumours instead of focussing on their quarter final match. Nasri made matters worse at the end when he challenged a journalist to a fight after their defeat to Spain and it was also learned that he used abusive language.

Both these issues in the camp definitely led to a drop in the morale of the team and its players. The after effects were quite clear as France, who looked dominant till their second game all of a sudden lost its way. Netherlands never had it right from the start and they need a serious reconstruction and changes in the team to qualify for the FIFA World Cup 2014.
| | |
| --- | --- |
| V | Few things will never change |
Whether it's the World Cup or the Euros, some things willl happen the way they have always been happening. Some things will never change while others will keep happening again and again whether you like it or not and will always have a chance of repeating itself in the future.
Germany may have the knack of performing brilliantly every tournament and get to the semi finals( 20 out of last 28 in major tournaments) but they will eventually always lose their way and bow out thus justifying their title of "Perennial Chokers".
Netherlands will simply self-destruct each time with a whole new reason. The swimming pool in 1974, strained race relations in 1996, and the ego clashes at Euro 2012. The Dutch never make it easy for themselves.
England have a long way to go for their penalty hoodoo to be broken as it was the seventh time in last eight penalty shootouts that they came out with a loss. It's said that if you score all five of your compulsory spot kicks, your chances of victory is almost certain. That could be one way how England can get over this hoodoo or they have to find an alternative or wish for some lady luck to favour them.
Irish fans will always be a treat to watch even if their team is not that good. They will always be cheerful and they know how to have a good time.
You will also be entertained throughout any game wherever the major championship is held. If the game is a bit slow or boring, the cameras will always make sure you enjoy your time. A quick change of focus to an attractive lady in the stands, and you will immediately have yourself give your full concentration towards the game being played. This is sure to happen in every tournament and you have got to commend the camera man on their fine work.
Mind you, they will surely be exhausted by the end of the next World Cup in Brazil, if you know what I mean.
An unknown player will always break through in any major tournament and would have attracted the likes of every top manager in the world who would like to have him in their team. Vaclav Pilar from Czech Republic was splendid in the tournament with his fine display, Jordi Alba now a Catalan had a debut tournament worth remembering and there were also a few others.
This edition of Euro 2012 has been a memorable tournament and we can only hope that the next major tournament in the form of World Cup 2014 would leave us with even more memorable moments.
How do you stay up to date with football when on the move? With http://m.goal.com – your best source for mobile coverage of the beautiful game.