Both Euro 2012 finalist have opted to play their full backs as wing backs instead of natural wingers. Goal.com looks at this new modern style of wing play and what makes it tick..
Spain vs Italy. Euro 2012 Final. Not many would have expected this final before the tournament started but here we are. One of them a favourite heading into this tournament and the other a team that, just weeks ago, was the subject of speculation of whether they would partake at all, let alone compete at this level.
Having faced each other already in the Group Stages and the match finishing in a draw, these two teams know each other very well. The stage cannot get bigger than this.
Since the 1-1 draw in Gdansk, Spain and Italy have undergone major strategic overhauls with both managers constantly tinkering and altering their formation to suit the team's style of play through the course of the tournament.
While Spain have used Fabregas as a 'False Nine' in few of their matches instead of a natural striker, and have majorly opted for a 4-6-0 formation opting for possession play, Italy have seen themselves start with a 3-5-2 then shifting to a 4-3-1-2 for their third match and finally settling with it as it has seemed to work perfectly for them ever since.
When you look closely both the teams' strategies and how they have played, one will notice the lack of natural wingers in the starting 11 and the full backs having to play the role of wing backs thus allowing both the teams' midfield to play more centrally and to their strengths.
This seems to be now a modern style of wing play and for Spain and Italy this strategy has paid healthy dividends. Let us have an insight on how this system works.
NATURAL WINGERS VS FULL BACKS AS WING BACKS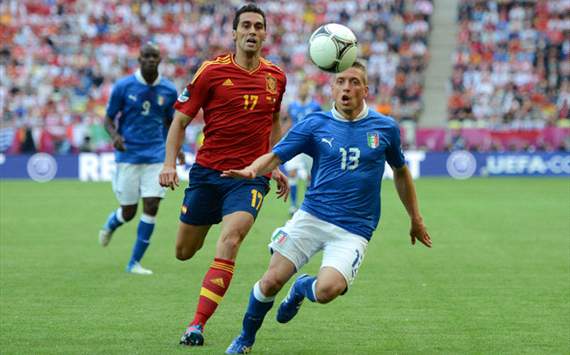 Emanuele Giaccherini is originally a winger and Arbeloa is a full back.
The winger is traditionally a player who hits the byline with pace and skills, who can find his striker with relative ease and will typically record numerous assists over the course of the system. This system is largely seen in a 4-4-2 formation with two wingers clinging to the touchline offering massive amount of width. However over the years the system of playing with natural wingers has changed and the favoured formation of the day at club and international level is the 4-2-3-1 which uses three attacking midfielders rather than two wingers and a central player.
The role has changed for several reasons. The aerial aspect of the game has reduced in recent years with teams like Spain looking to play quickly along the ground. Holding onto possession has become key which means wingers increasingly need to come inside and get involved in general play rather than become isolated out wide. Teams would generally rather keep the ball and wingers are now used more in counter attacking formations.
This is where the rise of the attacking full back as a wing back has come in. It has been a key development and Spain and Italy have used this to their advantage. Rather than operating with a flat back four they have began to identify full-backs as a way to start attacks – for example Jordi Alba who has constantly looked to get forward and acts as an outlet ball for Spain.
The consequence of this is that wide men are now inclined to defend a lot more than previously, as well as doubling up on their respective number they also need to track opposition full backs.
HOW HAS THIS STRATEGY WORKED FOR SPAIN?

Spain started their tournament with a 4-6-0 formation in their first game and the surprise was that Fabregas started ahead of Torres as a 'False No. 9' which meant Spain started the game with no natural striker or wingers and had six midfielders.
This meant that they had strength in numbers in the middle of the park and the full backs Jordi Alba and Alvaro Arbeloa had to do the running up and down the wings supporting the front three. The battle between the Italian wing-backs and the Spanish full-backs was a treat to watch but the plan backfired for the Spanish side as the Italians wingbacks were braver with their positioning, and more mobile as a whole.
Obviously Del Bosque noticed the problem, hence the introduction of Jesus Navas as a natural winger provided some width and stretch to the play.

Spain switched to a 4-2-3-1 formation against a 4-5-1 Irish side. They introduced a natural striker in Fernando Torres up front but again lack of wingers meant extra work for the full backs attacking wise. But this time the full backs had no trouble as Jordi Alba shone on the night with 96 passes all over the pitch, and along with Arbeloa kept Ireland's two wide men at bay.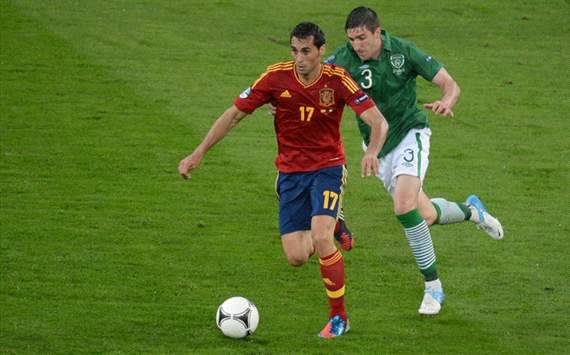 Arbeloa played the role of an attacking wing back perfectly along with Alba against Republic of Ireland

Against Croatia, the same tactics were employed, but due to a discliplined defensive set-up, Spain found it hard even with their full backs constantly in the mix. They had to settle for defensive work more often. Yet again, an introduction of winger in Jesus Navas proved to be the turning point as he scored the winner in the 88th minute. Until then Spain's lack of natural wingers in the line-up was hurting them.

Spain shifted to a 4-6-0 for their game againt France, with Cesc Fabregas starting and having to play deeper. Few things were clear. Spain's strategy of playing right through the very centre worked as France had to put more bodies in there as Jordi Alba and Alvaro Arbeloa moved forward untracked, and received passes from Spain's central midfielders very easily. The need for a natural winger was no more. Spain had found their best style of play and it seemed to work perfectly for them. Full backs doubling up as wing backs served two purposes:
One: To join the attack and put crosses in and around the box.
Two: To track back with pace to help out their centre backs while defending.

Spain switched from this tactic for their semis and until when Fabregas was introduced, they could not dictate play as they would have wanted. Eventually with a 4-6-0 formation and full backs tearing down the flank, Del Bosque had found the right combination. Spain had assured that they could do without natural wingers.
HOW HAS THIS STRATEGY WORKED FOR ITALY?

Italy, on the other hand, started their tournament with a 3-5-2 formation against Spain with Maggio and Giaccherini playing as natural wing backs. The Azzurri's wingbacks had a field day as Maggio was particularly impressive and even though Jordi Alba put in a good shift, he still had a torrid time coping with the wingback's movement. As is often the case, wingbacks tend to cause all sorts of problems for the traditional fullback because they have a lot more license to go forward and a lot less defensive responsibility. This game was no exception with both Arbeloa and Alba culpable for being dragged out of position leaving their defence exposed.
Against Croatia, Italy again employed the 3-5-2 formation and it worked perfectly for them as Maggio and Giaccherini had great freedom of movement and nullified every attack from the flank offered by Croatian wingers. Croatia equalised late which meant Italy had to settle for a second draw and qualification from the group was now not in their hands.
3-5-2 formation is a treat for wing backs to run forward and attack, also to come back and defend with 5 men across the back line. But what it does is, it makes the team defensive. It worked wonders for Prandelli as far as wing backs are concerned because he did not play a natural winger in both those games but that meant a defensive set-up which eventually gave way.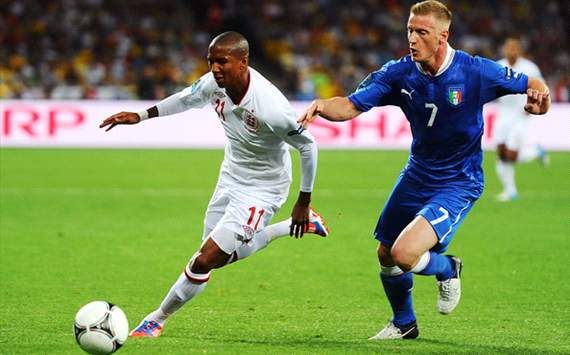 Abate was exceptional against Rep of Ireland and England until he got injured.
Italy with a do or die situation changed their formation to a 4-3-1-2, a set up quite similar to Spain in the midfield department where Italy opted to play more centrally with Pirlo pulling the strings, with Abate and Balzaretti ( Natural full backs ) having to fill in the role of a natural winger and play as wing backs. Prandelli got his tactics spot on as both full backs were phenomenal on the night especially Abate with 50 passes and 92 percent accuracy.
Italy deployed the same strategy against England and it worked yet again as England play a 4-4-2 formation. The Italian full-backs easily dealt with Young and Milner, while Pirlo took the game away from the English as far as midfield was concerned. The full backs doubled up well on England's attackers and expertly assisted their central defenders.
Italy found it fairly easy against the Germans with their 4-2-3-1 line-up and an out of position Toni Kroos along with a misfiring Podolski made job easy for Balzaretti who switched to the right full back position with Chiellini coming into the left as Abate was injured. They dealt well despite facing a fast paced German attack.
What Spain needs to do against Italy?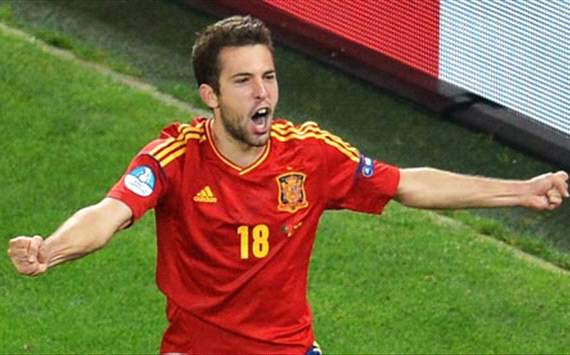 Jordi Alba has to put in a stellar performance in the Finals if Spain want to win the "wing-play" battle against Italy.
Spain's strategy is clear. If it has to be a 4-6-0 formation which has worked brilliantly for them throughout the tournament, Fabregas will need to make his presence count as he as done, and make sure that Spain don't miss the lack of natural wingers in their line-up. Jordi Alba and Arbeloa have done wonderfully to cover up that with their darting runs, helping out their midfielders in attacks, combining well and coming back to defend when their central defenders need them. They have played the role of wing backs in the right manner and will look to repeat the same.
If Spain decide to go with a striker up front and three attackers, they will still look to play from the centre with their wide attackers coming in which would give the full-backs massive amount of space to exploit. Jesus Navas and Pedro have been good with their cameos and natural wingers as introductions later into the game would be the right option for Del Bosque.
Spanish full backs will look to test their offside trap with runs in behind or exploit their narrowness by attacking down the wings. Italy's full-backs lack protection from the diamond and are arguably their weak link and thats where Spain's wing backs or wingers will come in. Jordi Alba and Alvaro Arbeloa will move forward untracked at times which could be the decisive factor in the final.
What Italy needs to do against Spain?

Balzaretti has looked sharp playing in both full-back positions. Italy will be hoping for another good performance from him in the Final.
Italy will surely go into the game with a 4-3-1-2 formation because that's the formation that has best clicked for them and Prandelli would not opt for a change to the 3-5-2 as he did for their group stage game and approach the match defensively.
Dealing with full backs was easy when they played with a 3-5-2 formation but it will be more complex with the diamond, and Italy will probably have to deal with them in three separate ways.
First, their diamond will shift laterally to close the full-backs down, although this can leave Italy vulnerable to quick switches in play, which Xabi Alonso will facilitate with diagonal balls.
Second, if Spain's wide midfielders move inside, the Italian full-backs should be content to leave them in central positions, and push forward to meet Alba and Arbeloa when they get the ball in the final third in a 1v1 battle which could be decisive.
Thirdly, Antonio Cassano and Mario Balotelli should drift into wide positions, making the Spanish full-backs nervous about advancing.
If Italy keep these three things in mind while playing and attack sensibly as they did against Germans through Balzaretti and Chiellini, they could de-throne Spain and win their second European championship.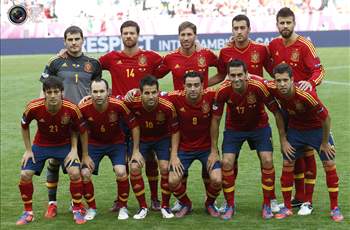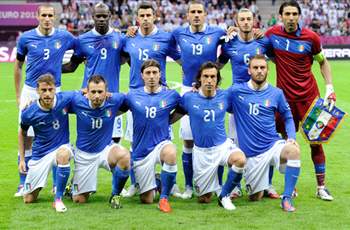 Spain vs Italy: Who will win the Euro 2012 Champions?
How much of a factor will "wing play" be?

The wide positions are being increasingly harder to dominate. The full back battles of Balzaretti vs Jordi Alba and Chiellini vs Arbeloa could be a deciding factor in shaping the course of the final. The traditional winger who hugs his respective touch line and plays a lot of crosses into the box is now in decline in modern play, so we there will be no real out and out wingers on the pitch as both teams come out unless one of the managers gives a surprise.
Traditional wingers bring one dimension in a game where transitions in play will be so much quicker – where each player in midfield from either team likes to come inside and change direction at great pace to influence the game. A static wideman simply does not do that.
When Spain played Italy and had Fabregas as a false 9 it was almost not worth playing high balls into the box and they started the game without any width until the inclusion of Navas. Clearly there are exceptions to this, but wingers are evolving and are increasingly becoming rare, particularly in possession-based sides such as Italy and Spain who love to have maximum share of the ball.
The fact that Navas was brought along by Spain shows that there is still a place for wingers but one hardly thinks he would get his first start of the tournament in such a crunch game such as the final.
Spain and Italy have shown us how its done and its effect is clear. Some clubs too have opted for this style and it has worked dividends. This modern style of wing play is here to stay.

Follow Adwait Bhattacharya on



How do you stay up to date with football when on the move? With http://m.goal.com – your best source for mobile coverage of the beautiful game