Mario Balotelli's
mother has revealed that her son was overcome with emotion after his two goals sent
Italy
to the Euro 2012 final at the expense of
Germany
.
The
Azzurri
frontman grabbed a first-half double to give Cesare Prandelli's men a 2-1 victory on Thursday and set up
a Sunday showdown with Spain.
Silvia Balotelli, who is the Manchester City forward's adoptive mother, also revealed that her son does not react well when treated badly, but that his performance against Germany freed him from his troubles.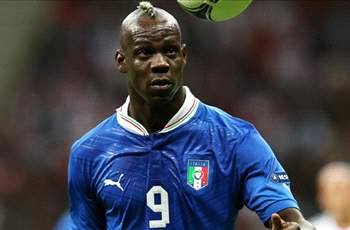 "Those two goals in such a wonderful and important match liberated him"
"When he feels in difficulty, under attack or betrayed, Mario reacts by clamming up. He isolates himself from others and that's what happened before the Ireland game [when he was dropped]," she told
Gazzetta dello Sport
.
"We struggled to contact him and he wouldn't answer messages. This is why I wept with joy.
"Those two goals in such a wonderful and important match liberated him, as his talent and the little genius inside came out. He managed to prove what he wanted to, finally.
"It's very difficult to see Mario cry. The last time was perhaps because of Jose Mourinho.
"It's also difficult for him to hug me like that in front of everyone. As with every young man, he gets embarrassed to be seen with his mother, but at that moment he was too happy. He whispered in my ear to give him a gift and bring his father to Kiev. I went back to Italy, but we'll both be there on Sunday," she admitted.
Mrs Balotelli went on to state that she was disappointed after her son got booked for taking his shirt off to celebrate scoring his second goal, and also revealed that she has called coach Prandelli to thank him for his support.
"He said he was fed up of everyone criticising him for not celebrating, so he decided to invent something.
"My son often tells me he is 'not arrogant, but I feel I have something special within me'. That's what he says.
"Prandelli is a good man and he has taught my son many important things, so I called him to say thank you," she concluded.