Lacking bite when it is needed most is a cardinal sin. Why? Just look at what Germany did to themselves.
COMMENT

By Arkaprabha Chakraborty
When people criticize food for being bland, there is this interesting term called 'lacking bite'. When people criticize teams for not being strong enough, there is this interesting term called 'lacking bite'. What is lacking bite? It is a cardinal sin in a football game and no one is better placed to show us why than Germany against Italy.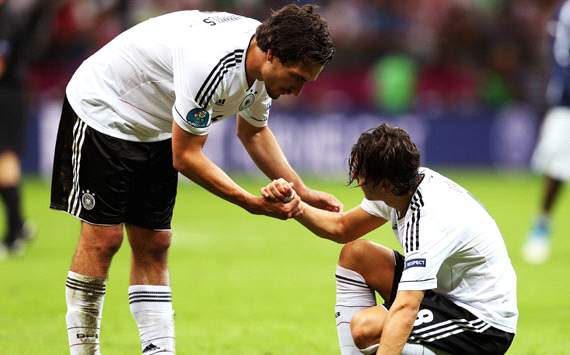 Need a hand? |
The team helped each other after the game instead of during it
There used to be a time when the German team forced a quote out of Gary Lineker that went something like "Football is a simple game; 22 men chase a ball for 90 minutes and at the end, the Germans win." Joachim Low would probably kill for that kind of consistent efficiency right now. But the tag of 'nearly men' seems to be all that has remained from the Ballack era. Perhaps not the best thing to take away from them. They would be much better served in looking at Lothar Matthaus' team of the late '80s and early '90s.
Let us delve into the history of the period a bit. 1988 was when Lothar Matthaus first took the captain's armband and under the patronage of Franz Beckenbauer, proceeded to make them the most boringly efficient team on the planet.
One Euro and one World Cup in 10 years is not at all a bad return. But they had to work, grind, punch, kick and Harald Schumacher their way to glory or anywhere near it. In fact, the team that came closest to Germany of the 80s would be the Netherlands of 2010. And if anyone who thinks Nigel de Jong's kung fu kick was bad, let's talk a bit about German goalkeeper, Harald Schumacher. In the 1982 World Cup, he knocked into Patrick Battiston and left him in a coma, with damaged vertebra and two missing front teeth. He has the dubious distinction of beating Adolf Hitler into second place for 'Most hated man in France'. And yes, he was a good keeper nonetheless. And a European Champion.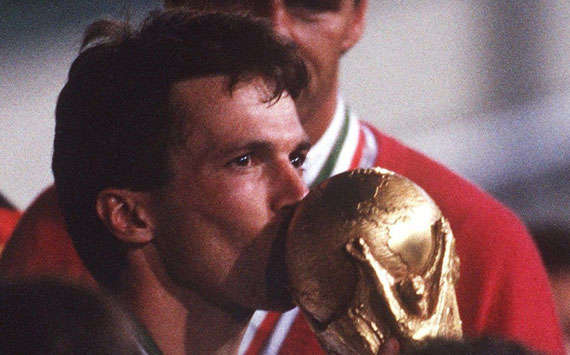 The end justifies the means |
Matthaus' Germany wasn't pretty, but they got the job done
What is the point of this little comparative analysis? This was a man who truly, desperately wanted to win with no care for the consequences. While the second part is most definitely not acceptable, it is the first bit the current crop of Germans seem to be lacking in. Perhaps the only flaw of this self-generating faith in youth is what is in these days popularly known as the Arsenal Syndrome. Bringing in wave after wave of youngsters won't let your current team mature enough to handle the pressure.
The other extreme of this is the Italian style, where they will have old players in without adequate replacements in the offing. The fact that there is almost a 4 year average age difference between the two sides bears testimony to that. Successful in the short term, you have to wonder how successful it will be as the years roll on.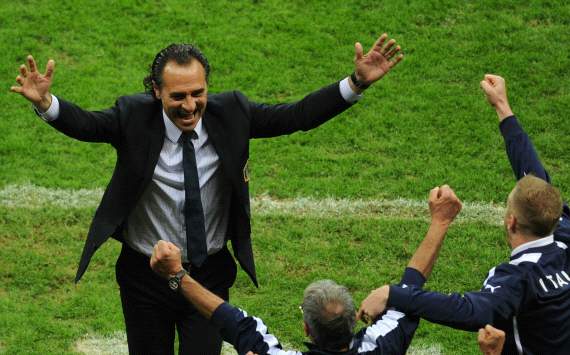 Tactical victory |
Prandelli just had to stick to his ideals after Low changed his
Every credit to Italy, who have made a mockery of all domestic footballing turbulence to reach the finals of these Euros. They deserved it. Those warhorses Pirlo and Buffon deserved it. But one can't help but feel it was Germany's to lose and everyone from Jogi Low to Mario Gomez lost.
But for now, for all their promise, all their perfect records, all their goals, their brave little stand counted for nothing in the face of the immense Azzurri. Pirlo declared that Germany were afraid of Italy and it showed. It showed from the players right down to their coach, who nervously packed the midfield, disconnecting the strong, pacy line-up which had brought so much success and suddenly making them play an unfamiliar system with only six days of practice. The Germans did the best they could in a bad situation, but in this staring match, it was obvious that it was Low who had blinked first.
How do you stay up to date with football when on the move? With http://m.goal.com – your best source for mobile coverage of the beautiful game.