| | |
| --- | --- |
| | Germany are perennial chokers and they proved it again |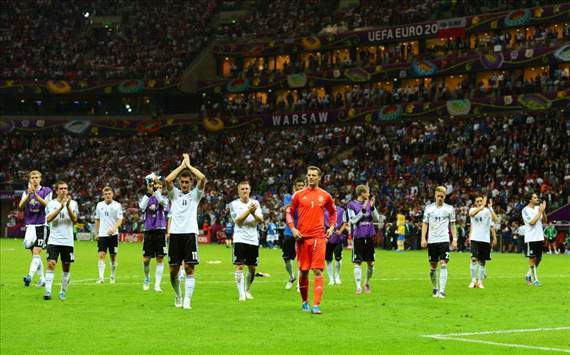 A brilliant performance from Mario Balotelli drove Italy into the Euro 2012 final, after a 2-1 win over Germany at the National Stadium in Warsaw last night. Many football enthusiasts would believe it was a major upset for the Germans as they looked clear favourites but for ones who have been following their progress in major tournaments for last two decades, the result was not that surprising as they know that the Die Mannschaft are indeed "Perennial Chokers" of the game and have proved it once again.
Germany do have three World Cup and European Championship Trophies to their name, and have played in 20 of the last 28 semi-finals of major tournaments, and despite being a European powerhouse for so many years they have always faltered in the final few hurdles.
Last night, it was poor team selection along with shambolic defending at the back which proved to be Germany's undoing in this edition of Euros. Is it that this team lacks the "champions" mentality in their squad to lift the title, or are they only here to have a good tournament throughout and collapse at the last hurdle?
Germany's performance until the semi-finals had been nothing short of spectacular. It could be that the pressure got to them or it may be overconfidence. Whatever reason it may be for their failures tournament after tournament, this is for the Germans to assess within two years time before the 2014 World Cup in Brazil, otherwise they would have to carry the "Perennial Chokers" tag for more years to come whether they like it or not.
| | |
| --- | --- |
| | Super Mario still exists |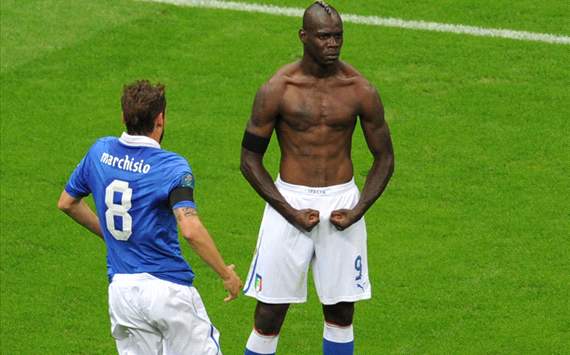 Whether it was written in the script or not, but it is true that Mario Balotelli was the chief architect last night with his two well taken goals to send the Germans packing home. He celebrated his second goal by removing his jersey and flexing his muscles towards the Italian bench thus signifying that "SUPER Mario" still exists. He got a yellow card for that but don't think he would have minded that much. It was after all his precious contribution for the Italians that sent them to the finals of Euro 2012 where they will face Spain.
It is widely known that it is impossible to know what Mario Balotelli will do every time he steps on the pitch, and even his manager is never sure which version of the striker will arrive on any given day. Before the tournament began, many questioned his place in the squad but he has repaid the faith and in some style.
We've seen him benched recently because the Balotelli we have seen lately has been the volatile, unproductive and whiny version of the striker. But against Germany, we saw that that marvelous Balotelli still comes out often and has the ability to win the game on his own with the talent he possesses.
The temperamental ace has always looked his best when deployed through the middle. He has certainly proved that point at Euro 2012. He was dangerous against England, and Balotelli simply tormented the German defense with his natural pace and raw strength. It was such a clinical performance that Balotelli went on to describe last night as "the best night of his career."
| | |
| --- | --- |
| | Low's first and final mistake at Euro 2012 |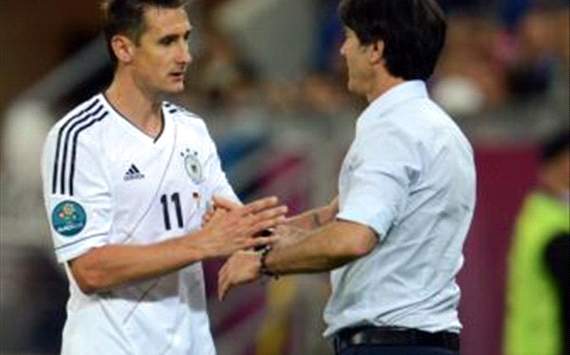 Joachim Low never really looked happy with his starting XI right through the tournament and the most glaring mistake he made was not to start Miroslav Klose ahead of Mario Gomez in the semi-final.
It's true that Low got his starting line-up completely wrong last night as he opted for Gomez and Podolski in attack while Klose and Reus had to warm the bench. Despite his goalscoring exploits, Gomez is a rather static target man. His range of movement in and around the box is not subtle or quick enough and he proved that once again yesterday as he did not create any chance to trouble the Italian defense. Arsenal's new signing Podolski never did enough to inspire confidence about his ability to make an impact.
Benching Klose was Germany's undoing as having him in the line-up would have added experience to the game as he is a big-match performer and is a very nippy player. His movements in and around the box would have created trouble for the Italians as it showed in the second half when he was brought on. His introduction along with Reus, changed the entire style of attack by the Germans as they dominated play but it was all too late. Low had made the unforgivable error of dropping Klose and Germany paid dearly for it.
The German defense also didnt help at all to cover up that problem up-front as the centre backs were poor in their defending as Balotelli ran riot. A perfect blend of experience and pace was essential if Germany were to beat the Italians. Klose along with Reus and Ozil looked lethal when they combined. Only if Low would have kept enough faith in his 34 year old striker from Lazio, things could have panned out differently for them. For Germany now, the wait is 16 years and counting.
| | |
| --- | --- |
| | Buffon and Pirlo: Defying age and proving their class in style |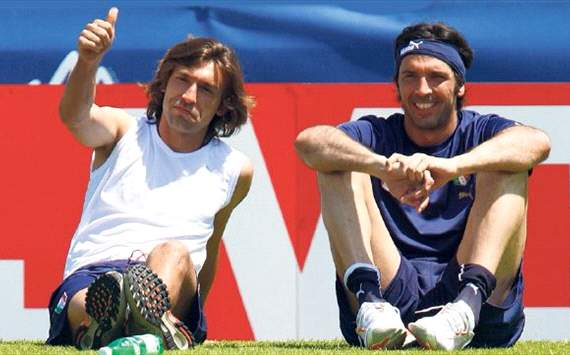 It would not be fair if one forgets to mention how outstanding Gianluigi Buffon was last night as he came up with all sorts of diving saves even at the age of 34. 2006 World Cup winner and Italy's inspirational captain has played a major role in their Euro 2012 campaign defying all odds and has helped his team make it to the finals.
Despite having conceded late only through a penalty kick, Buffon was instrumental in keeping the German attack shut for whole of 90 minutes with six clinical saves with major one being Marco Reus' free kick effort from long range. He was consistently a massive presence between the sticks for Italy and displayed a will to win. His hunger to perform, and the ability to lead out his team to battle makes him a world-class keeper and a role-model for many budding goalkeepers around the world.
Andrea Pirlo aged 33, also makes things seem as though his time at the game's top level has always been on the up.
If there is any doubt on whether a player can perform at top level even beyond the age of 30, the Juventus duo have best shut them up with top dispays so far.
| | |
| --- | --- |
| | This Italian side is very un-Italian |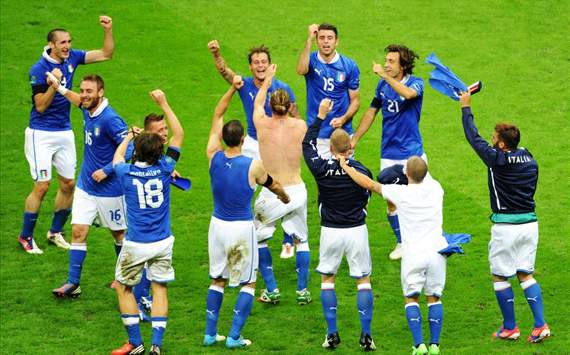 Italy beat Germany 2-1 last night and advanced to the Finals against all odds. Italy displayed a perfect blend of attack and defense as they shut out German attack for almost the entire game and converted twice themselves from the chances they got through Mario Balotelli.
This is not the Italian side fans have watched over the years. Some teams were scared to face the Italian side of yesteryears that was renowned for its defensive capabilities. Italy has not been hiding in its defensive shell this time around. The Italians have averaged 12.5 attempts on target at Euro 2012, the highest in the tournament.
Cesare Prandelli has brought in the right approach and the right attitude to bring to the game for the Italians who take the game to their opponents rather than sit back. Its good to see Italy, despite being a weaker opposition compared to other teams, fight it out with the opposition and attack the game.
How do you stay up to date with football when on the move? With

http://m.goal.com

– your best source for mobile coverage of the beautiful game.