ANALYSIS
By Rishabh Ghai
A mouth watering clash is on the horizon as Germany will go head on against the Italians for an all important spot in the grande finale.
Striker Mario Gomez leads the chart as he is valued the most. Let us see how the other players faired:
MARKET VALUES | Goalkeepers
MARKET VALUE

MARKET VALUE


€30m


€7m
€6.5m


NEUER
WIESE
ZIELER

BUFFON
SIRIGU
DE SANCTIS


€

16m


€12m




€4.2m

€43.5m
TOTAL

TOTAL
€32.20m
(Data from transfermarkt.co.uk)
Germany have an upper hand in the goalkeeping department. Neuer, the Germany number 1, is valued at
€
30m and rightly so. Among the best goalkeepers in the world, Neuer has established himself at the heart of the German defence. His short stopping skills coupled with an ability to deal with the long balls has seen his stock rise over the last two-to-three seasons. Italy's first choice keeper Buffon is priced at
€
16m at an age of 34 and still is rated as one of the best in the business. The second (Wiese) and the third choice (Zieler) keepers of Germany fail to match the calibre of Neuer and are way down the pegging order. As for Italy the second choice goalkeeper Sirigu is just there around Buffon's valuation, almost double that of Germany's second choice, whereas the third choice De Sanctis is the cheapest among the six custodians. Overall Germany lead the bank roll in terms of goalkeepers thanks to their heavily priced asset Manuel Neuer. Keeping Neuer fit is extremely important for the Germans.
MARKET VALUE

MARKET VALUE

€7.5m
€15m
€20m


€13m


€28m
€14m
€13.5m
SCHMELZER


HOWEDES


HUMMELS
BADSTUBER
LAHM
MERTESACKER
BOATENG


CHIELLINI
OGBONAA
BALZARETTI
ABATE
BARZAGLI
BONNUCI
MAGGIO


€24m
€6m
€7.5m
€12m
€10m
€13.5m


€11m



€111m
TOTAL
TOTAL
€84m
(Data from transfermarkt.co.uk)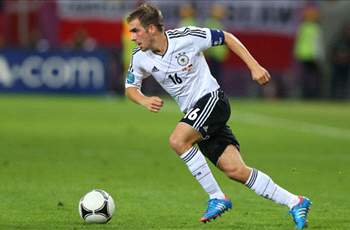 Lahm is the highest valued defender amongst the two teams

No one can doubt the solidarity of the Italian defence. But its surprising to see that a team which thrives on defending lags behind the Germans in terms of market valuation as far as the players are concerned. Lahm costs about
€
28m whereas it is Chiellini who is valued around
€
24m. When the second most expensive defenders from either side are compared, Hummels is
€
6.5m expensive than Bonucci. Although Maradona opines that the Germans back line is weak, in the market value they lead the line ahead of the Azzurri.
MARKET VALUE | Midfielders

MARKET VALUE
MARKET VALUE


€

6m
€20m


€

38m
€32m
€14m
€23m
€30m





GUNDOGAN
KHEDIRA
SCHWEINSTEIGER
OZIL
BENDER
KROOS
GOTZE




MOTTA
MARCHISIO
GIACCHERRINI
DE ROSSI
MONTOLIVO
PIRLO
NOCERINO


€15m
€23m
€4.7m
€32m


€13m


€10m


€11m




€163m
TOTAL
TOTAL
€108.7m
(Data from transfermarkt.co.uk)
Germany's midfield oozes of talent and given that their players are playing for top clubs such as Real Madrid and Bayern Munich, it's obvious that their market value woul be higher than those of their counterparts. Schweinsteiger is most highly rated at
€
38m followed by Ozil and De Rossi at
€
32m. Mario Gotze, who has been struggling to get into the starting XI for the Germans, is rated as high as
€
30m which only goes to highlight the bench strength Joachim Low has at his disposal.
MARKTWERT
MARKET VALUE

€14m
€20m


€6m




€35m


€20m


€

42m


SCHURRLE
PODOLSKI
KLOSE
MULLER
REUS
GOMEZ


BALOTELLI
CASSANO
DI NATALE
BORINI
GIOVINCO
DIAMANTI


€30m
€10m
€7m
€8m
€12m
€3.7m


€137m
TOTAL
TOTAL
€70.3m
€454.5m
FINAL TOTAL

FINAL TOTAL
€295.20m
(Data from transfermarkt.co.uk)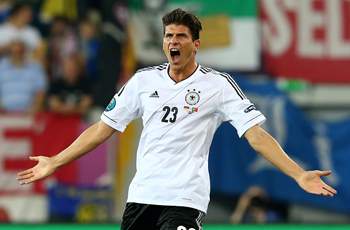 Mario Gomez is one of the top 50 most valued players in the world
Having the quality of Gomez, Podolski, Klose, Reus and Schurrle, Germany again the lead the way in the striking department. The gap between Mario Gomez, valued at
€
42m, and Mario Balotelli, Italy's costliest striker, is around
€
12m which indicates the state of affairs. Die Mannschaft has only one striker who is valued in single digits in the 34 year old Klose at
€
6m while three Italian forwards, namely Diamanti, Di Natale and Borini, fall into this category.
Overall in all 4 departments Germany lead Italy by quite a margin. If money was taken into consideration Germany would easily leap frog Italy into the finals but the latter's mental strength gives them an edge. Overall it will be hotly contested game with Germany favourites to win it.
How do you stay up to date with football when on the move? With

http://m.goal.com

– your best source for mobile coverage of the beautiful game.