There's a Clasico coming, if the hysteria is to be believed. And, as has been said before, the convoluted context is enough to make a decent movie of the whole thing. Friends will become foes, enemies for club must play together for the country, David in red must take on Goliath in light blue. Where is the game going to be won and lost? We wish we knew. All we can guess is a few of the little battles all over the park will be between:
Old familiar faces are abound and it'll just be more of the same as far as these two are concerned. Having grown so used to each other in La Liga we can only hope that familiarity hasn't bred contempt in either for that can only be the beginning of the end for them in the game.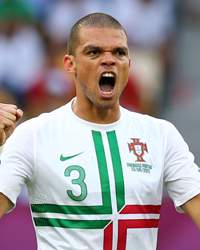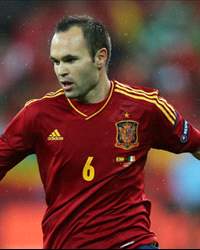 We know what
Pepe
brings to the park in terms of uncompromising, tough, no-nonsense defending. Very often he treads the line between hard and too hard with aplomb stopping just short of being illegal, but enough to leave an impression. With such a style of play, it's quite obvious that there will be times he will fall foul of the authorities, but on a good day, he is impenetrable. With all the technical abilities of a brilliant defender, tough but accurate tackling, a great jump, a powerful head, instinctive postitioning and sometimes most important of all, an odd burst of pace, Pepe has been a rock for
Portugal
in the Euros.
Andres Iniesta
has been the best at what he does for a long time now. There are several exciting young pretenders to his throne, but his role as a creative attacking midfielder is next to none. Skill, vision, intelligence, technique and incisive movement both on and off the ball have defined Iniesta for a good many years now. Whenever it's on, the little man will always pass first and if you leave him free in the penalty box, there's the ultimate price to pay, with a goal or an assist almost a certainty. His telepathic relationship with Xavi is what keeps the midfield 'tiking' (pun intended). Portugal, beware.
This battle will define whether
Spain's
attacker, whether their false nine or their number nine is ensured a steady supply.
| | | |
| --- | --- | --- |
| GERARD PIQUE | vs | CRISTIANO RONALDO |
Another rivalry straight out of the recent Clasico textbook, this battle has been defined by a similarity of styles, in every sense of the term. Both players are the most flamboyant for their teams on and off the pitch.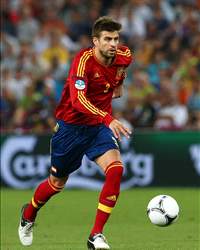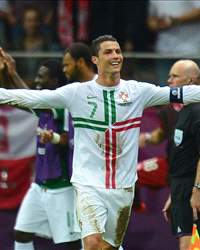 Gerard Pique
is a steadying influence on the Spanish defence even though he is quite attack minded and loves that foray forward. His aerial ability coupled with his height is perhaps his biggest strength as a centre-back. Most teams against Spain have opted for aerial passes in the final third over grounded ones which Pique has been able to boss throughout. However, his ability to intercept and position is always a little suspect, but then he is very quick and his short recovery time enables him to get those last ditch tackles in, but he will need to be on top of his game tonight. Portugal just need the one chance.
Cristiano Ronaldo
? There's not much one can say about him that hasn't been said, dissected, analyzed, and said again in a different way. So let's stick to only short sentences in the description of abilities. Strong. Fast. World-class ball control. Skill. Technique. Always has a good burst of pace. Superb with set pieces. Amazing header of the ball. Jumps higher than several basketball players can. Good vision to pick a pass when he wants to. Sweet crossing ability. The only downsides are that he can be selfish when he shouldn't be and when he plays badly, he really does play badly. But a Ronaldo on song? Not even Iker Casillas could stop him. And seeing how he's grown into this tournament, we feel that he might just be leading from the front, both literally and metaphorically.
This battle will define whether Iker Casillas is going to have a long day at the office or whether he will merely be a spectator to the proceedings.
Finally, a battle that has not been plucked right out of La Liga, with combative defensive midfielder Veloso plying his trade elsewhere in the Mediterranean, playing for Genoa in the Serie A.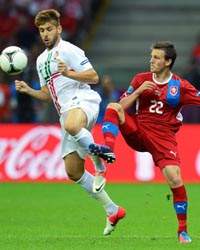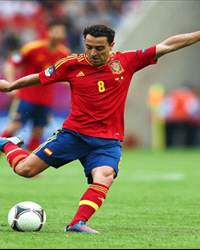 Miguel Veloso
has perhaps been the most underratedly important player in Portugal's run to the semi finals during these European Championships. A disruptive play-breaker, he has been called a 'water-carrier' many times in his career, but the role he plays is one none in the Portugal squad could take on. In a team full of flair players, it is perhaps difficult to be the one doing the dirty work, but someone needs to do it. A tackler, interceptor, aerial battler, fighter, runner and when nothing else works, a fouler, Veloso screening the defence is perhaps one of the reasons why the Portuguese have conceded only two goals all tournament.
When Adidas were running their 'Every team needs' campaign for the 2010 World Cup, they designated several players with epithets they felt described them best. So Steven Gerrard was the Powerhouse, Bastian Schweinsteiger was the Illusionist, Frank Lampard the Lionheart. So what did they make
Xavi
? The General. And perhaps nothing describes him better. He's not always directly in the action, but without that brain, his teams would fall apart. He doesn't get that many assists in. But he has such vision and can spray the ball with such range and accuracy, he will ensure that there were will be a shot on target in three moves or less if he is afforded time and space in the final third. His ball retention skills are as phenomenal as his ability to know when and how to pass under pressure.
This battle is going to define how little or how much of the ball Portugal are going to have against Del Bosque's boys.
This is one of the most intriguing battles where Spain's left and Portugal's right shall face off. Nani has sent in as many as 20 crosses in 4 matches so far whereas Alba has proved as to why is he rated so highly.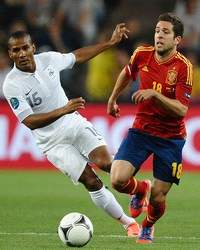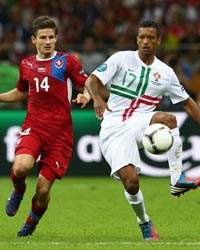 Up and coming full-back
Jordi Alba
has been touted to have the potential to be the best in the world if he continues his development at his current pace. His abilities and potential has left a spate of clubs in a tizzy to secure the signature of Valencia's left-back. But all thoughts of that aside, from what we have seen, the young Spanish full-back has plenty of pace and a good attacking look to him, with decent defensive capabilities and a tenaciousness not easily seen at his age. Inexperience may be a huge thing that weighs him down for now, though.
Several times over the years,
Nani
has been called the pretender to Ronaldo's throne. Every single time he has rebuffed the suggestions, insisting he is a different kind of player. Many cynically call him a poor man's Ronaldo, and while it's true that the style and the flair and a little bit of the selfishness is there, he's far more influential as a winger than he is as a forward and that's the truth. Great pace, a sweet touch, dancing trickery, sweet and accurate crossing ability, good technique and a powerful shot is Nani's USP. One can see where the Ronaldo comparisons come from, but Nani is better at taking on the fast, light full backs more than trying to beat the bulkier central defenders. Another one having a good tournament, he'll hope to carry on his full-back beating form into this game.
With most of Portugal's attack from the wings coming from his side as Ronaldo prefers cutting inside, this battle will define whether Portugal will have multiple supply lines in the game.
How do you stay up to date with football when on the move? With

http://m.goal.com

– your best source for mobile coverage of the beautiful game.