When Spain beat France in the quarter-finals to set a date with Portugal, football enthusiasts were left salivating in anticipation of the next encounter. The players themselves would have been relishing the opportunity to participate in this high-profile Iberian derby, some more so than others. For Hugo Almeida the semi-final clash offers him a path to redemption.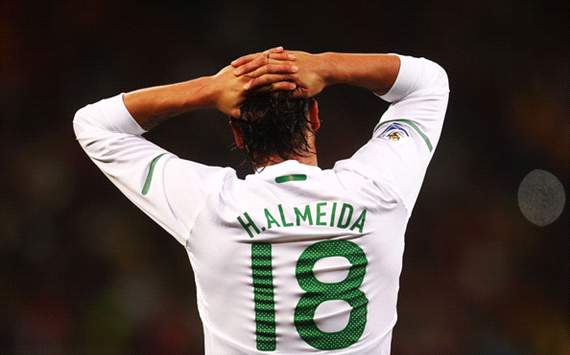 The striker missed a couple of great chances in the last encounter between the two sides that ended in a 1-0 Spanish victory at the 2010 World Cup. On that occasion, Spain unsurprisingly dominated the game which was played in Portugal's half for the majority of its duration. However, Spain insisted on playing through the Portuguese defense rather than around them and that gave Portugal the chance to get bodies behind the ball and block the Spaniards' path with a resilient defensive display. Even then, the Portuguese were most threatening on the counter and with Ronaldo and Simao on either flank, they were notorious for their deadly crosses and tested the Spanish center backs.
Hugo Almeida has always been renowned for his ability in the air and was considered a suitable candidate to be the target man to attack these crosses. As it turned out, the 6 foot 3 inch striker was unable to make the most of his chances and was replaced early in the second half, leaving his team to pay the penalty when David Villa netted for La Roja in the 62nd minute. Almeida was left to rue his blatant miss in the first half when Simao had delightfully crossed to the far post only for him to skim his header wide.
In this year's European Championships, Almeida has been left out in favour of Helder Postiga whose performances have been lacklustre as well. In Portugal's last game, fate intervened as Postiga picked up an injury and had to be replaced by Almeida. The Besiktas striker did not get himself on the scoresheet but added a noticable edge to the Portuguese attack with his aerial ability. As a lone striker, Almeida arguably offers a lot more than Postiga and the target man now finds himself in possession of something not many people are afforded, a second chance.
Tonight at the Donbass Arena in Ukraine, of all the Portuguese players, all eyes will be firmly focussed on Portugal's skipper and talisman, Cristiano Ronaldo. However, Almeida will be desperate to put things right and if he makes some sort of contribution towards a victory for his side, it will go a long way to banishing the demons from his last competitive meeting with Spain.