| | |
| --- | --- |
| | Andrea Pirlo is Italy's sparkling diamond |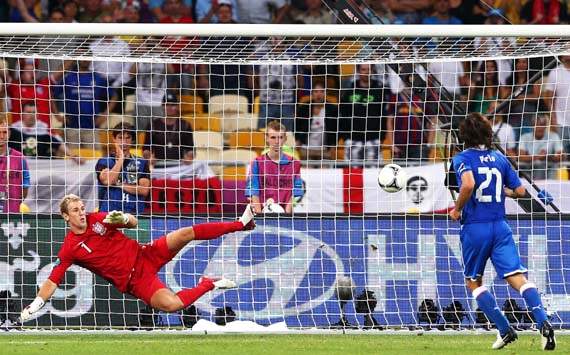 Cesare Prandelli opted for a back four in combination with a diamond in midfield for last night's game. Providing the diamond's sparkle was Andrea Pirlo, who dictated the tempo of the game from deep with short accurate passes and his through balls coupled with long passes made him a dangerous man to mark.
At the age of 33, he has been the most valuable player of Euro 2012 and his performance against England justified why. He was easily able to carve paths through the England defense and provide his teammates with many spectacular passes and then finished his magical performance with a true demonstration of the 'Panenka penalty kick' as he chipped the ball in the centre to fool the keeper Joe Hart.
Pirlo attempted 131 passes with 87% passing accuracy and himself had two shots on target. Pirlo delicately pulled the strings as England were left to just sit back and take the game to penalties. Without Pirlo in the midfield, the Italian team would not be able to function the way they do. His mesmerizing knowledge of the game and ability to see the game like no other player on the pitch makes him so special and Italy's most valuable player without a doubt.
From kick‑off until the penalties, this was his game. His contribution will be most important if Italy are to beat Germany in the upcoming semifinal clash.
| | |
| --- | --- |
| | Italy's offense must ignite if they are to beat Germany |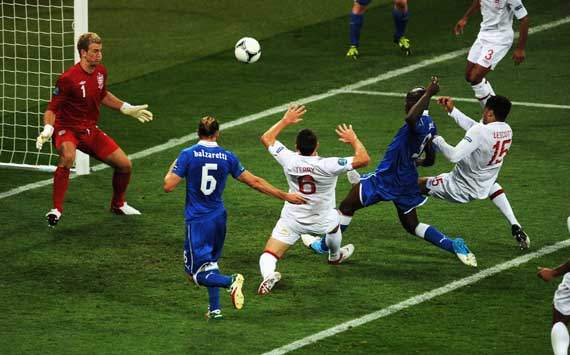 Italy defeated England on penalty kicks to advance to the Euro 2012 semi-finals after having dominated the entire game. But unless the Italians increase their offensive effort, their European Championship dreams will be shattered.
Prior to last night's match, Italy had 52 shots, 18 on target with only four being converted. Yesterday they had 36 shots with 8 on target and no goals although Balotelli should have had atleast two on the night. Italy is definitely on fire with their all round display and Pirlo being the chief playmaker, but if they are to beat Germany who drilled four past Greece and are an offensive juggernaut, they have to make their chances count.
Italy prides itself in defence but they haven't been woeful while going forward. They have simply lacked the finishing touch. But while the Italians have the defensive edge over the Germans, if you can't score, you can't win - unless you force a shootout. And with a gun to your head, would you really bet on Italy shutting out the Germans?
Italy would have to be clinically insane upfront and it will be surprising if they outscore the Germans in regulation time. If they force a draw or another shootout though, they could possibly find themselves in the finals
| | |
| --- | --- |
| | English Football has learnt nothing from multiple decades of failure in major competitions |
Not that this campaign should be deemed a failure. A certain amount of pride has been restored for England, particularly with those wins in the group stage, and shoots of progress are very much in evidence. But for a country that boasts of exciting and promising talents year after year, another failed attempt at winning a major tournament and being trophyless for 46 years will only add salt to their wounds.
England have lost seven out of eight penalty shoot-outs in the past 22 years at the Euros and World Cup finals. It was their fifth defeat in a row when a contest has boiled down to efforts from 12 yards. England have never quite learned or got it right when it has come to nervy situations such as this.
What is surprising is, despite having one of the best teams on paper competition after competition, England fails to perform when it comes to the big-stage. Despite most of their players (this time every player) playing in the English Premier League which is considered the most challenging league in the world, somehow England lack that edge over other teams.
England seem to lack that fire to win games. They approach games with a negative strategy like they did throughout this Euros where they mostly defended to grind out results. England's possession play remains their weakest link and that has been their major undoing in this edition of Euros.
England need to learn from their past mistakes, come out with a correct attacking strategy and take the game to their opponents rather than sit back. They should look to dominate and change a few things here and there to surprise their opponents.
| | |
| --- | --- |
| | England were ambitionless in their approach |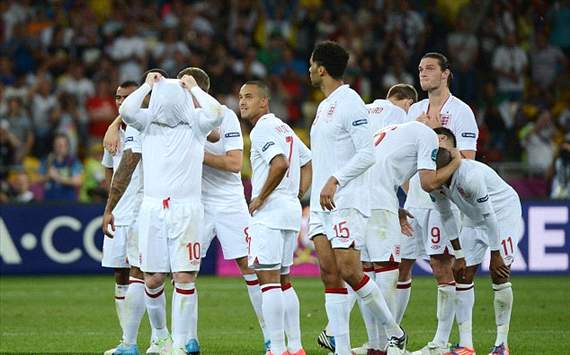 To win a major tournament such as the Euros, you need ambition, a lot of passion and that hunger to win the game and go all the way and win the finals to clinch the trophy. Sadly for England, that did not happen as they were dumped out of the Euros by Italy via the dreaded penalty shootouts.
England lacked ambition right from the very start when it was seen that they would grind out results and rely on their defence thus allowing their opponents to come at them. England did not press high up the pitch as they should have and did not dominate their opponents too.
Against Italy, they heaved desperately to stay in the contest and only 38% possession did not help their cause. Young and Milner did not provide enough support in their attacks and Rooney was way off his good form. Substitutions also did not matter as Andy Carroll was left strolling near the Italian defensive line. Bringing on Chamberlain and have two fast paced wingers on each flank would have been a good idea but now its all too late.
Roy Hodgson was not brave enough as despite being dominated he refused to change the set-up of his team to create some chances. This showed a lack of ambition in the newly appointed manager. England have the team, they have the required individuals, but if they are to win the upcoming major competitions such as the World Cup 2014 in Brazil or Euro 2016 in France, they need be more ambitious in their build-up play.
| | |
| --- | --- |
| | Odds are heavily stacked against the Italians but do not write them off just as yet |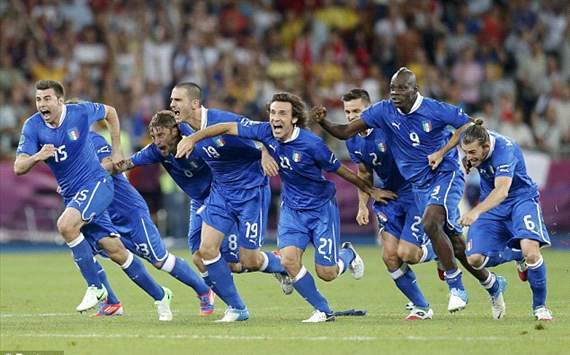 Germany will hardly be quaking in their boots at the prospect of confronting the Azzurri in Warsaw on Thursday, but they will be warned. This Italian team looks heavily pepped up with their progress to the semi-finals and their celebrations last night did show that they believe they are in with a big shout in claiming the trophy and that they mean business.
If they could add bite to their armoury, they would be imposing opponents. They have been heavily relying on Pirlo as their attack has not played up to the mark. Although no one has managed it yet, but if the Germans manage to shut out Pirlo for most of the game, Italy will find it very hard to win.
Twice they struck the woodwork with Hart beaten, while the close‑range misses from Daniele De Rossi, Mario Balotelli simply states that Italy could pull off an upset if the Germans take them lightly. They will struggle to monopolize the ball against the Germans though despite having dominated England territorially.
Odds indeed are heavily stacked against them but only a fool will write this team off. Manager Cesare Prandelli has finally found the right formation for his team (4-3-1-2) and everything suddenly seems to be clicking for the Italians except their finishing.
With a firing Andrea Pirlo in their ranks, along with their inspirational captain Gianluigi Buffon, if everything comes right for the Italians on Thursday, they could well upset the Germans and head to the finals. Only time will tell.
How do you stay up to date with football when on the move? With

http://m.goal.com

– your best source for mobile coverage of the beautiful game.