The two fiery Iberian sides have certainly produced some amazing matches over the years.
Goal.com
takes a look at five of the best of the 35 times these teams have faced each other. We found three amazing clashes before the turn of the century and a couple after it.
| | |
| --- | --- |
| | SPAIN 9-0 PORTUGAL | 11 March 1934 |
Spanish coach Amadeo Garcia must still have been wondering what had happened just as much as his Portuguese number Antonio do Reis was. Spain's biggest ever win seemed more like a demolition derby than a proper footballing contest. Five, yes, FIVE goals were scored by their star forward Isidro Langara, including one from the spot, past not one but two keepers. Debutant keeper Soares dos Reis had already conceded three, including two from Langara by the time he hobbled off injured. He left the other debutant keeper Augusto Amaro to face the rest of the music as Langara made him dance to his tune, scoring three more. Luis Regueiro's brace and Chaco and Marti Ventolra's goals went almost unnoticed. The Spaniards were utterly in control at the break with a 4-0 lead and came back out to score 5 more. One of the worst days for Portguese football.
| | |
| --- | --- |
| | PORTUGAL 4-1 SPAIN | 26 January 1947 |
Spain
must have been a team Taveres da Silva's men must have been sick of by the time this clash came about. In the previous 16 fixtures, they had lost 12 and drawn 4, including a 2-0 loss of their A team against the Spanish B team and the walloping mentioned above. Nobody would have been expecting much from
Portugal
either and everyone thought it was business as usual when Rafael Iriondo gave Spain the lead within the first minute. But Antonio Araujo and Jose Antonio Travacos had other plans. The five forwards combined well, with Araujo and Travacos each getting a brace for Portugal to run out 4-1 winners. Araujo got his in the first half, in the 21st and 33rd minute and handed the show over to Travacos in the second half. He got his in the 59th and 89th minute to cap off one of the best days in the then history of the smaller Iberian side. Their first victory over Spain was registered.
| | |
| --- | --- |
| | PORTUGAL 2-1 SPAIN | 15 November 1964 |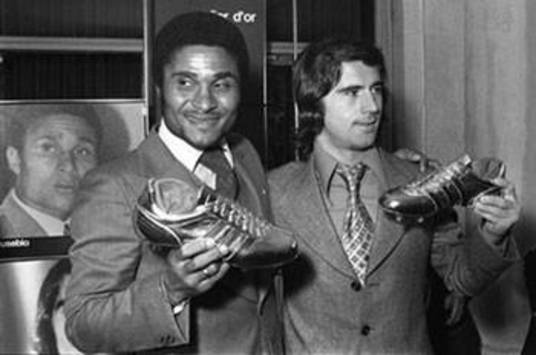 The two Iberian rivals met but once when the legendary Eusebio was at the peak of his powers, but the Portuguese legend made sure they lived to regret it. After Jose Maria Fuste had given Spain the lead, with 50000 watching at the Estadio das Antas in Porto, their 'Black Panther' equalized six minutes before the break to give his side hope. In a hard fought game, it remained to be seen who would edge out the other. And there were no surprises when that man Eusebio popped up again in the 69th minute to score the winner. For better or for worse, Spain never faced a Portuguese side with Eusebio in it after this one.
| | |
| --- | --- |
| | SPAIN 1-0 PORTUGAL| 29 June 2010 |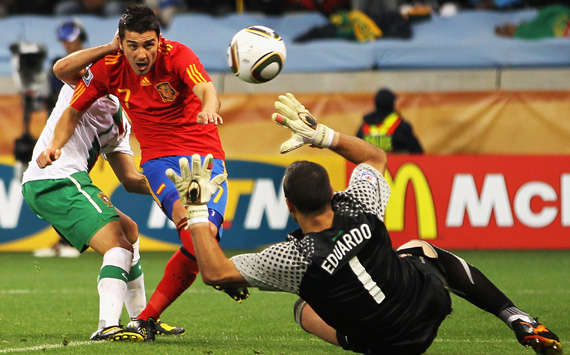 They were two much changed sides since their last meeting in Euro 2004, which Portugal edged 1-0. Spain were recently crowned European champions and Portugal had one of the most phenomenal players on the planet. Something had to give in this World Cup round of 16 clash. It was Portugal who grabbed the intiative in the game, but they missed a flurry of chances and never properly threatened a very jittery Iker Casillas. Ronaldo put in an anonymous performance, much to Carlos Queiroz's chagrin, but Portugal only had themselves to blame for failing to capitalize on a nervous Spanish side when David Villa broke clear and chipped the ball over an onrushing Eduardo. That goal in the 63rd minute proved to be the only one in the game and Spain were through to the quarter finals, mightily relieved that they had passed the Portuguese test. They eventually went on to win their maiden World Cup.
| | |
| --- | --- |
| | PORTUGAL 4-0 SPAIN | 17 November 2010 |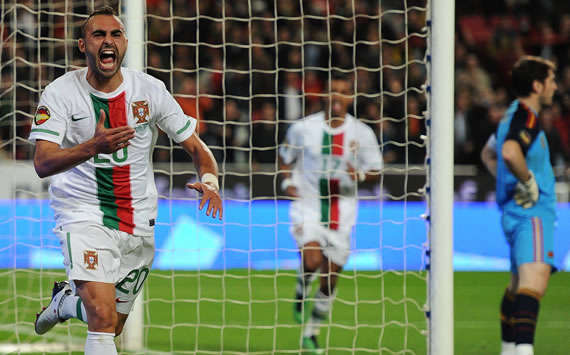 If Portugal were annoyed with the World Cup loss, they went some way to atoning that in the very same year. Vicente del Bosque's side looked helpless for the first time in a long time as the Portuguese scored four past them without reply. Portugal began quickly with Nani in particular looking lively, but Spain gradually grew into the game and one of the best chances of the half fell to David Silva, who could only head wide off Joan Capdevila's inch perfect cross. Nani was twice frustrated, once with a goal ruled out for offside and another wasted chance before Carlos Martins lashed in Casillas' parried rebound of a Ronaldo shot. Five minutes after the break, Helder Postiga scored with a cheeky backheel flick. A spate of substitutions later, Spain were growing into the game again before Positga knocked them out with his second of the game. It was rounded off by Hugo Almeida in the dying seconds for one of Portugal's more memorable wins over Spain. And does anyone remember Ronaldo brilliantly running across the Spanish back line and scoring a goal which was ruled out as Nani, who was offside, stupidly headed the ball on its way to the back of the net!
How do you stay up to date with football when on the move? With

http://m.goal.com

– your best source for mobile coverage of the beautiful game.