Roy Hodgson
has warned his
Euro 2012
rivals that he is just 90 minutes away from unleashing talismanic forward
Wayne Rooney
at the tournament.
The 25-year old, who lit up the European Championship in 2004 as a teenager, watched on from the sidelines as his Three Lions team-mates held France to a creditable 1-1 draw in Donetsk on Monday.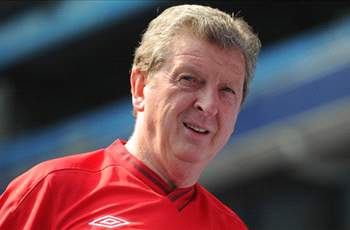 "Rooney is very fit and he's raring to go. He really can't wait to get on the field"
Rooney now faces the last of his two-match ban when the Three Lions face Sweden on Friday and Hodgson has admitted that although he was happy with the displays of Danny Welbeck and Jermain Defoe during England's opening game, he is relishing the prospect of having the United striker back at his disposal.
"Danny Welbeck was very good against France, wasn't he? I think he deserved to start the game." Hodgson told the
Mirror.
"But I like Andy Carroll, too. His performance in Oslo made a big impression on me and I wouldn't hesitate to play him, just as I wouldn't hesitate to play Jermain Defoe.
"And our real ace in the hole, I think, should be Wayne Rooney. He is very fit and he's raring to go. He really can't wait to get on the field.
"And if he can get on the field and can play like Wayne Rooney, then we're going to be a bit more difficult to beat for some of these teams.
"You can only benefit from having someone of his quality in your team."
Captain Steven Gerrard has admitted Rooney regrets the red card he received against Montenegro during the last of England's Euro 2012 qualifying matches and believes the striker can be the man to ensure the Three Lions progress to the quarter-finals when he returns for the final group D game against co-hosts Ukraine in Donetsk on June 19.
"Wayne feels fine. He's frustrated at the fact that he can't play until the final [group] game and I know he's regretting doing what he did against Montenegro," he added.
"But he's coping well and he's itching to get out there and play himself, to show what he can do for us.
"The fact is that any team would miss Wayne Rooney. He's a world-class player and he's been one of the best players in the Premier League this season.
"We're hoping we can be in with a good chance of qualifying when he comes back. He can be the difference for us in that third game to get us into the latter stages of this competition."