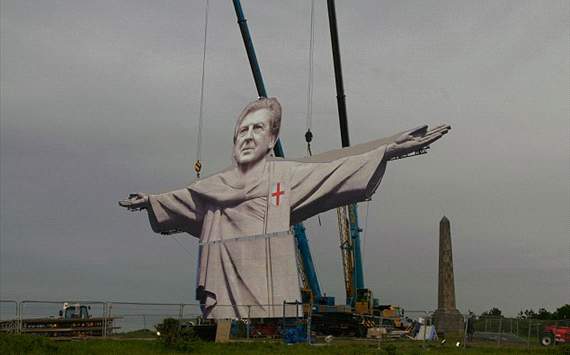 No manager until May,
Wayne Rooney
suspended and a team caught between generations travelling to Poland and Ukraine -
England
will need a miracle to succeed, so the story goes, at
Euro 2012
.
In a move certain to deal a devastating blow to Rio de Janeiro's tourism revenues, betting firm Paddy Power unveiled on Thursday its own, customised version of the Brazilian city's famous 'Christ the Redeemer' sculpture, replacing the face of Jesus Christ with the man tasked with becoming England's own miracle-worker, Roy Hodgson.
'Roy the Redeemer' stands 100 feet tall and 96 feet wide, weighing eight tons. Whereas the original sculpture is made of concrete and soapstone, Roy, perhaps appropriately given England's chances this summer, was printed on to a more modest hardboard material.
Paddy Power, who built the statue as part of their 'We Hear You' initiative, described Roy the Redeemer as their response "to the plight of anxious England fans who felt their team needed 'divine intervention' for success in this month's European Football Championship" in Eastern Europe.
The "audacious build" is apparently visible from the French coastline, 16 miles away from the point on the White Cliffs of Dover where Roy stands and it is hoped that the "looming face" of the former West Brom manager will "unsettle 'Les Bleus' ahead of England's opening game on Monday" in Donetsk.
"Since Christ the Redeemer was constructed in Rio de Janeiro in 1931, Brazil has gone on to become the world's leading footballing nation," Paddy Power's Ken Robertson enthused, according to the
Daily Mail
.
"We're hoping some of that success can rub off on England in time for their Euro 2012 opener against France on Monday. Anyway, at the end of the day this is definitely the closest Roy will get to Rio this month!"