SPECIAL


By Brendon Netto
| | |
| --- | --- |
| | |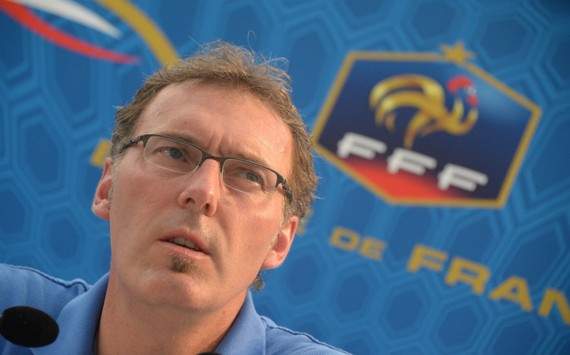 LAST FIVE

KEY STATISTICS


| | | | |
| --- | --- | --- | --- |
| 31 May12 | France | 2-0 | Serbia |
| 27 May 12 | France | 3-2 | Iceland |
| 29 Feb 12 | Germany | 1-2 | France |
| 15 Nov 11 | France | 0-0 | Belgium |
| 11 Nov 11 | France | 1-0 | United States |

Matches in Charge - 22

Matches WON 14 LOST 2 DREW 6

Win Percentage - 63.63%

Goals SCORED 34 CONCEDED 11

Goal DIFFERENCE - +23
How did he begin his coaching career?
Preferred Formation
4-2-3-1
Lloris
Debuchy - Rami - Mexes - Evra
M'Vila - Cabaye
Valbuena - Nasri - Ribery
Benzema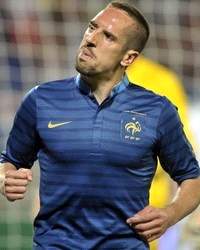 The game-breaker for France

Laurent Blanc got his first opportunity as a manager when Bordeaux appointed him in June of 2007. He won the manager of the year award in his debut season during which he led the club to an impressive second place finish in the league. The following season, Blanc won the league title thanks to their form at the end of the season that saw them win their final 11 games and set a new French record for consecutive wins.
His stint with France
On 16th May 2010, Blanc announced his resignation as Bordeaux manager and two days later was appointed by the national side on Raymond Domenech's departure. Blanc's leadership skills were just what the doctor ordered for the national team which was in turmoil after a disappointing and controversial World Cup. He lost his first two games in charge but the side have shown a marked improvement since then, winning their qualifying group and stretching their unbeaten run to 18 games.
His style of coaching
Blanc likes to maintain a stable and consistent side by persisting with a core group of players, establishing them as permanent fixtures. However, he is not one to shy away from experimenting with a variety of formations and so he shouldn't as he has quite a few versatile players at his disposal. He focuses on dominating possession by playing some intricate short passing. He has transformed them into a more attack-minded side.
Key Personnel
Lloris and the centre-back pairing of Rami and Mexes bring stability to their defense. M'Vila is essential to the French as he provides the muscle in midfield while also being capable of seeing a pass. Cabaye will partner him and keep the midfield ticking with his vision and distribution. Nasri will be the main creative force playing in the hole. The Manchester City man may not have played as regularly as he would have liked but was sublime everytime he was called upon and has enjoyed a good first season in the blue half of Manchester. In an attack dominated by the scintillating Ronaldo at Madrid, Benzema held his own and made an impressive contribution of 32 goals and 15 assists this season. The French striker proved that he is at his prolific best while also displaying his ability to set up others. Ribery as always will be their star man, his pace, low centre of gravity and intelligent runs will create havoc in any defense and when the chips are down, they will try to feed him in as much as possible, hoping that he can do something special and prove to be the difference.
What makes France a contender?
M'Vila's work-rate, heavy tackles and also his ability to pass the ball are talents that draw comparisions with legendary French midfielder Patrick Vieira. The youngster is definitely another star in the making and his energy will always give France a boost in a midfield battle. After being left out of the last World Cup, Benzema went under a strict fitness regime that helped him shed seven kilos and this year he looks like a different player. He will be eager to prove himself on the International stage. Blanc's options in midfield are endless. Ben Arfa has scored some sensational goals this season and may make an impact off the bench. Marin and Malouda are more than capable of stepping in at any time. Upfront, Oliver Giroud is an able deputy for the in-form Benzema. Under Blanc's supervision, the creative players have been allowed to flourish and that will be key to their performance this year.
What are France's weaknesses?
Having mentioned their strength in depth in midfield, their defense doen't enjoy the same luxury.Koscielny is an excellent replacement to have on the bench but he is the only other centre back in the side apart from the two starters. Blanc's decision to leave versatile defender, Yanga-Mbiwa out of the final squad may come back to haunt him if faced with a couple of injuries or suspensions in defense. Last Sunday, an Icelandic national side exposed some weak areas in the French defense. The form of Mexes and Evra in particular are concerning. Evra's showing was extremely lacklustre and his form hasn't been the best with United last season either. Blanc may have to call on Gael Clichy to replace him.
| | |
| --- | --- |
| | |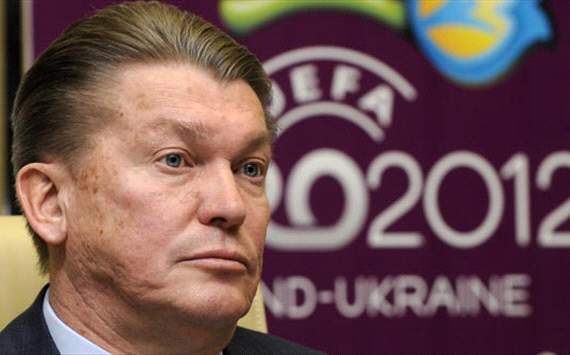 LAST FIVE

KEY STATISTICS


| | | | |
| --- | --- | --- | --- |
| 1 June 12 | Austria | 3-2 | Ukraine |
| 28 May 12 | Estonia | 0-4 | Ukraine |
| 29 Feb 12 | Israel | 2-3 | Ukraine |
| 15 Nov 11 | Ukraine | 2-1 | Austria |
| 11 Nov 11 | Ukraine | 3-3 | Germany |

Matches in Charge - 11

Matches WON 5 LOST 5 DREW 1

Win Percentage - 45.45%

Goals SCORED 21 CONCEDED 19

Goal DIFFERENCE - +1


How did he begin his coaching career?

Preferred Formation
4-4-1-1



Koval
Selin - Kucher - Mikhalik - Rakitsky
Yarmolenko - Tymoshchuk - Rotan - Aliyev
Voronin
Shevchenko

Shevchenko's last chance with Ukraine?

Blokhin began his managerial career in 1990 at Olympiacos and later managed PAOK, Ionikos and AEK Athens, all in Greece. With Olympiacos he won the Greek cup twice and the Greek Super cup once.
His stint with Ukraine
First appointment
In 2003, he was appointed as head coach of Ukraine. Being the first Ukranian to win the Ballon D'Or, he commanded immediate respect from the players. He led them to the 2006 World Cup, all the way to the quarter-finals where they lost to eventual champions, Italy. Ukraine failed to qualify for Euro 2008, leading to Blokhin's resignation.
His second coming
In December 2007 he was named manager of FC Moscow but after a difficult season and lowly finish in the league, he was fired. In April 2011, he was once again made head coach of the National side. Since his re-appointment, the team has had mixed results but their automatic qualification for Euro 2012 as co-hosts has afforded Blokhin time to improve results.
His style of coaching
Oleg Blokhin's style is highly pragmatic. Discipline is the cornerstone of his coaching philosophy. When watching Ukraine at this year's Championship, don't expect to see them throwing caution to the wind and marauding forward in numbers. They will most likely play on the counter-attack. The conservative nature of their manager is probably well suited for the team at the moment as injuries to a few key players have left the squad depleted.
Key Personnel
The mere mention of Andriy Shevchenko would make defenders tremble in the past but ever since his barren run at Chelsea, he's no longer an imminent threat. However, the former Ballon D'Or recipient has been working hard on his fitness in anticipation of this tournament and could be looking to bow out of the international stage in style. Bayern Munich's Tymoshchuk is in good form and his defensive abilities in midfield will be vital to his side. Although the real player to watch in this Ukrainian side is 22 year old winger, Andriy Yarmolenko. Shevchenko's team-mate at Dynamo has explosive pace and a good shot as well. He has an eye for goal too, scoring 12 goals from 31 games this season and has even been called the "New Sheva".
What makes Ukraine a contender?
Playing on home soil will by far be their biggest advantage. With this tournament possibly being Shevchenko's last for his country, Ukraine could benefit from his desire to finish on a good note in front of his counrtymen. They will hope that Tymoshchuk manages to carry his form with Bayern into the national side as well. With young wingers on either flank, the Ukrainians will threaten on the break and will look to Shevchenko and the supporting Voronin to put away chances in front of goal. Aliyev had made a name for himself as a set-peice specialist and will look to hit the back of the net when in range.
What are Ukraine's weaknesses?
If Ukraine are to rely on a strike partnership of a combined age of 67, then that will be troubling. In the absence of experienced keeper Shovkovsky and defender Chygrynskiy, their defense will be vulnerable. Despite their defensive discipline, they will always be susceptible against superior sides. Their conservative style may leave them boxed inside their own half, facing wave after wave of attack.
| | |
| --- | --- |
| | |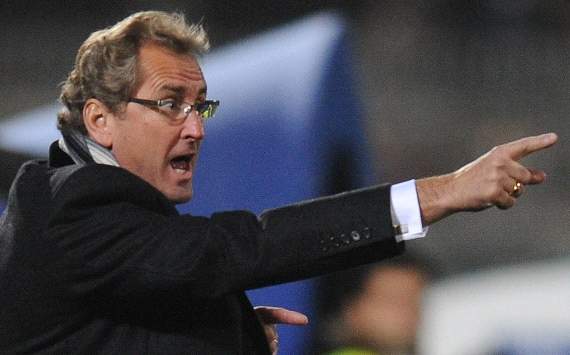 LAST FIVE

KEY STATISTICS


| | | | |
| --- | --- | --- | --- |
| 30 May12 | Sweden | 3-2 | Iceland |
| 29 Feb12 | Croatia | 1-3 | Sweden |
| 18 Jan 12 | Bahrain | 0-2 | Sweden |
| 15 Nov11 | England | 1-0 | Sweden |
| 11 Oct 11 | Denmark | 2-0 | Sweden |

Matches in Charge - 26

Matches WON 18 LOST 6 DREW 2

Win Percentage - 69.23%

Goals SCORED 54 CONCEDED 23

Goal DIFFERENCE - +31


How did he begin his coaching career?

Preferred Formation
4-4-1-1

Isaksson
Lustig - Olsson - Mellberg - Olsson
Larsson - Elm - Svensson - Kallstrom
Ibrahimovic
Elmander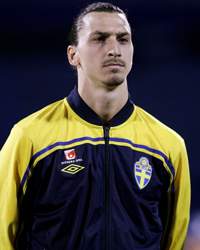 Ibrahimovic needs a big performance to go with his big ego

Erik Hamren started coaching at Swedish club, Enkopings SK in 1987 before continuing his managerial career at a string of different Swedish teams before eventually joining Aalborg BK in the Danish Superliga in 2003. He won the championship at Aalborg in the 2007-08 season following which he moved on to take charge at Norwegian club, Rosenborg BK where he won the championship in his first season.
His stint with Sweden
Hamren's appointment brought immediate improvement to results and performances. Qualifying for Euro 2012 was his main objective after his predecessor was sacked for failing to make it to the last World Cup. He reached his immediate target with minimum fuss and maintained a good win record while doing so.
His style of coaching
When Hamren joined as head coach, he harboured the ambition to play an attacking style of football. However, early on in his tenure, he came to the realisation that a strong defensive foundation needed to take priority over attacking flair. He proceeded to build a well organised team and instilled a common work ethic throughout the side. As a result of his instruction, Sweden are now far more balanced in attack and defense. After the victory over the Dutch in qualifying, Hamren started playing Elmander as the lone striker on a regular basis while allowing Ibrahimovic more freedom in behind him.
Key Personnel
Zlatan Ibraimovic is regarded as the best player in the world... by himself. But despite his ludicrous claims, he is still one of the top strikers in Europe. He is easily the most talented among the Swedish ranks but his ability to perform on the big stage has been repeatedly questioned. Kim Kallstrom has had a sensational qualifying campaign and will look to be just as fruitful in the main event. Melberg and Olsson will have to be reselient in defense while the free-kick abilities of Sebastian Larsson could be a source of crucial goals for the Scandinavians.
What makes Sweden a contender?
Hamren has moulded them into an organised side in recent times and they won't be easy to break down. They are effective on the counter-attack and Kallstrom along with the over-lapping Martin Olsson will provide good service down the left hand side for the towering pair of Ibrahimovic and Elmander in the middle who will also benifit from Larsson's quality balls in from the right. Rasmus Elm has been described as the best talent in Sweden since Ibrahimovic. His passing and goal scoring abilities makes the 24 year old an asset to the national side.
What are Sweden's weaknesses?


Their defense is certainly compiled of recognised personnel but it isn't world-class. Mellberg and Olsson will have a tough time in the heart of the defense when coming up against the likes of Benzema. Their full-backs are accomplished in attack but when quality wingers begin to ask them questions, the duo may not have any answer against their pace and trickery. Their sometimes over-reliance on Ibrahimovic could be the cause of their downfall as he has the tendency to drop his head and sulk when things aren't going his way.
| | |
| --- | --- |
| | |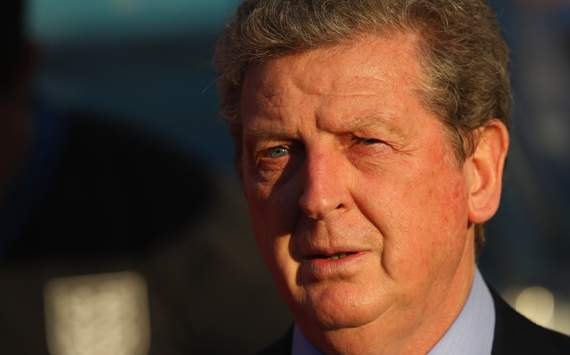 LAST FIVE

KEY STATISTICS


| | | | |
| --- | --- | --- | --- |
| 2 June 12 | England | 1-0 | Belgium |
| 26 May 12 | Norway | 0-1 | England |
| 29 Nov 12 | England | 2-3 | Netherlands |
| 15 Nov 11 | England | 1-0 | Sweden |
| 12 Nov 11 | England | 1-0 | Spain |

Matches in Charge - 2

Matches WON 2 LOST 0 DREW 0

Win Percentage - 100.00%

Goals SCORED 2 CONCEDED 0

Goal DIFFERENCE - +2


How did he begin his coaching career?

Preferred Formation
4-2-3-1
(Without Rooney)

Hart
Johnson - Lescott - Terry - Cole
Parker - Gerrard
Walcott - Young - Chamberlain
Welbeck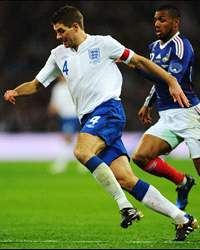 Gerrard will have to lead from the front

Roy Hodgson is vastly experienced, managing 19 different sides prior to taking over England. He began at Swedish side, Halmstad where his sucess in his 5 year tenure took everyone by surpirse as he secured the championship in 1976 and 1979 with a side that struggled with relegation prior to his arrival. After a brief and unsucessful stint at Bristol City in 1980, he returned to Sweden and was recruited by Oddevold and then Orebro before his phenomenal spell at Malmo FF that began in 1985. He led Malmo FF to 5 consecutive League Championships, 2 Swedish Championships and 2 Swedish Cups. In 1992 he was appointed as Switzerland head coach. The Swiss qualified for the 1994 World Cup, losing only one game and climbing up FIFA's rankings to 3rd spot. He comfortably led them to Euro 1996 as well but left immediately after doing so to manage Inter Milan. Following a difficult couple of years, he moved on to Blackburn Rovers who had finished 13th just 2 years after winning the title. He finished 6th in his first season. Injuries and an unsettled dressing room contributed to a poor start to the following season and Hodgson's susequent dismissal. After brief stints at Inter, Copenhagen and Udinese he managed the United Arab Emirates but was sacked the following year. He narrowly missed out on qualification for Euro 2008 with Finland and joined Fulham in December of 2007. In the 2008-09 season he secured the club's best ever finish, 7th in the league and qualified for the Europa league. Next season they went all the way to the finals of the Europa league and finish 12th domestically, winning Hodgson the LMA Manager of the year award by a record margin. In June 2010 he was appointed at Liverpool but left the club after just seven months following a poor start and criticism from the fans. In 2011 he took charge of West Bromwich Albion and sucessfully avoided relegation.
His stint with England
After the British press had unanimously pinned Harry Redknapp as the favourite to fill the vacant positon of England manager, they were predictably critical of Hodgson's appointment on 2nd May 2012. With so little time to prepare for Euro 2012, Hodgson seems to have selected tactically disciplined players in his final squad. He managed a 1-0 victory away to Norway in his first game in charge.
His style of coaching
Hodgson usually opts for a 4-4-2 formation but considering the personnel, he will most likely adopt a 4-2-3-1 as he did against Norway. Organisation in defense has been the cornerstone of Hodgson's sucess and his boring but effective drills in training will make England hard to break down. Attacking on the counter will suit this England side, especially with the pace of Walcott and Young. Carroll is capable of holding the ball up which is vital when playing on the counter attack but I'm going to guess that Welbeck will start ahead of the him because the Manchester United forward can also hold up th ball while injecting pace into the forward line along with his work-rate that constantly puts defenders under pressure with his relentless closing down. Also, Gerrard's bombarding runs from midfield will render the counter-attack an effective ploy and given that four out of England's last five games have ended in 1-0 victories, they could go far with this system if employed correctly.
Key Personnel
Wayne Rooney's absence in the first two games will definitely be felt especially after his prolific season with Manchester United. However, if England get the results in their first couple of games they can unleash the striker thereafter who will be raring to go. Scott Parker is going to be vital in the role of anchorman in midfield. The Tottenham skipper's work-rate and tackling is second to none and he will be key to retaining the ball for England. Joe Hart has been England's best keeper for a long, long time and may be called upon to make a few match-winning saves we know he is capable of. The lion share of the responsibility will be shouldered by England and Liverpool captain, Steven Gerrard. Playing from the heart of midfield, he has the ability to influence every part of his side's play from defense to attack. His drive and technical superiority will make Liverpool's talisman argubably the most important and influential player for England.
What makes England a contender?
England still have a strong and efficient group of players. The squad has been injected with a few younger players and that will hold them in good stead. Joe Hart is one of the best keepers in the world while the defense is blessed with a number of strong defenders as well as younger ones with a good turn of pace. Hodgson's influence on the team will ensure that teams have a hard time unlocking their defense. With Parker and Gerrard in midfield, England will a formidable partnership in midfield. At the last World Cup, Gerrard eventually ended up with the armband and was easily the Three Lions' best player. He has consistently been counted as one of the best midfielders in the world over the past decade and his shots from range will be a lethal weapon from midfield. Expectations are not nearly as high as they have been in the past and that could work in England's favour, allowing the players to perform free of the added pressure that those expectations invariably bring. Carroll could be a threat coming off the bench just like he was for Liverpool against Chelsea in the FA cup final.
What are England's weaknesses?
The squad has been crippled by several injuries. England's most creative midfielder, Jack Wilshere has been a long-term absentee from the side. The recent omissions of Lampard, Barry and Cahill through injury and the added suspension of Wayne Rooney compounds England's worries. The English have been widely criticised for their lack of creativity and dribblers in the team and the losses of key players will not help in those aspects. Hodgson's slection of lacklustre Liverpool trio, Downing, Kelly and Henderson has come under fire while the omissions of Micah Richards, Adam Johnson and the experienced Ferdinand have left the press and public skeptical.
Follow Brendon Netto on

How do you stay up to date with football when on the move? With

http://m.goal.com

– your best source for mobile coverage of the beautiful game.