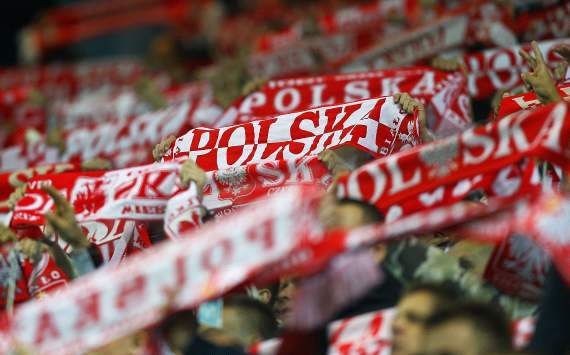 SPECIAL REPORT
By Michal Zachodny
Poland's iconic teams of the 1970s and 1980s ought to have left behind a glittering legacy but instead a chronic lack of funding left the national side in a state of disrepair, until now. A bright young side has a emerged from the doldrums with this summer's European Championships offering a platform for the next generation of Grzegorz Latos and Z
bigniew Bonieks to shine.
Since the dramatic political changes of 1989, Polish clubs had completely ignored the need to invest in youth training and facilities. Wisla Krakow - the richest club in the country - for example has only one quality pitch for training, used exclusively by the first-team squad.
Just a stone's throw from the new Reymonta stadium, there are pitches, with hardly any grass on it, used by 'Biala Gwiazda's' youth teams.
In 2007, when Poland was awarded the co-hosting rights for Euro 2012, some of Wisla's kids had to train on an adapted tennis court, which doubled up as a car park during match days. The concept of academies and training centres are known in only a few places in Poland.
"I seriously hope that soon enough, this pitch will be… worn out, destroyed,
"
Polish sports minister Joanna Mucha said at the opening of one of the latest additions to the Orlik 2012 project, just eight days before the European Championships kick-off in Poland.
Currently into the fifth and final stage of the government's regeneration project and the landmark Euro 2012 facilities have been completed and targets met as a result of engaging with local communities.
An Orlik is a basic but very comfortable, modern and, above all else, sufficient sports facility. It contains several seven-a-side Astroturf football pitches, one for multi-use and fully equipped changing rooms have been installed. The total bill of building the centre should come to little more than £300,000.


"If only I had the chance to play on such fantastic pitches whenever I wanted to in my time

"





- Donald Tusk

The main idea, however, is to share the expenses and make it affordable for local authorities – that's why the third part of the cost is funded by the government, another one by Marshal's Office, and the rest is up to the community to organise.
It took less than 30 months for Poland to open 1,500 of these facilities all over the country. Suddenly, having your own Orlik in the city or village became the norm.
One of the proudest people behind the project is Polish prime minister, Donald Tusk, who is also a football-fanatic himself, supporting Lechia Gdansk. He was the one to announce the start of Orlik 2012 programme, he opened the very first facility in Izdebki village and also under his patronage, each year a national tournament for youth sides is played. In the very first edition, 100,000 children took part from 10,000 teams.
"If only I had the chance to play on such fantastic pitches whenever I wanted to in my time,
"
said Tusk. "These facilities are our investment into the health, joy in the life of our youth, but also in the future Polish national team."
In the first two years of the project, more than nine million people used at least one of their nearest Orlik facilities, while only in 2010, on average, the pitch was visited by 690 people each month.
"This May, I had 1,540 players, and the number is even bigger if I would count in also those who rent them" – says Maciej Skawina, who is a manager at an Orlik facility in Wadowice near Krakow.
His role is full-time and simple – he is the boss of the facility, takes care of the order, keeps records, organizes the tournaments and events, and rents equipment whenever it's ready.
"In the morning, until 15.00, our facility is used by schools,
"
Maciej, who is also a sports teacher, says.
"
Then there are three hours for those who booked it, while after 18.00 it's time for local clubs to train."
His Orlik is open for fourteen hours each day, and, depending on the season, he rarely sees any pitch empty.
"There is an Under-10 league on Monday, then Under-12s compete on Tuesday, Under-16s have their tournament each Wednesday and on Thursday, the local amateur league takes place," Skawina explains.
One of the local clubs that are using Orlik in Wadowice are Karol, a club named after the Polish pope, John Paul the Second, where Michał Jagielka is managing the Under-16 team.
"The opportunity to use quality pitches for free, for most part of the year, is simply priceless," he says. "Some say that the costs could be lower, the grass should be natural. In my opinion, in our conditions, we have optimal solution."
The biggest beneficiaries of these facilities are the players who came together to participate in the Playarena - a special project started in 2007 by couple of bored students in Wroclaw, who, with no one to play against, set up their own league on the internet. After five years it has grown to a national scale with almost 90,000 players, over 3,500 teams in 60 cities.
"The idea is the same from the start," says Wojciech Dudek, one of the founders of Playarena - "Two teams from same league set up a game, pick the pitch, number of players, time, date and after just enter the score on the website."
"Even Ekstraklasa clubs are using these facilities to improve their youth teams"
The progress surprised even them but now each year's final is a huge event - the last one was played on the pitch of the Olympic Stadium in Wroclaw, while Poland's U-21 coach, Stefan Majewski, came to pick one, stand-out player to join his team for one of his training camps.
Playarena officially co-operates with Polish FA and is also a part of UEFA Grassroots programme. "Our main aim is to get kids off computers, get them busy playing," adds Wojciech.
"We see the unused potential, all those dangers facing our youth and certainly, without Orlik's, our work would take decades before we could reach similar numbers."
Daniel Pawłowski who is the goalkeeping coach for Poland's Under-15 team, who has been working with Livingstone Academy and learned from authorities of Valencia, FC Porto and PSV Eindhoven, admits, that the most important thing is engaging young kids in football.
"The best example is Iceland, where they've had similar a project and now 40 per cent of society is playing football," Pawłowski says. "The first effect came in 2011, when their Under-21 team qualified for the European Championships."
Currently, even the Ekstraklasa clubs are using these facilities to improve their youth teams and take advantage of the chance that Orlik 2012 project gives to the society.
The grassroots in Poland have finally been revived, with the glowing floodlights being at the heart of almost each local community.
"Quality pitches, goals with nets, footballs, site managers, floodlights, all for free… can you really ask for more?" Pawłowski asks, rhetorically.
This is the second in a five-part series of special reports where we uncover the positives borne out of the Euro 2012 finals.Part One: Frescoes, monuments & skyscrapers - the hidden gems awaiting Euro 2012 fans in Poland & Ukraine